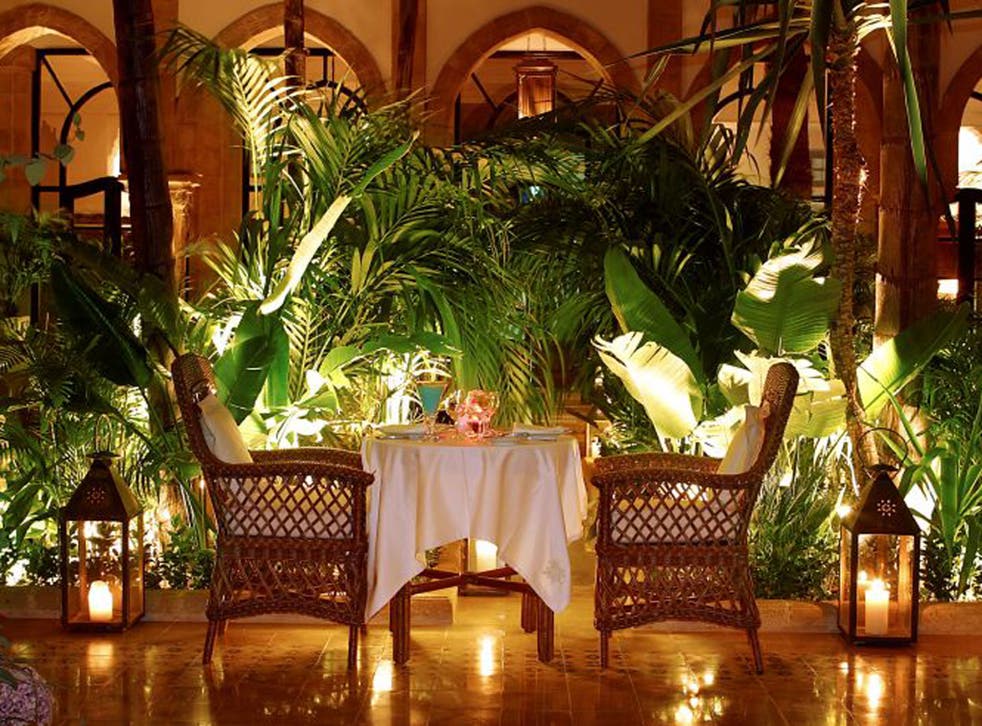 The Hedonist: Wining and dining in Essaouira
What to see and where to be seen
In my dazed and confused state, it feels like I've landed in something out of Aladdin. In fact, I've just arrived in Essaouira, Morocco's laid-back, bohemian coastal city. After the cab grinds to halt by the Bab Marrakech gate in the medina, I make my way over to Hôtel Heure Bleue Palais (00 212 524 78 34 34; heure-bleue.com) at 2 rue Ibn Batouta. The former palace's design is an archetypal Moroccan riad; the decor and ambience a heady combination of Moorish and Portuguese influences. The attentive staff usher me in with mint tea and basbousa, a syrupy semolina cake, before whisking me up to my bedroom: courtyard views and opulent Moroccan decor.
There's plenty to explore in the hotel. Of the four restaurants, it's the rooftop eatery that's calling my name, but I can't resist a quick dip in the roof-terrace pool beforehand. The manic bustle of the souks rises from far below and there's a panoramic view of Essaouira.
On the way to lunch, I pass Essaouira's centuries-old port and drop in to Chez Sam (Au fond du port; 00 212 524 47 65 13), one of the best fish restaurants in town; my John Dory baked in garlic tastes exquisite.
Next stop: the bustling souks, alive with energy and local shopkeepers trying to hustle deals as I pass. Quickly succumbing to temptation, I buy an ornate mirror, haggling it down to half price.
It's easy to get lost in the souks. I somehow find myself a bit off track outside the medina by the fortress. Built in 1506, the monumental fort is a dramatic part of Essaouira's landscape, but I can't stay for long. There are two miles of beach to explore, which once lured the likes of the Rolling Stones, Bob Marley and Jimi Hendrix (who found his "castles made of sand" here).
Finally back at the hotel, I book myself in for a hammam in the glass room on the roof, where I spend the late afternoon in a hazy state of relaxation. Then, recharged, that evening I head to Il Mare (00 212 524 47 64 17) at 43 Essaouira for cocktails, before wandering on to Elizir (00 212 524 47 21 03), at 1 Derb Agadir Medina, for dinner. The restaurant's decor is Seventies retro, with an array of souvenirs and memorabilia dotted around. The cuisine is a mix of Moroccan and Mediterranean with a modern twist: I wolf down a plate of lamb tagine with gorgonzola.
Full – and just a little bit tipsy – I head back through the medina towards Taros Café (00 212 524 47 64 07) at 2 Rue de la Skala for live music and drinks on yet another rooftop terrace. The bar is buzzing with locals, travellers and surfers, embodying Essaouira's hippie vibe.
Breakfast? Khobez flatbread, jam and mint tea at the hotel's courtyard restaurant. I bask in the sun. Essaouria has worked its magic.
Join our new commenting forum
Join thought-provoking conversations, follow other Independent readers and see their replies