Journey by caravan to a desert oasis

Show all 2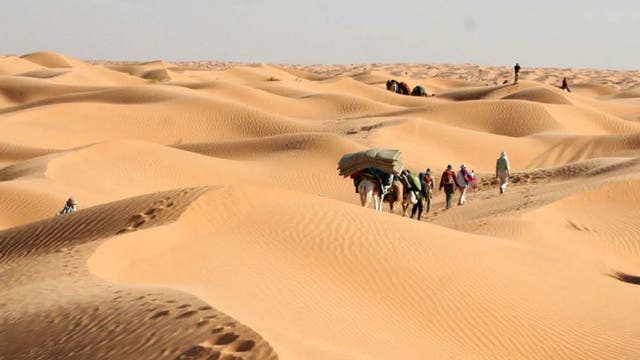 Journey by caravan to a desert oasis
In an evocative procession through the 'Gateway to the Sahara', Nick Redmayne embraces sun, sand, camels and couscous on a North African trek
Looking me briefly in the eye for emphasis, Walid shrugged: "We thought after the revolution all the young people would have work." Walid was a 25-year-old IT graduate pressed by circumstance to make a living in a way he hadn't envisaged: as a cameleer. "But nothing has changed."
This wasn't a conversation I'd expected, certainly not while trekking through the fringes of the Sahara, a place where political writ seemed to lack relevance. We walked on in silence, Walid's camel and those following describing a wandering route through the maze of dunes. In common with some tourists, camels are grumpy, complaining beasts. From Douz, a central Tunisian town fettered by the dusty epithet "Gateway to the Sahara", we'd walked for three days. Fresh-faced tourists had soon become desert-adapted, heads wrapped in turbans leaving just enough space for sunglasses; humour replaced hygiene and sand had conquered all.
Our 100km route traversed the northernmost extent of the Grand Erg Oriental, the Great Eastern Sandy Desert, towards the ruined fort of Ksar Ghilane, once part of the Limes Africanus, the southern limit of the Roman Empire. Its nearby oasis was our final destination.
Tunisia had catalysed the Arab Spring in December 2010. By most accounts, the North African nation had witnessed the only complete revolution. However, here in the desert, tears of euphoria had dried quickly.
"Right now, the government has not made things better," concluded our guide Rami. "But that's a good thing. It's good because people will realise that the Islamic party does not have all the answers."
At about 5.30pm, the caravan of trekkers, camels and cameleers allowed its collective momentum to ebb. Our overnight camp was Hguif El Boom, the Sand of the Owl. Dumping our daypacks, most of us were happy to collapse in the soft dunes and free our feet from boots, burrowing our toes down to the cooling lower layers of sand. For others, there was still work to be done. Walid, Ahmed and their boss Zied unburdened complaining camels, pitched the communal Bedouin tent, gathered brushwood and, most importantly, started supper.
From a high point above this activity, perhaps a kilometre distant, I'd noticed a solitary building, a simple white cupola, maybe three metres across, a structure usually employed to mark the tomb of a saint. Rami described it as "The Tomb of Fatima": a dry well where an unfortunate elderly Bedouin woman had fallen to her death. Curiosity overcame fatigue and I slid down the sand, setting off to check out Fatima's folly.
As I approached the tomb, a few scrubby bushes hinted at water somewhere deep below, while inside a padlocked steel well-cap was centred in the floor. A small, distressed stove leaned against the inner wall which was decorated throughout by graffiti. (Italians never seem to travel without a black marker pen.) Pondering such poignant declarations as "Paolo et Paulina woz ere", I wondered what Fatima might have made of it.
Back at camp, a modest fire burned. In a performance worthy of Oscar night, Rami announced the evening's menu. "Tonight we're gonna have …" – cue drum roll – "couscous!" Some kind soul decided it was time to pass around a bag of wine gums. "What's wrong? Don't you like couscous? Come on," cajoled Rami.
Earlier in the day, walking with fellow trekkers Vesna and Arnaud, we'd swapped tales of slow-cooked game, artisan cheese and fine wine. Vesna had concluded: "The desert gives by taking away." If that's true, then I'd certainly gained an appreciation of fine dining.
The sun's last intense orange faded to darkness; the temperature quickly dropped. Overhead, in the cloudless sky, a thin sliver of crescent moon was soon joined by a veil of stars so rich, even familiar constellations were lost in its midst. Soon, everyone had gathered around the fire, flames casting animated shadows across faces. Some shared their stories: a former barrister who'd taught in Uganda, his wife who'd sat ringside during the Lebanese war; a stateless Sri Lankan Tamil who called London home; a Croatian who'd escaped conflict; a telecommunications expert relishing being off grid; a delightful eccentric doing the trek for a second time; an American who'd travelled the world; and a young English guy on his first foray out of Europe. Wherever we had been, in true Foreign Legionnaire-style, we'd come "to forget", embracing instead sun, sand, camels and couscous.
Tunisia's visitor numbers plummeted by 40 per cent in the wake of the revolution, which was ended only by the decision of former president Zine El Abidine Ben Ali and his wife, Leila, to flee for the safety of Saudi Arabia in mid-January 2011. Tourism has since staged a recovery, with figures for UK visitors this February down only one-sixth on the same period in 2010. However, with a wry smile, some Tunisians still say they wanted Ben Ali back. After repeated failed attempts to draft the new constitution required for this year's scheduled elections, legislation was finally approved only last month.
Rami summed up contemporary Tunisia: "We're in a post-revolutionary period and the economy is not doing well. We say more. We know more, but otherwise, for most people, it's the same."
The fire was built up and shockingly bad cups of green tea were poured from a blackened kettle, a bitter prelude to sweeter music. Zied and Ahmed shook the sand from a couple of sacks, taking out a darbuka drum and a wooden flute. The drum's rhythms combined with the flute's haunting breezes and were soon joined by voices in songs of lost love and rousing anthems of solidarity to the Libyan revolution. Rami poured more tea. "These guys, they share more with the Libyan tribes. They've nothing in common with Tunisians in the north. Nothing."
By 9pm, most of us had crept off to our beds, some heading in entirely the wrong direction. But the songs continued even after the fire had died. As with so much desert drama, audiences are incidental.
Travel Essentials
Getting there
Nick Redmayne travelled with Exodus (0845 863 9601; exodus.co.uk) on its seven-night Sahara Desert Trek. The tour costs from £899pp, including flights from Heathrow, camping and hotel accommodation, most meals and guided camel trekking. Next departure 12 October.
More information
Tunisian National Tourist Office (020‑7224 5561; cometotunisia.co.uk)
Join our new commenting forum
Join thought-provoking conversations, follow other Independent readers and see their replies