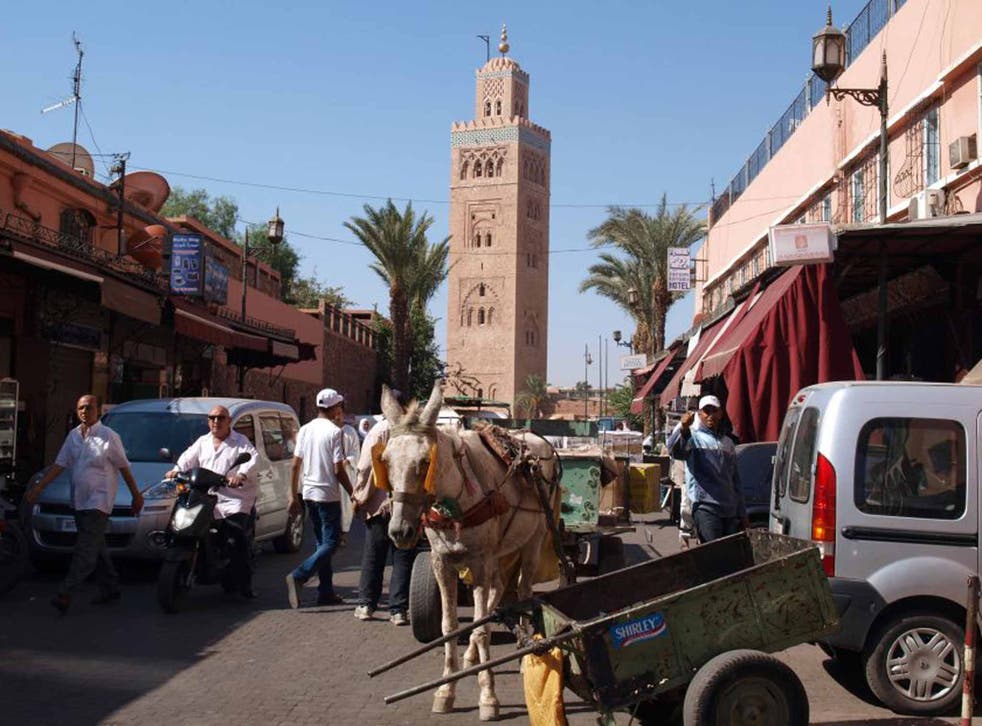 Marrakech, Morocco's wall-to-wall fun spot
Autumn is the best time to experience the heady whirl inside this funky old medina, says Andy Lynes
There is nothing quite like walking into Djemaa el Fna after dark. There's a feral quality to Marrakech's packed main square and you never know what might happen next, including having a snake thrust under your nose, or being emotionally blackmailed by a child hawker who pretends to cry when you refuse to buy a packet of tissues you don't need. Tightly packed rings of onlookers form around busking groups of traditional Moroccan musicians, while hungry tourists buy kebabs or freshly squeezed juices from the dozens of food carts that fill the square. Nearby, someone is holding a vulture on a lead. The bird is dyed blue.
It's a timelessly chaotic scene that plays out within the 19km perimeter of the city's red clay walls that date back to the 12th century. Marrakech has a rich history and you'd be foolish to miss out on the likes of the mid-19th century Palais de la Bahia (palais-bahia.com) with its theatrically painted and gilded woodwork ceilings or the equally impressive 16th-century Medersa Ben Youssef (medersa-ben-youssef.com), a former Islamic college and fabulous example of Moorish architecture. And you simply wouldn't visit Marrakech without losing yourself in the narrow lanes of the souk where shops are crammed with jewellery, leather, lamps, and earthenware tagines.
But there's more to Marrakech than just its illustrious past. The city is fast becoming a centre for arts, with events including the annual International Film Festival (5-13 December 2014) and the Marrakech Biennale (February to March; marrakechbiennale.org) attracting, artists, writers, film-makers, and performers from all over the globe. International clubbing brands such as Pacha (pachamarrakech.com) and Nikki Beach (nikkibeach.com) along with local names including Le Comptoir Darna (comptoirmarrakech.com) and Theatro (theatromarrakech.com) have made the city a destination for well-heeled sybarites. Marrakech has also become a top golfing destination with stand-out courses such as Royal Golf Marrakech (royalgolfmarrakech.com) and Al Maaden (almaaden.com).
With average daytime temperatures in September still hitting 30C and a flight time of under four hours from the UK, Marrakech is the perfect destination for a long weekend of late summer sun, and fun.
Discover the Independent Travel Offers: Our favourite Marrakech holiday
UNPACK
The new Royal Palm Marrakech, Km 12 Route d'Amizmiz (00 212 524 487 800; beachcomber-hotels.com) is a contemporary oasis of space and calm located 12km outside the city walls. Everything about the place is monumental, from the triple height ceilings in the public spaces to the 2,000sq m heated pool and the extensive grounds planted with more than 4,500 trees, many of them olive (they bottle their own oil). My spacious senior suite had views over the golf course to the Atlas Mountains. French chef Phillipe Jourdin serves refined versions of Moroccan classics in the Le Caravane restaurant. Doubles start at DH4,073 (£288), including breakfast.
THINK LOCAL
Marrakech's public parks are surprisingly light on tourists and provide welcome respite from the Medina. The Arsat Moulay Abdeslam Cyber Park, Avenue Mohammed V, is close to the city walls. It is a tranquil space planted with olive, carob, fig and orange trees. You can check your email in the free Wi-Fi booths. Behind the 77-metre-high Koutoubia Minaret on Avenue Mohammed V you'll find the manicured Koutoubia Gardens with its beautiful roses, while locals picnic in the shade of the trees in the ancient olive grove of the Menara Gardens, Avenue de la Menara (jardin-menara.com).
EAT
... at Le Salama, 40 Rue des Banques, Djemaa el Fna, Kennaria, Medina (00 212 524 391 300; lesalama.com). Sip a cocktail while you watch the sun set over a sea of satellite dishes (and the Atlas Mountains) from the roof-top terrace bar of this atmospheric Medina restaurant. It serves huge portions of traditional Moroccan specialities including a sweet and spicy pigeon pastilla and a notably tender and delicious tangia (beef slow cooked in a sealed pot with spices). Although the vibe tends towards the hip, be warned, there will be interactive belly dancing.
DRINK
Bo Zin, Route de l'Ourika (00 212 524 388 012; bo-zin.com). A 10-minute taxi ride from the Medina, this stylish bar, lounge and restaurant is set in a spacious house in a newly developed area of the city. Grab a seat under the tents in the bamboo- planted garden and join the Marrakech smart set for a mojito or two. In the winter, there's an open fire to huddle around in the comfortable, beautifully designed lounge.
SPEND
The antique and Berber kaftans at upmarket unisex shop La Maison du Kaftan Marocain, 65 rue Sidi El Yamani, Mouassine (00 212 524 441 051), are top quality. You are bound to find something that suits among the collection of babouche slippers, blouses, and Moroccan-style pants, even if its just a simple Berber cap.
DON'T MISS
Try to arrive as close to opening time as you can (8am; 9am during Ramadan, which is mid-June to mid-July next year) at Jardin Majorelle, Rue Yves Saint Laurent (00 212 524 313 047; jardinmajorelle.com). You will be able to see the collection of cacti, palms, and bamboo when it will still be cool and quiet. In 2011, artist and founder Jacques Majorelle's studio was converted into the Berber museum and houses a fabulous collection of indigenous craft works. Don't miss the permanent exhibition of Love posters by the late designer Yves Saint Laurent, who acquired the gardens in 1980.
Getting there
Marrakech is served from Gatwick by British Airways (0844 493 0787; ba.com) and Royal Air Maroc (020-7307 5800; royalairmaroc.com); from Bristol, Gatwick, Manchester and Stansted by easyJet (0330 365 5454; easyjet.com); and from Luton and Stansted by Ryanair (0871 246 0000; ryanair.com).
Beachcomber Tours (01483 445 685; beachcombertours.co.uk) offers three nights at the Royal Palm Marrakech in a Junior Suite on bed and breakfast basis, with BA flights from Gatwick, and transfers, from £985pp.
More information
Join our new commenting forum
Join thought-provoking conversations, follow other Independent readers and see their replies