Why California's hippest wine destination is an industrial estate
Tucked off Highway 101 halfway between LA and San Francisco, Tin City is an unlikely hub for oenophiles and foodies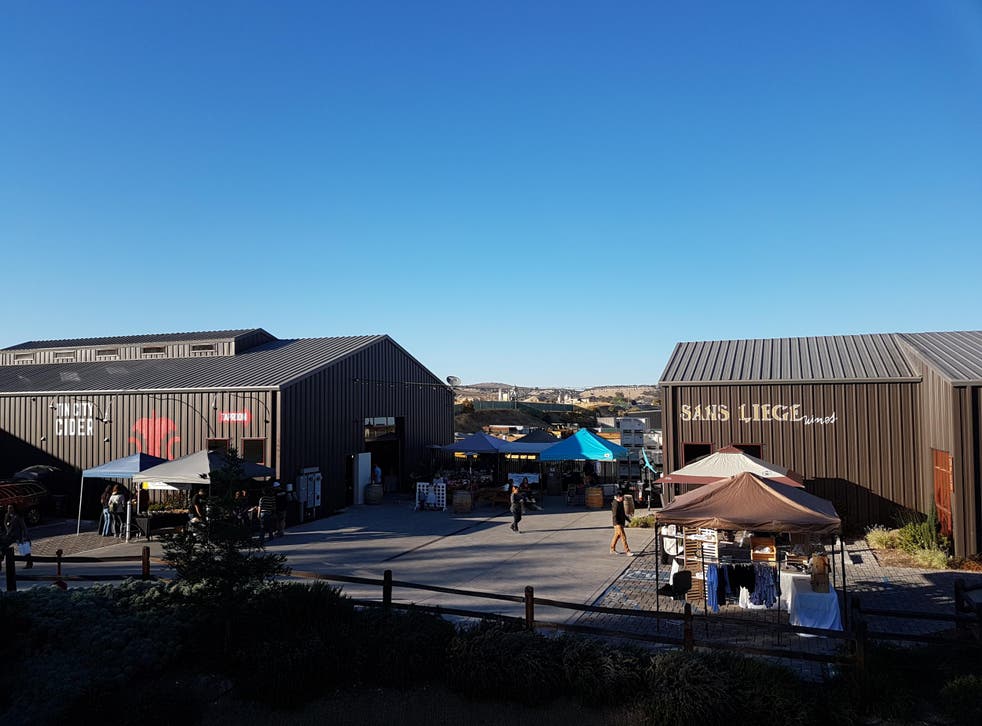 Grand chateaux with cellar tastings, wine flights on patios perched above rows of zinfandel and chardonnay grapes, and vine-covered hillsides stretching from either side of the road like glorious striped wings.
You can find all of this in Paso Robles, where more than 300 wineries sprawl out from California's central coast, almost exactly halfway between LA and San Francisco. But you can also sip small-batch wines in a corrugated tin shed surrounded by pool-supply companies, auto repair shops and tractor-building factories. Which is a lot nicer than it sounds.
Just a little south of Paso Robles's downtown and a hop from busy Highway 101, the 20-acre parcel known as Tin City was a solely industrial area before small-production craft booze makers began renting space.
Now there are more than a dozen wine-tasting rooms scattered around Marquita Avenue, Limestone Way and Blue Rock Road, along with a craft brewery, cidery and distilleries. On weekends, hundreds of people flock here to meander between the tin warehouses.
Nicora was among the first, moving here 2013. Like many of its neighbours, the Rhone-varietal red wines are fermented onsite.
At Wine Shine, Patrick Brooks crafts brandies using grape juice sourced from high-end local wineries. Infused with ingredients like mango, cinnamon and orange, they are dangerously sippable. Brooks's tanks are visible from his tasting room, inside a corrugated, duck-egg shed. "Wine just wants to be brandy when it grows up," he says, pouring out a taste of hibiscus lemon spirit – it has the mouth-feel of a particularly smooth gin. He also makes whiskey, which is used in his barrel-aged, ready-to-serve cocktail, the manhattan project.
It's the sense of discovering something new and different that attracts people, Brooks believes. Around the corner, Monochrome focuses exclusively on white wines – unusual in a region famous for its big red blends. At Tin City Cider, which has outdoor benches and regular live music, the drinks are crafted from Californian apples and wine grapes. Poly Dolly, for example, is a rosé cider with mourverdre, pinot noir and petit verdot.
Aside from a monthly crafts market, there are no shops or boutiques to distract from drinking – at least until the two planned restaurants open, expected later this year. One is Six Test Kitchen, an exclusive dining concept with one nightly sitting for up to six guests, which is moving here from nearby Arroyo Grande. But booze has still been factored in; diners will be able to bring bottles from Tin City wineries to drink with no corkage charge.
The site already has Negranti Creamery, which serves sheep's milk ice cream by the scoop, cone or sandwich, and the occasional food truck with carnitas (pork) tacos and cubanos. But it's not quite enough to soak up all the alcohol on offer.
It's surely only a matter of time before someone opens an industrial chic hotel; until then, downtown Paso Robles is a short taxi ride away.
Hotel Cheval, which was recently named best small hotel in the United States based on TripAdvisor reviews, has a serene atmosphere that feels very welcome after a day of wine tasting. The rooms, with enormous beds, fireplaces and walk-in showers, are tucked around a twinkly courtyard, where a "S'mores Butler" toasts made-to-order marshmallows over the fire each evening. The hotel's popular bar, Pony Club, serves cheese, charcuterie, flatbreads and more of that local wine on its pavement-side patio.
But behind its quaint, sleepy facade, downtown Paso Robles has an edgy side. Like the producers at Tin City, Russell P From makes his big, bold reds in a garage right behind his Herman Story Wines tasting room, selling the majority of his wines onsite, via local restaurants, and to club members. Nearby Paso Underground combines four wineries in a joint tasting room.
"We're like a smaller version of Tin City," says Anita Khotari from Copia. "It's all boutique wineries, and the winemaker or owner will be pouring. You can talk to the people who had something to do with making what you're drinking."
Hatch is a local favourite thanks to old-school cocktails and butter-soft rotisserie chicken. The town even has a "speakeasy", 1122, tucked behind Pappy McGregor's saloon. If the doorman lets you in, perch at the bar to sip potent drinks crafted by waistcoated bartenders.
Back in Tin City, I head to BarrelHouse for a glass of Sunny Daze, a citrusy blonde lager. The craft brewery, whose open-sided warehouse space has tables nestled by brewing tanks, was among the first to move in here. Its landscaped gardens are dominated by a rocky waterfall feature crafted, appropriately, by a company that's been operating on this industrial estate long before it became a hip hangout.
Despite its roadside location, there are some pretty nice views from here. A live band strums an acoustic set, perched on an old, rusting truck repurposed as a stage. Behind them is a hazy backdrop of blonde hillsides studded with ancient oaks. And, a little further out, I can even spy the unmistakable stripes of grapevines.
Travel essentials
Getting there
Norwegian flies from London Gatwick to Oakland (near San Francisco) and Los Angeles, each around a four-hour drive from Paso Robles, from £345 return.
Staying there
Doubles at Hotel Cheval from around £250, B&B.
More information