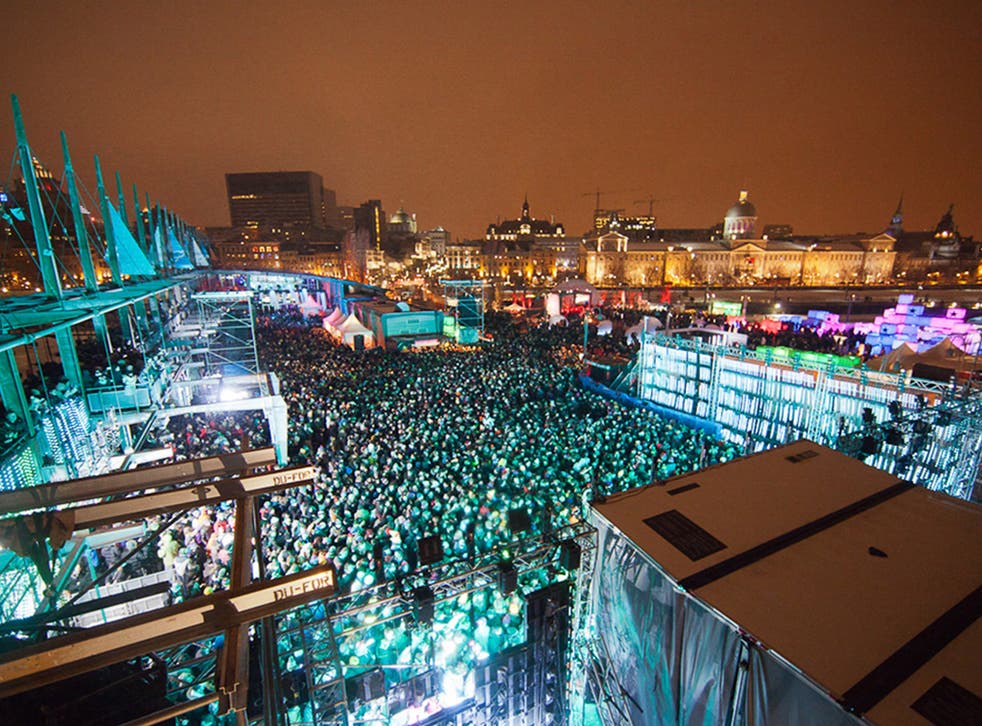 The coldest shows on earth
Winter music festivals are attracting thousands of revellers, despite the chill factor. Elisa Bray samples the -20C delights of Igloofest
If I stand outside for much longer, my beer will turn to slush. The temperature here at Igloofest, in Montreal, Quebec, one of the coldest music festivals in the world, is -20C. Along the pier on the Saint Lawrence River, a mass of multi-coloured bobble hats and fur-rimmed hoods are bobbing to the beats, fending off the icy chill and hypothermia – 5,000 Francophones and tourists raving in a blizzard. It helps that, as with many festivals in the snow, the music is a high-octane mix of electronica.
Amid the crush near the stage is the best place to be. Or at one of the six fires strategically placed around the festival site, where people are huddled, toasting marshmallows. There's also the Pavilion, an indoor area that houses the merchandise stand, selling logoed gloves, hot pads, winter hats and legwarmers.
When co-founder Nicolas Cournoyer set up a new festival in Montreal, it was a joke expected to amount to nothing more than a one-off event. A festival in January, Canada's coldest month? Now in its sixth year, it is a hotly anticipated spot in Canada's musical calendar, attracting more than 60,000 festival-goers.
"We were joking at first," says Cournoyer on the third of nine nights. "We were thinking we should do something in winter and get young people out to dance. At first we thought it was a silly idea, and then a good challenge: to tame the winter, and to really appreciate it.'"
The first instalment saw 4,000 people attend its two nights; by 2011 it had expanded to 59,000 over three long weekends. This year 69,772 attended.
"Even on the first edition we were amazed by the reaction. You go back to playing outside like when you were kids. I heard so many people complaining, 'Oh, January is so long', and now people are looking forward to the winter because of Igloofest," says Cournoyer.
Igloofest features acts from all over the world. It's hard to fathom how DJ Tiefschwarz from Berlin is wearing a T-shirt, but performing is made more comfortable by the warm air pumped onto the stage, where there are also heaters.
"We tell the DJs, 'Yes, it's really cold.' They think it's really crazy, but we do warn them," explains Cournoyer. "Sometimes the managers don't pass on the message and people come here with canvas shoes and small jackets so we have extra stuff that we lend."
A team of eight first-aiders is on stand-by should anyone feel the cold, equipped with warm clothing for sufferers. A beer will take between 10 and 15 minutes to turn to slush. Alcohol itself may be immune to freezing at this temperature, but the hot drinks on offer – hot chocolate and coffee (with or without added shots), and mulled wine – are an essential addition to the menu. Also warming is the Caribou, a potent mixture of red wine and brandy, which was concocted locally by early settlers.
With such a risk of hypothermia, the irony is that in freezing conditions you won't feel the effects of the alcohol. For festival-goers the problem is not here, it's when they go inside to a warm home that the body's heightened circulation increases the effects.
Assembling a festival in brutal weather makes for harsh work. "It really affects the operations," says Cournoyer. "It's hard to build the site. When it's cold like today you can't spend too much time outside so it's kind of a race." Then there are the technical problems caused by freezing temperatures: this year a burst water pipe blowing one of the main amplifiers on the afternoon of the opening night. "Stressful?" exclaims Cournoyer. "Just a bit."
The world's coldest festival certainly presents its challenges, but so too do those held in the Alps every year – a trend that has been growing, with the recent success of Cham Jam, Winter Sessions Weekender, Snowbombing, and the new Great Outdoors Music Festival, all blending music with skiing and snowboarding. There, avalanches and high winds are the dangers. Where the music is accessed by cable car, festival-goers are warned of the risks of drinking at high altitude, which increases the effects of alcohol.
At the opposite end of the temperature scale is Burning Man, a week-long arts festival taking place in the Black Rock Desert in Nevada, where temperatures regularly climb to 40C, dropping to 0C at night. There's no shade laid on for Burners, who are responsible for bringing their own protection from the blistering sun. All there is for cool salvation is the Center Camp Cafe. Running water in the middle of a desert is unthinkable, so people must bring their own water to avoid dehydration, with only other festival-goers' generosity to rely on.
For anyone complaining about the weather conditions and facilities at British festivals, a stint at one of these more extreme versions should help to put things in perspective.
Travel essentials
* Igloofest will return in 2013 for its seventh incarnation on 18, 19, 20, 25, 26 and 27 January and 1, 2 and 3 February 2013. igloofest.ca
* Great Outdoors Music Festival has become Rock the Pistes Festival and it takes place from 24-28 March 2012, Portes du Soleil, French and Swiss Alps. portesdusoleil.com
Winter Sessions Weekender
* 30-31 March 2012, Chamonix, France. wintersessions.net
* Snowbombing 9-14 April 2012, Mayrhofen, Austria. snowbombing.com/en
And, in case you need warming up: Burning Man, 27 Aug-3 Sept, 2012, Black Rock Desert, Nevada. burningman.com
Join our new commenting forum
Join thought-provoking conversations, follow other Independent readers and see their replies