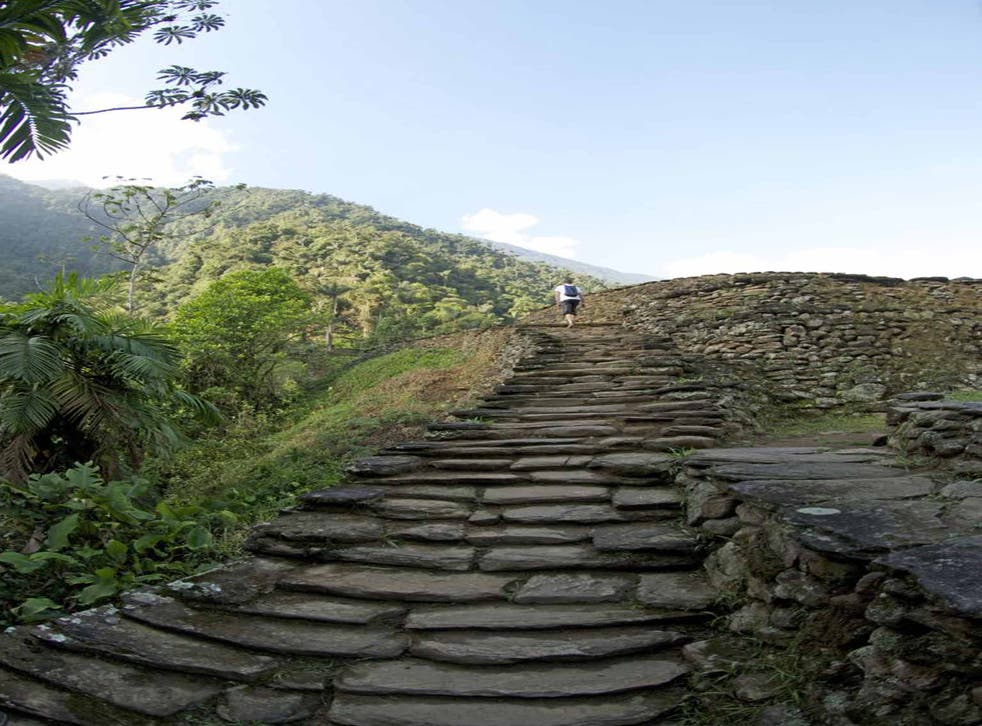 Colombia's Ciudad Perdida: Secrets of the Lost City
The site had been swallowed up by the forest for more than 400 years ... and Emma Thomson almost missed it
The jungle hummed in my ear as the violet dawn receded and cicadas began to rattle like maracas. One in front of the other, we picked our way in silence over the tree roots and rounded boulders that lined the babbling Buritaca River; wiping away the drops of sweat the already sultry air dragged from our foreheads. Suddenly, Celso – our indigenous Wiwa guide – stopped and let out a birdlike whistle to get our attention. He raised a sun-browned finger and pointed across the water. Just visible, through a curtain of lianas and low-hanging branches, was a steep flight of stone steps – browned with lichens and leaves – leading enticingly upwards. I would have walked right past it.
And that's exactly what happened to Colombia's Ciudad Perdida (Lost City) for nigh on 400 years. Built by the Tairona people around AD700-800 – which makes it more than six centuries older than Machu Picchu – it was once home to a 2,000-strong township of potters and farmers who carved terraces and a living from the high hillsides of the 5,700m Sierra Nevada de Santa Marta mountain range. They remained there unencumbered until Spanish conquistadors arrived in the late 16th century with Catholicism, syphilis and smallpox. The site was abandoned and, like a fairytale castle, all memory of her was forgotten until the mid-1970s when guaqueros (looters), hunting for tropical bird feathers, pulled back the tangled roots and discovered a deserted metropolis complete with burial plots filled with golden earrings, jadeite figurines and fine pottery.
Today, Teyuna – as the locals know it – is still a four-day walk from the nearest road. It has been clear of narco-traffickers and rebel armies since 2005 and word of its beauty is spreading quickly among intrepid hikers. I had joined a new tour with adventure operator Explore to see if the buzz was justified.
On the drive from the coastal town of Santa Marta to the start of the trail in El Mamey, we pass groups crowding around silver-barrelled water tankers; they were pushing their buckets towards the tap on its side that spouted agua. "No rain has fallen here for five months," laments our Bogotan translator, Léon, grinding his black-stubble jawline in worry. "The situation is getting pretty desperate."
Colombia's Ciudad Perdida

Show all 4
In El Mamey, we meet Celso for the first time. Like his Tairona descendants, a curtain of ebony hair trails down the back of his white tunic; slung across his body is a mochila bag woven with colourful geometric designs. We nod "hello" and, without ceremony, he strides off down the sandy path and we scuttle after him.
After an hour, all conversation has wilted away as we focus on hauling ourselves up a 600m hill in 90 per cent humidity. I feel like a wrung-out teabag. At the summit, we sink our teeth into segments of bittersweet orange laid out on palm leaves by our cook, Enrique.
Then it's down and down towards our first camp, Adán – a collection of tin-roofed huts shoehorned into a steep valley overgrown with giant yellow daisies and mango, orange and lime trees. The river has carved out a plunge pool and we jump from the rocks into the cool water and wallow while small fish nibble at our toes. Drying off, we assess our beds for the night. "Hammocks are so uncomfortable," Simon, a fellow hiker, remarks. "No way! They're like a cuddle in your mother's arms" Léon enthuses.
We break camp early the next morning while skeins of smoke rise from the morning fires of families in the valley, and tramp past slopes singed black by slash-and-burn to replace coca plantations with cassava and cacao. Something rustles in the parched grass and Enrique pounces on it. "Look!" he exclaims proudly, holding up a snakelet. "It's a baby Boa constrictor."
At midday, we take shelter from the high sun at a Wiwa camp. Celso leads us to a cacao tree where he slices off a green pod with his machete, tears it in half, and gestures for us to try some. I scoop my fingers around the slimy, white flesh and pop a piece into my mouth. It's soft and sweet and tastes slightly of oranges.
In the afternoon, teasing rumbles of thunder pass overhead, but no rain follows, so we press on; passing beneath boughs of unripened bana-nas that hang from the palms and blushing heliconia flowers.
On the fourth day, we rise in the darkness, pull on sweat-soaked T-shirts and shorts, and sneak out of El Paraiso camp while the other groups are sleeping. Tentatively, we start to climb the 1,200 steps – thin shards of stone stabbed into the hillside – that lead to Teyuna. Halfway up, my thighs are burning. I stop to rest a minute and behind me I hear the reassuring sound of Celso snorting coca leaf-laced phlegm and spitting it into the forest. I turn round to see him grinning up at me. He gives me a thumbs-up and we start to climb again.
At the top, we enter a clearing. Three circles of stone spread out before us, as Celso explains that Wymaco – father of the gods – chose the site so his people could live closer to the stars. The sunrise splinters through the high trees, warming our damp bodies and setting the stones aglow. When he's finished, we stand a moment in silence, looking up at the lianas. "How does being here make you feel?" I ask him. "I feel joyful – it's mine. It's a representation of who I am," translates Léon on his behalf.
Celso instructs us to walk around one of the stone circles seven times "to clear away bad spirits" and then we climb higher to La Capilla – the central section where feasts and rituals were held. We chat quietly, pointing to a barking toucan in a tall palm, but then the trees fall away and we are left open-mouthed and silenced: spread out before us are tiers of oval terraces that appear to perch on the clouds and tree canopy like a floating palace. For a full 20 minutes the scene is totally unblemished by other tourists.
So far, 250 terraces have been excavated over 30 hectares, with many more still hidden under the vegetation and, yet, very little is known about the site and its former residents. What facts there are have been cobbled together from a mish-mash of research conducted by the Colombian Institute of Anthropology and History (ICANH). And the stories told by Colombian guides and indigenous guides differ dramatically too. But that just adds to the mystery.
Perhaps what's more important is that the Ciudad Perdida trail is welcome proof of how much Colombia has changed: just a decade ago, the Sierra Nevada mountains echoed with gunfire between warring drug cartels and Farc guerillas, but now the government soldiers – camped at the summit to care for and watch over the site – wink at the girls and smile for pictures.
We hike back to El Paraiso camp and are just about to bite into our breakfast arepas when drops of rain start to splash on to the tin roof; a few at first, then a deluge, until the earth is dancing to the drum of the water. I think back to the families crowding around the water tanker in Santa Marta and can't help feeling a little superstitious – here is a blessing from Wymaco far better than gold.
Getting there
The gateway to Colombia is Bogotá. Emma Thomson travelled with Iberia (0870 609 0500; iberia.com), which flies daily from Madrid. From Bogotá, connecting flights to Santa Marta are offered by Avianca (0871 744 7472; avianca.co.uk), which also flies non-stop from Heathrow to Bogotá.
Trekking there
Explore (0844 499 0901; explore.co.uk) offers a 10-day "Trek to the Lost City" tour that costs from £2,380, including return flights, accommodation, transport and tour leader. The trail is busiest during Easter week.
More information
Colombia: The Bradt Travel Guide (bradtguides.com)
Join our new commenting forum
Join thought-provoking conversations, follow other Independent readers and see their replies