Cuban wheels: Cycling through the communist Caribbean

Show all 6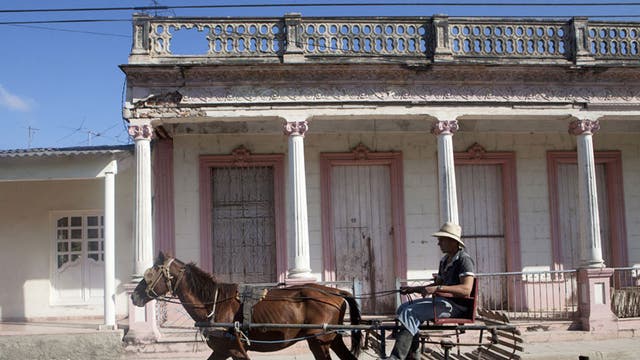 Cuban wheels: Cycling through the communist Caribbean
The best way to discover more about the Caribbean's largest island is by bicycle, as a colourful circular tour from Havana reveals.
The man with the gun came striding towards us, shouting and waving his arms around. Even those of us who didn't speak Spanish could make out we weren't exactly welcome. Our Cuban guide, Yasel, sternly advised us to get on our bikes and get moving. Now.
A little further up the road, along a stretch of the south coast just west of the Bay of Pigs, we pulled over. Yasel couldn't suppress a smile as he explained that of all the places to stop on this 1,200km-long island, ours was one of the most ill-advised. We should, he said, have chosen to pee in bushes almost anywhere other than outside the entrance to Fidel Castro's private country residence. Somewhat chastened, we resumed our tour.
Our two-week cycling trip around Cuba began and ended in Havana, taking us anti-clockwise around the island. Along the way, we took in 12 of the country's 15 provinces – but because Fidel's island is the size of England, a few coach transfers were necessary between rides.
On the morning after our arrival, we were up early for a bike fitting, then pedalled off on a warm-up ride around Havana's key sites. I'd visited the capital 10 years earlier, so I knew what to expect, but I was still captivated by the energy the city has.
The faded, crumbling grandeur of the architecture along the Malecó* makes an ideal backdrop for all those 1950s vehicles, including vintage Pontiacs and Buicks (some of the more dilapidated examples unencumbered by doors or even bonnets). Havana exudes a general feeling of summery goodwill, imbued by the son music radiating from every corner. As Yasel happily told us: "Cuba is known for having only two seasons: summer and more summer."
Summer was fine by me. After this short introduction to Havana, our group of 18 people, who ranged in age from 30 to 50 – and in cycling technique from novice to experienced – boarded our coach and headed east to the province of Matanzas. Here, we soon found ourselves cycling south in bright sunshine, whizzing along wide roads lined with royal palms.
There were people everywhere, from old men rocking in chairs on their front porch, to the crowds thronging the bustling bodegas – general stores where Cubans buy their monthly rations. Colourful washing blew in the breeze and children in smart school uniforms ran alongside our bikes, trying to high-five us as we cycled past.
Sunset brought us to a small beach resort in the Zapata peninsula on Cuba's south coast – a peaceful spot, where we were each billeted in our own chalet within the grounds. This swampy region is best known as the landing place of the Bay of Pigs invasion of 1961, when CIA-backed Cuban exiles tried and failed to bring down Castro's government.
Today, the area is a haven for bird species; one of the more keen-eyed members of the tour spotted the smallest bird in the world, the bee hummingbird, high in the branches of a nearby tree. We also saw spotted pelicans, flamingos, Cuban blackbirds and – forever circling overhead – turkey vultures, ubiquitous on the island, which gave me the uneasy feeling that I might become dinner if I sat still long enough.
The next day we embarked on a beautiful, undulating ride towards Trinidad, mountains and coconut groves on our left, the Caribbean to the right. Some of the tougher hills had me panting for breath. But as there was always a van in front and a support coach at the back, it was easy to go at your own pace. I could choose to enjoy solitude along beautiful stretches of road, stop off to take photos, or hang back to chat to other stragglers and encourage them up the hills.
We covered between 40km and 90km in a day, depending on terrain. During the regular pit stops our jocund driver José-Luis would leap into action, handing out water, cutting up fruit, dispensing nuts – and, if we were lucky, performing an impromptu roadside salsa.
Where we could, we stopped at local homes for a cup of sweet black coffee. The rural areas of Cuba seemed poor, but not grindingly so; state-supplied rations are intended to ensure that everyone has enough to eat, and housing laws guarantee a roof over everyone's head. Nevertheless, the houses sparsely decorated, each one bearing the same hallmarks: a few pieces of dark wooden furniture, a weary-looking vase of fake flowers and always the flickering TV in the corner.
The local currency, the Cuban peso, is the feeble fuel on which the local economy runs. More appealing to the locals is the Cuban convertible peso, broadly pegged to the euro and dollar and known as CUCs. Jobs in which Cubans come into contact with CUCs are more highly prized than many professions. So, if your waiter doesn't manage a smile throughout your whole meal or slops wine on the tablecloth, bear in mind that it may be a doctor or lawyer who is begrudgingly serving you. With tips, he'll be able to make double the amount than in the job he's qualified to do. Patience is definitely a virtue in Cuba.
Cycling into the Unesco World Heritage Site of Trinidad is an unforgettable experience. The picture-perfect colonial sugar town, with its pastel-coloured houses, cobbled streets and unhurried atmosphere, seems to have popped out of a time capsule. At night, I felt perfectly safe here as I wandered around the streets alone, not exactly loitering, but certainly not rushing past the open doorways, for a glimpse into the dingy strip-lit interior of Trinidadian home life.
It was here we had our first visit to one of Cuba's many paladares – privately owned restaurants that opened up during the "Special Period" of the 1990s when the Soviet Bloc collapsed, taking with it all economic support for Cuba. Castro was forced to encourage private enterprise in the form of these paladares, as well as the casas particulares (privately owned guesthouses) and agromercados (farmers' markets).
On a rooftop garden veranda, Vivian y Pablo offered us perfectly cooked lobster tail and prawns – a welcome change to the holy trinity of Cuban cuisine that we'd been relentlessly fed so far: that is, blandly cooked chicken, fish and pork.
Reaching Trinidad also marked a day free from cycling: we had the choice of a forest nature walk to the Javira waterfall, about 15km outside Trinidad, or a catamaran trip out to Cayo Blanco island, with snorkelling along the way. No contest for me; this was to be my only chance to laze around on a Caribbean island. As I lay sprawled across the netting at the front of the catamaran, letting the weariness in my legs fade away, I was aware that mine was a privileged position. Most Cubans are forbidden from sailing, the result of government concern (based on past experience) that they might hijack the vessel and set sail for a new life in Florida.
The next couple of days took us, by both bike and coach, through the sugar-producing region of Valle de los Ingenios, the coffee plantations of Alturas de Banao, the towns of Sancti Spíritus and Camagüey and on into the province of Granma, in the flood plain of Cuba's longest river, the Cauto.
"Granma" might look like an odd name for a province in a Spanish-speaking country, with good reason. The province takes its name from the cabin cruiser in which the Fidel Castro, his brother (and the current President) Raul and Che Guevara – plus 79 comrades – landed on the south-east coast of Cuba in 1956. (The vessel is now encased in glass outside the Museum of the Revolution in central Havana.)
Within days of what Guevara later described as "a shipwreck, not an invasion", skirmishes with President Fulgencio Batista's forces had reduced their number to about a dozen. Che, Fidel and Raúl established a hideout in the Sierra Maestra mountains. It is Cuba's mightiest range, and stood between us and the end of the trip.
Thankfully, the day of our hill climb dawned cool and breezy, and the night spent at El Salton, deep in the Sierra Maestra, was the least humid of the whole trip. We ate in the open-sided dining area overlooking natural pools, a waterfall and the dense tropical jungle surrounding the hotel.
As rain poured down, it was easy to imagine Castro and Che camped out in the mountains, fighting alongside los barbudos, "the bearded ones". They triumphed on New Year's Day 1959, when Batista fled the presidential palace in Havana.
Santiago de Cuba also has plenty of revolutionary credentials: it was here, on 26 July 1953, that Fidel led his debut battle, a comprehensively failed assault on the Moncada army barracks – now part school, part museum, complete with particularly grisly exhibits of the torturous fate which befell many of Castro's comrades.
After a day spent soaking up Santiago's sites, we were eager to sample the nightlife of Cuba's second city. We piled down to the Casa de la Trova, where, after one too many Cuba Libres, several of my fellow cyclists were being swung around to son, trova and salsa beats by enthusiastic locals.
For us, Santiago marked the turning point; our return journey was spent cycling quiet roads to Maniabon in the north and back through Camagüey. A long transfer to Havana took us through the pretty town of Remedios, and to the Che Mausoleum in the city of Santa Clara, where the decisive battle of the revolution took place.
Yasel filled the long bus journeys by revealing a comprehensive knowledge of all things Cuban. However, just as he was explaining that all political propaganda was forbidden on the island, I noticed another of the large roadside signs painted with political slogans declaring "Socialism or Death" and "Socialism is the only guarantee of our freedom and independence".
On arriving back in Havana, we congratulated ourselves with toasts of mojitos, on cycling almost 600km in 10 days, albeit with days off in Trinidad, Santiago and Havana, plus transfers on the bus to rest our legs in between.
Yet it was not a trip without mishaps. Two members of our party fell victim to the nasty potholes pock-marking Cuba's roads and our charismatic leader, Yasel, broke his collarbone when swerving to avoid an errant pig. We soon found out that although Cuba's health service may be the best in the Caribbean, it is rather basic in some areas.
Bumps and breaks aside, there's no better way of seeing Cuba and – with los hermanos Castro nearing the ends of their lives – there's no better time to visit. Just choose a low gear and savour it all from the saddle.
Travel essentials: Cuba
Getting there
* Celia Topping travelled with Exodus (0845 004 1277; exodus.co.uk), which offers 14-day cycling tours of Cuba from £1,869 including flights (from £1,299 without), depending on the season. Trips run roughly twice a month and include accommodation and most meals.
* You can fly from Gatwick on Cubana (020-7538 5933; cubana.cu), calling first at Holguín, then Havana; or you can go non-stop from Gatwick to Havana on Virgin Atlantic (0844 874 7747; virgin-atlantic.com). * Alternative routes — which offer connections from other British cities and may be cheaper – include Air France (0870 142 4343; airfrance.co.uk) via Paris and Iberia (0870 609 0500; iberia.com) via Madrid.
Red tape
* You cannot book flights to Cuba through online agencies with US parent companies, such as expedia.co.uk and lastminute.com.
* UK visitors require a tourist card, which costs about £15 through tour operators or airlines.
* All overseas tourists are required to produce a valid travel insurance policy, which covers medical evacuation. Note that many policies sold in the UK, eg by Boots, are not valid for travel to Cuba.
More information
* Cuba Tourist Board (020-7240 6655; travel2cuba.co.uk).
Join our new commenting forum
Join thought-provoking conversations, follow other Independent readers and see their replies