Grenada: Beauty on shore and below the waves

Show all 3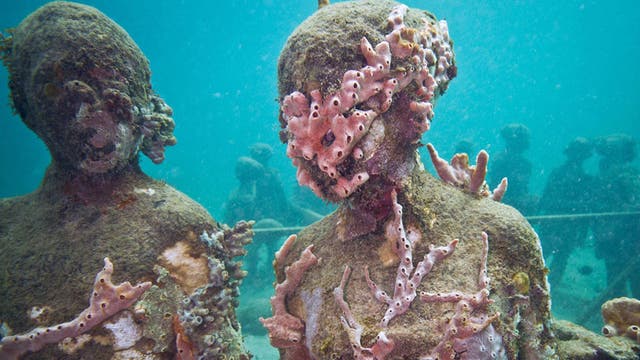 Grenada: Beauty on shore and below the waves
Under the surface of the Caribbean there's a sculpture park that rivals Grenada's attractions on land. Matt Carroll plays it by ear
I'd love to give it a go, but my ears won't let me. When it comes to excuses for being unable to go scuba diving, I can think of more exciting exit strategies – a phobia of sharks, perhaps – but there it is. I've said it. It's my ears.
Apparently it's to do with the build-up of air pressure, which increases as you dive deeper – and in my case causes my head to feel like it's about to explode. Most people solve this simply by pinching their nose and "popping" the air bubble – a process called equalising – but it never works for me.
For years I assumed that that was the end of my underwater aspirations. So, imagine my delight when I discovered the underwater sculpture park on the island of Grenada, shallow enough to give you all the thrills of scuba diving – minus the need for oxygen tanks, Padi certificates or the popping of ears.
Perched at the bottom of the eastern Caribbean, just above Trinidad and Tobago, Grenada is slightly smaller than the Isle of Wight, but a little more tropical: renowned among divers for its wrecks, rock walls, and reefs where dazzling sea creatures come out to play. It's also incredibly good for snorkelling.
Indeed, at many spots around the island you can just dip your head below the surface and be surrounded by shoals of striped sergeant major fish, such is the abundance of marine life here. But it was the sub-aqua sculptures that I wanted to see. After booking a boat ride over to Molinere Bay I found myself speeding out across the turquoise water, with the town of St George's disappearing into the background.
The sculpture park was created by the artist Jason deCaires Taylor in a bid to rejuvenate the island's aquatic life following the devastation wreaked by Hurricane Ivan in 2004. Opened in 2006, it was the first subterranean sculpture park on the planet: an impressive undertaking in itself. Now, though, it's at last coming of age – with many of the artworks finally being colonised by brightly coloured corals. But is it art?
According to Taylor, it's much more than that. With 80 per cent of the planet's reefs predicted to disappear by 2050, this is about preserving something precious for posterity. And installing it was no mean feat.
"The materials [for the sculptures] have to be exactly the right pH-factor to attract corals," Taylor said in a recent interview, "deployed at the right time of year to coincide with coral spawning." Since opening the Grenadian park he's created another one off the coast of Cancun, in Mexico, with the similar aim of encouraging coral growth and attracting marine life.
According to my guide, Albert, it seems to be doing the trick. "It's made a big difference," he said, squeezing into his wetsuit as we prepared to dive in. "All the Caribbean islands talk about their 'hidden beaches' and 'amazing marine life', but what we have here is something truly unique."
Following a quick safety briefing, Albert and I plunged into the warm water – my eyes scouring the sandy bottom for statues. In all, there are 65 scattered around the seabed at Molinere Bay, ranging from strategically placed tables with humble bowls of fruit (which are slowly being claimed by clusters of coral), to a circle of children stood holding hands.
After about five minutes of swimming from the boat, Albert suddenly duck-dived towards the seabed, beckoning me to follow his trail of air bubbles. Ahead of us lay a writer sitting at his desk, blue and yellow fish darting around his typewriter: the ultimate in creative inspiration.
We spent a good hour or so exploring the sculpture garden. Most of the pieces lie at depths shallow enough to approach without causing any alarm to my sensitive lugholes.
From Molinere we continued along the west coast, stopping for a dip at Turtle Head Reef. Lying on my back with the warm water lapping about my ears, I was faced with a decision: to stare up at the scenery and watch the fluffy clouds float lazily overhead, or glide over to the reef in search of the eponymous resident amphibians.
I chose the latter, and with Albert leading the way once more, it wasn't long before we spotted a leatherback languidly going about its business while monitoring us with its beady, cartoon eyes.
Tempting as it was to spend the entire week under water, there's a lot to lure visitors on dry land. In the capital, St George's, I wandered up to the Unesco-protected fort to find 18th-century cannons still pointing out to sea, waiting for any long lost pirate ships to emerge on the horizon.
In the market, I shopped for spices, the air thick with the aroma of cinnamon, saffron, cloves and ginger. The best-known Grenadian seasoning, however, is nutmeg; growing rampantly all over the island, it's used in everything from cocktails to casseroles.
In a strange way, Grenada still feels largely untouched by tourism. This was particularly noticeable when it came to the beaches: wherever I went I had vast strips of white sand to myself. The island's flagship beach is Grand Anse – a large curve of talcum powder paradise that stretches on for over two miles – but even here I saw only a handful of people.
Hotels and restaurants are for the most part family-run affairs. Local epicurean institution Patrick's feels like you've been invited into someone's home. After pulling up a chair on the front stoop I worked my way through a home-cooked feast that included freshwater crayfish, beef casserole, kingfish and callaloo soup. And just when I'd eaten myself into a state of immobility, out came the homemade banana cake.
Fortunately for my waistline, there were plenty of excuses to walk it off. Local guide and septuagenarian, Telfor Bedeau – famed in these parts for rowing a boat around the island (twice) – led me to some of his favourite spots. First we made our way along a rainforest trail. Having led island hikes for more than 40 years – way before "green" tourism was ever thought of – Telfor knew seemingly every plant in the rainforest. "That's soursop," he said, stopping beside an anonymous-looking bush so I could catch my breath. "You boil up the leaves and use them to make tea – it's good for stomach ache."
Then he led me to the Seven Sisters, a series of spectacular waterfalls where daredevils leap their way from top to bottom. Despite Telfor's encouragement to give it a go, I took one look at the 50ft drop and thought better of it.
This time I used raw fear, rather than sore ears, as an excuse.
Travel essentials
Getting there
Matt Carroll travelled with British Airways (0844 493 0787; ba.com), which flies from Gatwick to Grenada twice weekly – as does Virgin Atlantic (0844 874 7747; vigin-atlantic.com). Both airlines have one stop en-route.
Staying & visiting there
The writer stayed at Maca Bana (001 473 439 5355; macabana.com), which offers seven nights in a one-bedroom self-catering cottage for US$2,475 (£1,650), including airport transfers.
Patrick's restaurant, Lagoon Road, St George's (001 473 440 0364).
Grenada Seafaris (001 473 405 7800; grenadaseafaris.com) offers 2h 30m snorkelling tours of the west coast with equipment and a visit to the underwater sculpture park for US$65 (£43). Tours depart from Grand Anse beach.
More information
Grenada Tourism Board: 020-8328 0644; grenadagrenadines.com
Join our new commenting forum
Join thought-provoking conversations, follow other Independent readers and see their replies