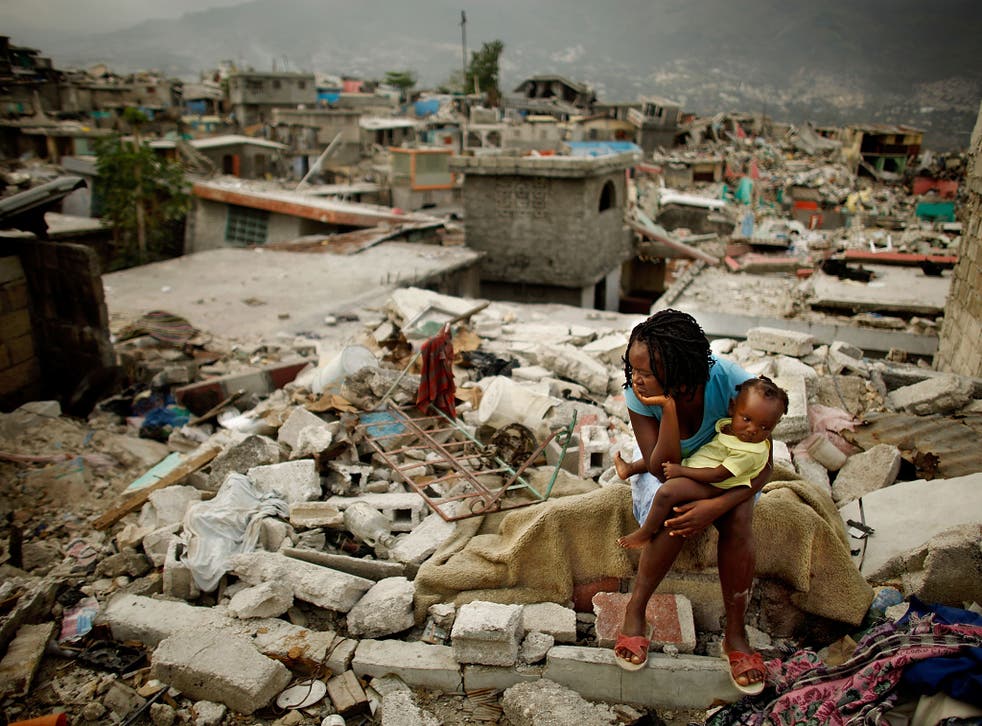 Haiti bidding to be the next big thing in Caribbean travel by leaving its troubled past behind
With its vibrant culture, Creole cuisine and colonial history there is plenty to interest tourists, but politics, a lack of infrastructure and perceived safety concerns still stand in the way
"WELCOME TO THE BEACH" a mosaic spells out along a palm-fringed beach promenade. Drawn by its legendary arts scene and ruffled colonial grandeur of picture-perfect candy-colored architecture and still-intact coffee storages, creatives and intellectuals have gravitated to seaside Jacmel for centuries. The boardwalk is bustling with coconut vendors, fitness enthusiasts at its brand new outdoors gym and artisans lining up their masterpieces for sale to tourists who are yet to arrive.
"Back in the day, we used to do much better," says Thomas Oriental, one of the last artists. "Now there are not too many tourists, because of the country's chaotic situation. So we don't do a lot of work."
Each of his masks takes days to make: the papier-mache is shaped in clay molds, left to sun-dry, then hand-painted and finished with glossy varnish. Tigers, parrots, zebras and cows sprinkled around him, Oriental spends most of his time under a mango tree nowadays, counting down to Carnival ("Kaneval") which every spring catapults sleepy Jacmel into colorful, sleepless block parties.
Every Haitian, the saying goes, is either a painter or a presidential candidate, but in Jacmel, three hours winding mountain roads and world away from Port-au-Prince, just about everyone lives and breathes the arts. As far as presidents go, the situation is more dire, with the country currently ruled by interim head-of-state Joceleme Privert and elections repeatedly postponed. As Haiti drifts back into political trouble, Jacmel is one of the government's designated hotspots in a multi-million tourism strategy. If only Haiti's bad reputation could be overcome, the tourism ministry insists, they too could capitalize on tropical beaches, folklore, history -- just like its neighbors have for decades. The hospitality sector could succeed as a sustainable growth model where billions of aid dollars and thousands of NGOs did not -- if it ever takes off.
"To this day, it's still mostly 'volontourism'," says Christophe Lang, owner of Jacmel's oldest hotel. "It's an interesting package: you can come to help people in need, while also having a very good vacation."
Perched on a cliff above a secluded lagoon, Le Cyvadier is a 'hidden gem' for mainstream tourists, who still tend to prefer other Caribbean paradises. A few miles east, stunning Kabik beach is crowded with UN vehicles on weekends, though most of the time, local surf kids have it all to themselves. Just because Jacmel looks like Havana, it doesn't mean it necessarily stands a chance against Cuba; Haiti's closest overseas neighbor and other newcomer on the Caribbean market for travelers who've already seen it all.
According to UN Office on Drugs & Crime (UNODC) though, Haiti's violent death rate is actually among the Caribbean's lowest— half of the Dominican Republic's and a quarter of Jamaica's. Unfortunately, many foreigners are still scared to visit Haiti, Lang says: "The general rhetoric is always that everyone is poor and about to die here. But right now I think we're being aided to death."
With renewed political instability, Haiti's tourism campaign remains an uphill struggle: headlines about earthquake, cholera and political instability still far outnumbering any enchanted travelogues. With over 4000 registered NGOs and God knows how many missionaries — no one counts, but tens of thousands yearly -- Haiti is still mainly frequented by aid workers and do-gooders (including celebrities, with both Beyonce and Chelsea Clinton visiting last year).
"Politics itself is the main obstacle," he admits, adding that some government support wouldn't hurt: electricity supply is getting patchier and pricier, and the property lost in the earthquake is yet to be replaced.
Armed private security guards the gates, which Lang insists is mostly for show, as European Union election observers retreat to his beachside bar after long days of campaign monitoring. As May 14's deadline for a new president approaches, only to most likely to be missed again, Haitians are running impatient. And when the street protests begin, it may not matter much to holiday planners whether they ever reach Jacmel or not: the PR-damage may already be done.
"I just hope we survive elections and the kind of news usually associated with them here — whether something happens or not," says Lang.
It's Friday, almost midnight, and Haiti's best bar, according to its bartender, is empty. Its address too, may be the nation's loveliest: Rue Commerce, a Caribbean twin to New Orleans' Bourbon Street, which was tentatively acknowledged by UNESCO as world heritage in 2004. Jacmel used to be Haiti's richest town.
Jean Beleque Saint Louis, Hotel Florita's assistant manager, in worn Levis and faded hotel merchandise shirt, which hasn't been on sale for years, is behind the mahogany bar, cleaning glasses. He isn't too worried, though -- things can only get better -- and makes tropical cocktails with an air of ceremony: fresh lime, passion-fruit juice (an aphrodisiac, he clarifies), tamarind, bitters and cane sugar, stirred slowly over ice cubes. Improvised and nameless, they usually contain rhum (Haiti's most famous export: Barbancourt) and always, Beleque insists, infuse the drinker with new heights of creative inspiration: it's no coincidence that Florita's guests tend to be painters, poets and film-makers.
"When you come to Haiti so many things will come to your head," says Beleque. "It will inspire you."
He shakes his idea at the idea of Haiti as A Place to be Saved: to him, it was always the other way around.
"Haiti is going to help you, I can say that. It's just we need people to come."
And it's a good thing — because they'll see that Haiti is too rich to be poor."
Join our new commenting forum
Join thought-provoking conversations, follow other Independent readers and see their replies