Halifax: The nautical heart of Nova Scotia

Show all 5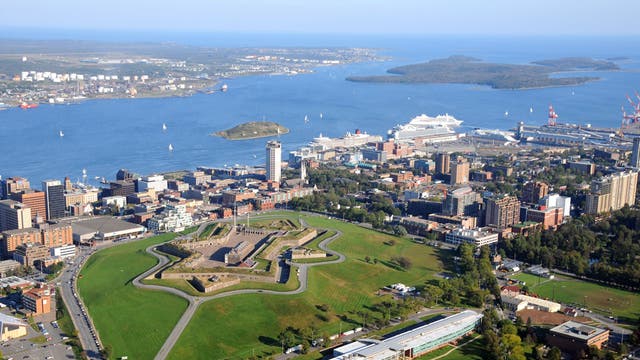 Halifax: The nautical heart of Nova Scotia
As a gateway to the Atlantic, Halifax has a strong maritime heritage. It's also part of the tragic Titanic tale, says Sarah Barrell
Piled up defiantly against the ocean, Halifax is a city defined by its location. Canada's gateway to the Atlantic is a windblown but welcoming place that wears its maritime heritage with pride.
This year, a century since the sinking of Titanic, its strategic oceanfront position will come into focus. After Belfast-built Titanic went down 375 from the coast of Newfoundland, on 15 April 1912, three cable-laying steamships were sent out from Halifax to recover bodies and possessions from the liner. Between them, Mackay-Bennett, Minia and Montmagny recovered 327 of the 1,514 victims. When the ships returned to port, the city's church bells tolled and harbour flags flew at half-mast. The local curling rink became the venue for embalming and identification, and 150 unclaimed bodies found a final resting place in three of Halifax's graveyards.
To get a sense of the city's part in the Titanic tragedy, visit the permanent Titanic exhibition at the excellent Maritime Museum of the Atlantic (001 902 424 7490; museum.gov.ns.ca) at 1675 Lower Water Street. Moving rather than macabre, this collection of photographs and artefacts includes a tiny pair of leather shoes belonging to the "unknown child", a well-preserved deckchair and large pieces of oak carving from the entrance to the first-class lounge. The museum also has a beautiful collection of old ocean vessels in the small craft gallery, and an exhibit about Nova Scotia native, Samuel Cunard, founder of the eponymous steam ship company.
From the museum, go south along the waterfront to see distinctive ships such as CSS Acadia (docked outside), a long-serving research craft that charted Eastern Canada's remotest coastlines, plus the blade-like prow of HMCS Sackville, a Second World War Flower-class corvette.
Walk along the harbour towards the cruise-ship terminal for Pier 21, where many migrants to Canada first landed. The Museum of Immigration (001 902 425 7770; pier21.ca) recreates early 20th-century life in the humble customs shed known as "the gateway to Canada"; the museum is currently under renovation, disrupting some of the exhibits.
Walk back north along Lower Water Street for a contemporary taste of multicultural Nova Scotia at Sea-Dee's (001 902 818 1970; sea-dees.com). This little dockside kiosk at number 1325 sells folk music from Nova Scotia's vibrant music scene, as well as music from the French-speaking Acadian community from Maritime Canada.
For lunch, pop next door to Seaport Farmer's Market (halifaxfarmersmarket.com) for fish'n'chips, waffles and myriad maple-soaked sweet treats. Established in 1750, it is claimed to be the oldest in North America.
If you fancy something more substantial, continue up Lower Water Street, turn left onto Sackville Street and right onto Argyle Street for The Five Fishermen at number 1740 (001 902 422 4421; fivefishermen.com). It serves superb grilled fish, oysters, scallops and Nova Scotia lobster, in curious surroundings. This former funeral parlour sports stained glass windows that once belonged to the chapel of rest. The dumb waiter operates on a pulley system designed to transport coffins. It's a sobering thought that victims of both the Titanic disaster and the 1917 explosion of the SS Mont Blanc that almost levelled Halifax, passed through these doors.
Completing a Titanic tour requires a brief interlude in a taxi (for about C$10/£6.70), to reach the graves of the victims. The three cemeteries are set within a few blocks of each other about two miles north-west of Downtown. Alternatively, use Metro Transit bus 2 (halifax.ca/metrotransit; singles C$2.25/£1).
The hilltop spot, Fairview, is a moving, meditative space, home to the largest number of graves, elegantly laid out in curved lines recalling the bow of a ship. From here, walk back into town south along Windsor Street. Just before you reach Downtown, turn left onto Cunard Street and cut across the well-kept Halifax Common, to explore the immense Halifax Citadel (001 902 426 5080).
This spot, with fine views across the harbour and city, has been home to no fewer than four forts. The current star-shaped stone fortification has been restored to its mid-18th century grandeur.
Costumed guides – bagpipers among them – complete the historic picture. If you're here at noon, brace yourself; the daily firing of one of the citadel's cannons shakes the city right down to the quayside.
Fresh Cuts
Neon-lit Argyle Street is home to artsy bar-landmarks such as The Foggy Goggle and The Economy Shoe Shop, but The Drawing Room (part of the Henry House Restaurant and Pub at 1222 Barrington Street; 001 902 423 5660; henryhouse.ca) makes a worthwhile diversion. Try a Tickle Me Rhuby cocktail (C$14/£9) with rhubarb cordial, gin and lime.
The Bicycle Thief (001 902 425 7993; bicyclethief.ca) serves modern North American-Italian dishes that make the most of Nova Scotia's bountiful land and sea produce – lemon gremolata-crusted haddock, native oysters and braised local rabbit.
Travel essentials
Getting there
You can fly non-stop from Heathrow to Halifax on Air Canada (0871 220 1111; aircanada.com), and – starting in May – on Air Transat from Gatwick, bookable through Canadian Affair (020-7616 9184; canadianaffair.com). The writer travelled as a guest of Nova Scotia Tourism (novascotiatourism.com) and Bridge & Wickers (020-7386 4610; bridgeandwickers.co.uk). The latter has three-night trips to Halifax from £875 per person, with Heathrow flights and B&B at the Halliburton hotel.
Go guided
Tattle Tours (001 902 494 0525; tattletours.ca) offers a regular walking Ghost Tour of Halifax (May-October, weather dependent: Wednesday-Sunday, 7.30-9.30pm) for C$10/£6.70, along with bespoke historical and Titanic itineraries. A new service "I Heart Bikes" offers guided bike tours (C$45/£30, three hours) and rental from C$9/£6 per day (001 902 406 7774; iheartbikeshfx.com).
Join our new commenting forum
Join thought-provoking conversations, follow other Independent readers and see their replies