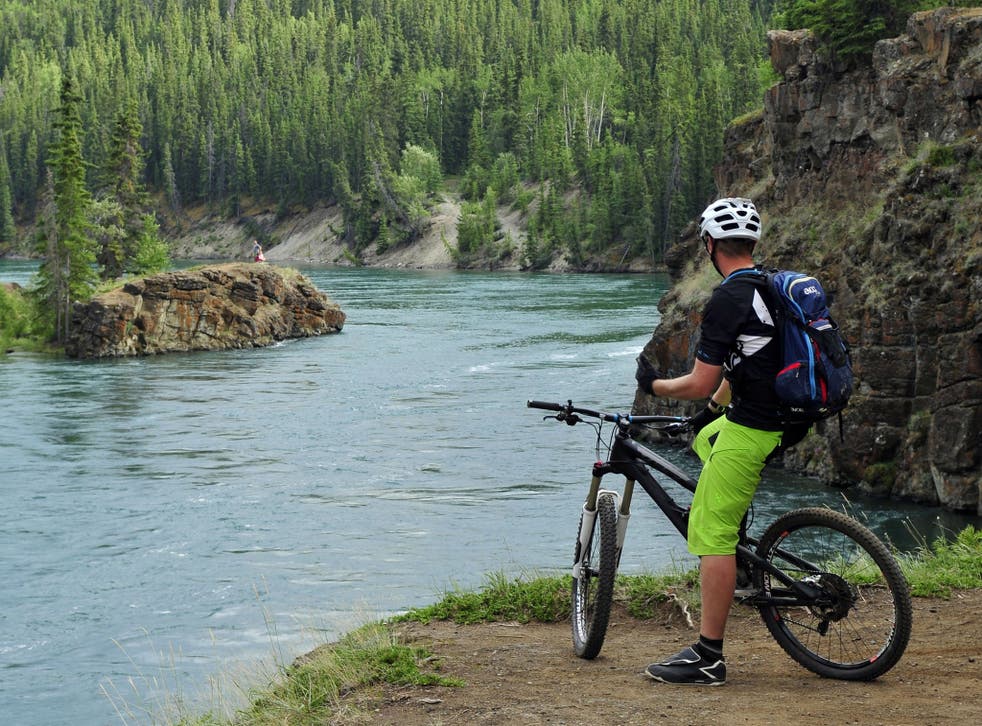 Mountain biking in Canada: An adventure where the wilderness rules
The remote province of Yukon offers the chance to mountain-bike through pristine terrain. Just watch out for bears and logs, says Emma Thomson
My bike and I aren't bonding. Like a snorting steed, it wants to race over the rocks and drops that unfurl beneath us, while my clammy hands clamp the handlebars trying to pull us back to a sedate pace. "Woo, yeah, shred the gnarl," whoops Euan, our leggy Glaswegian tour leader, as he skids to a halt behind me. I raise my most confident-looking smile and just have time to push my sunglasses back on to my nose before we're off again, hurtling along forest-floor tracks no wider than a grizzly bear's paw.
A hill looms ahead, but my thighs are protesting as if I've stuck forks in them. So I hop off and push the bike up the path, riddled with roots weaving in and out of the ground like giant worms. Sweat runs down the backs of my knees and my lungs heave for air. On the hill's cusp, we exit the woods and there, far below, spread three circular, agate-green lakes, hidden from everyone except us by a great swathe of tapered pine and spruce trees set against a mass of grey mountains. "Awesome, eh?", whispers Euan, rolling his bike alongside mine.
This contrast of pain and gain is all part of the joy of mountain biking. We'd come to test ourselves amid the wilds of the Yukon – Canada's westernmost province, bordering Alaska. Out here, nature is in charge. Eighty per cent of the territory is wilderness and the majority of the 33,580 population lives in the capital, Whitehorse, spread along the banks of the swollen snow-melt Yukon River. The place was named by prospectors, en route to the gold fields of Dawson City, who imagined the white caps on the Yukon rapids looked like charging white stallions.
Gold doesn't concern my fellow bikers. "What about bears?" asks Gina, an accountant from Minneapolis, whose toned legs display an impressive collection of blackened biking bruises. "They're out there, but if we shout as we ride along they usually run away as soon as they hear us," reassures Euan. Gina looks unconvinced. "I've brought a couple of bear bells just in case," she replies. Dave, a baseball-capped local guide sitting in the corner, lets out a snort of laughter: "Yeah, they make 'em round, so it's easier for the bears to swallow 'em!" Gina frowns and re-attaches the bell Velcro extra tightly to her bike.
Everything except bears are in evidence as we chase the trail that day. Blue-bodied dragonflies dart between the spruce, timorous grouse scamper across the path and red squirrels squeak from hidden tree nodes. Clearings are peopled with purple fireweed − Yukon's territorial flower − and the scent of pine washes over us as we whoosh by. Once we spy a white-faced bald eagle winging over the thermals.
Gearing up for another descent, I stand on my pedals and push my "tush" over the back of the saddle, holding my breath as I zip down the dirt track and up the next hill. Euan waits at the top. As I near the crest, I flash him a triumphant grin, promptly lose momentum, and topple over into the moss.
Bruised but not broken, I return to camp − a collection of luxury yurts hidden among the trees on a bluff overlooking town. Here we set upon a dinner of scarlet Alaska sockeye salmon, marinated in soy sauce and maple syrup. I expect to ache all over, but elation spreads through me instead. Later, tucked beneath a mille-feuille of blankets, I hear the camp dogs outside, growling at the wolves on the hill, who howl for the missing moon.
We awake to a film-set blue sky and brewing coffee. Half the team are going to attempt a more technical climb, so Gina and I are handed over to 21-year-old Jeff, whose badge of experience comprises his taut, tan-striped calves. We strap the bikes to the back of the minibus and drive an hour south to the railroad hamlet of Carcross.
We chatter in the back as we off-road uphill to find a suitable drop-off point. "Bear!" shouts Jeff. A flash of black and light-brown snout rears its head 150 metres in front of us, before loping off into the bushes. Half an hour later, as we're pedaling up a grey gravel path, I hear a low growl from the trees behind. "Bear!" I yelp, shooting forward on my pedals to make a quick escape. Gina shrieks and jolts after me. "Guys, it's just a quad bike," soothes Jeff.
I keep quiet until we find what we've been looking for: an old wagon road purportedly marked out in 1900 by Sam McGee, a construction worker made famous by English poet Robert Service. Service came to Yukon after the mad days of the Klondike Rush had passed, but gold was still on everyone's tongues and under their fingernails. He spotted McGee's name in the bank register where he worked and asked if he could build a poem around him. "The Cremation of Sam McGee" became a classic and Service was hailed the "Bard of the Yukon".
On the last day, we retrace some of the paths we pedalled on the first ride. I give a little inward cheer when I realise I'm not finding them as tough. I feel in control as I click down a gear and give the handlebars a proud pat. Then, as if sensing my swelling ego, nature places a log in my path. "Tree!" shout Jeff and Gina, who are someway ahead. All I hear is "Weee!" until I'm wedged between my saddle and a storm-snapped trunk.
Mountain biking in Yukon is undeniably testing, but there's a rawness that comes from riding along boreal-forest paths and cliffs; you're on the edge of nature, the precipice of safe, and for brief seconds you experience the fear and triumph of tackling this rugged wilderness, where the big skies and bulky mountains morph from threatening to enthralling and ensnare the soul.
Robert Service felt it and captured it thus: "The strong life that never knows harness; the wilds where the caribou call; the freshness, the freedom, the farness − O God! How I'm stuck on it all."
Travel essentials
Getting there
The gateway to Yukon is Vancouver. Emma Thomson travelled with British Airways (0800 493 0787; ba.com) which flies twice daily from Heathrow to Vancouver; the city is also served from Heathrow by Air Canada and Virgin Atlantic, and from Gatwick and Manchester by Air Transat. From Vancouver connecting flights to Whitehorse are offered by Air Canada (0871 220 1111; aircanada.com), WestJet (001 888 937 8538; westjet.com) and Air North (001 800 661 0407; flyairnorth.com). Condor (00 49 6171 6988920; condor.com) operates a weekly direct flight from Frankfurt to Whitehorse.
Biking there
H&I Adventures (01463 239 716; mountainbikeworldwide.com) offers one-week mountain-biking tours every July and August which cost £1,600pp, including accommodation and activities, but not flights.
More information
Join our new commenting forum
Join thought-provoking conversations, follow other Independent readers and see their replies