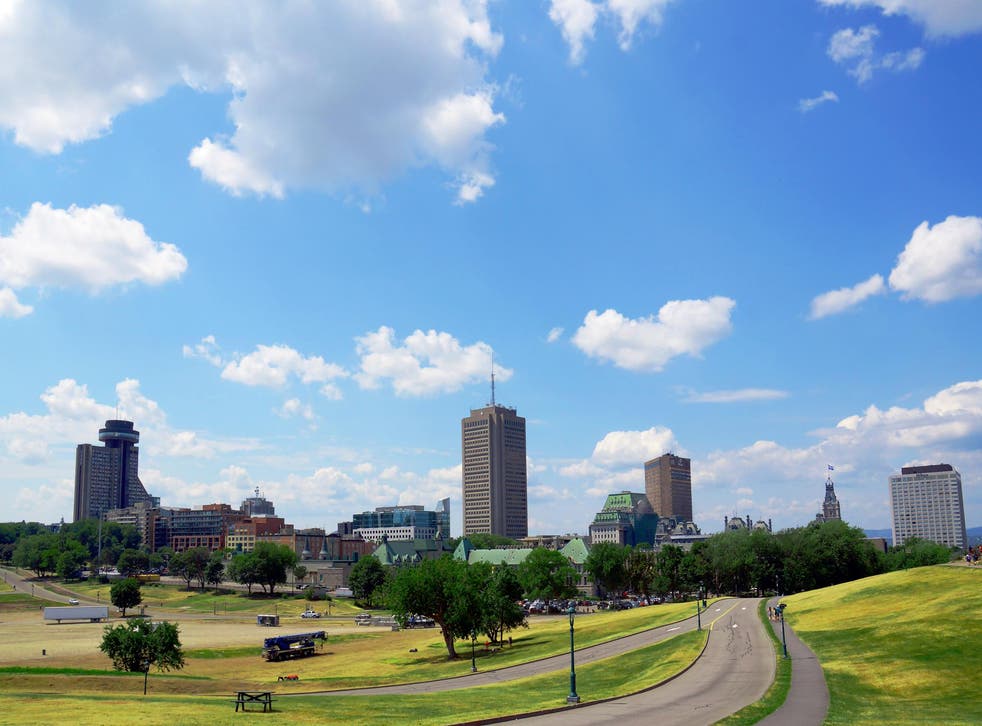 5 great things to do in Quebec City
The province's historic capital is full of surprises, from modern restaurants and vineyards to a waterfall taller than Niagara
Quebec City is often overlooked in favour of its near neighbour, Montreal. But despite its diminutive size (a population of just 541,000 compared to Montreal's 1.65 million), the capital of Quebec packs in more than 400 years of history, not to mention culinary delights, and opportunities to explore the great outdoors.
Montreal's international airport is just three hours away, with plenty of airlift from the UK. One of the newest connections is Wow Air (wowair.co.uk), which flies via Reykjavik from Gatwick, Bristol, and – starting 13 July – Edinburgh.
Culture fix
Founded in 1608 by Samuel de Champlain, Quebec City has a fascinating colonial past, visible in the historic buildings of Old Quebec, which are not dissimilar to those of, say, Normandy.
Take a stroll along Dufferin Terrace, which wraps around the neo-gothic Château Frontenac (now a Fairmont hotel; fairmont.com; doubles from C$449/£266 room only) and overlooks the St Lawrence River. The terrace was built in 1838 and at its highest point is lined with old canons.
Climb the oldest of the staircases that connect Haute-Ville, or Upper Town, with its ramparts and citadel, and the Lower Town. L'Escalier Casse-Cou has only 59 steps but gained its name (Breakneck Steps) from its steep incline. At the top you'll find Fresque des Quebecois, a fresco recounting the story of the founding of the city. If you look closely, you'll spot 15 historic figures, including writers and artists.
Hôtel Manoir Victoria (manoir-victoria.com) is within walking distance of Old Quebec's historic attractions, with room-only doubles from C$149 (£83).
Green space
The Plains of Abraham were Canada's first national park, and played a key role in the country's history. The sprawling site is where Britain fought off the French to win control over the area in 1759 – the defining confrontation between the two Empires in North America.
Today, the plains are the city's equavalent of Hyde Park, where locals go to relax, enjoy the gardens and picnic. It also hosts open-air concerts in summer, with artists this year ranging from Sting to Rammstein. Festival D'ete de Quebec (infofestival.com; tickets from C$94) runs 7-17 July and hosts over 300 performances across 10 stages.
Dine out
Think Quebecois cuisine and you may well think of poutine, the calorific mixture of chips, cheese curds and gravy that is the province's go-to comfort food. It can be found in abundance, of course, but Quebec City has plenty of more alternatives - especially in Upper Town.
Chez Boulay (chezboulay.com) dishes up innovative Nordic-influenced cuisine cooked by chefs Jean-Luc Boulay and Arnaou Marchand. It's known for its slow-cooked meat; the delectable braised cheek (the type of meat varies according to what's dgood that day) with organic vegetables is a highlight.
Just steps away from Château Frontenac, Le Continental (restaurantlecontinental.com) has been dishing up French-style cuisine since 1956. Orange duckling, filet mingnon flambéed in cognac and crepe suzette are all on the menu, and there's a fabulous wine cellar of more than 5,000 bottles.
Vine time
Just 15 minutes outside the city, on the Lawrence River, is Ile d'Orleans, a picturesque island dotted with traditional homes and villages. This rural isle has the idiosyncratic claim to fame as the location of North America's first cheese shop, but these days it's more about liquid refreshment, with several vineyards open to visitors.
At Vignoble Ste-Petronille vineyard (vs-p.ca), which produces 85 per cent white wine and the remainder red, you can enjoy a guided tasting, or take a bottle out on to the terrace to sip while you soak up the views. There's also a restaurant, should you get peckish.
Natural wonder
On the outskirts of Quebec City you'll find a surprising natural wonder, Montmorency Falls, which at 84m, are 30m taller than Niagara. Take the cable car from the bottom (C$10/£6 one way) and then walk across the suspended bridge at the top of the falls, where you'll be greeted by the mist from the pounding water.
Or, if you can brave it, take the steps embedded into the side of the cliffs and follow the paths through the park, stopping off at viewing points along the way. Thrillseekers can take things a step further with options including a via ferata and zip wires (sepaq.com; from C$26.50/£16 and C$25/£15 respectively).
For more information on Quebec City see quebecregion.com or quebecoriginal.com.
Join our new commenting forum
Join thought-provoking conversations, follow other Independent readers and see their replies