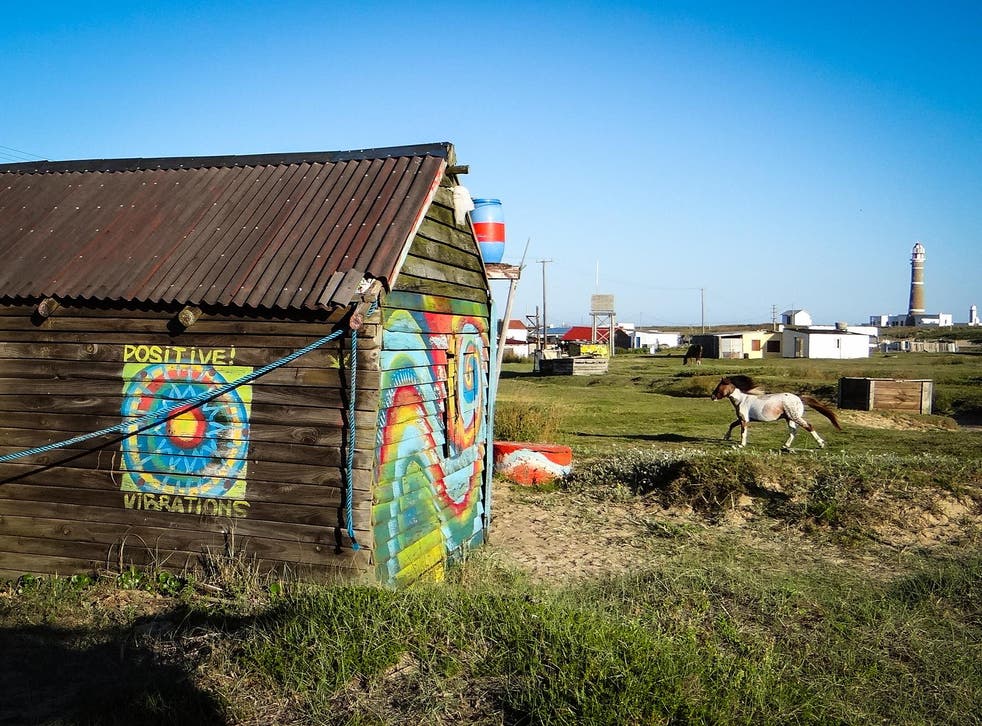 Holiday in a squatters' commune: Uruguay's incredible secret seaside resort
Stray from the Gringo Trail and find South America's answer to Alex Garland's 'The Beach' 
At the very edge of Uruguay, on its Atlantic shoreline, there is a tiny, isolated community of pioneers, artisans and fugitives living in the beam and shadow of a lighthouse. The makeshift settlement of Cabo Polonio, half-way along Route 10, the country's coastal highway, is only accessible by foot or 4x4 – which might explain why it has become something of a tiny, independent republic populated by probably the most colourful bunch of characters in Latin America.
Less than 100 years ago, the only humans around here were the lighthouse keeper, his wife, and a huddled band of hunters who made their living off the local seal population. Today there's a sort of commune, and a kind of resort, with wooden cabins and lodges scattered across a thin coastal promontory between two sweeping arcs of clean sand.
Through the austral summer, from December to March, more than 80,000 tourists arrive on the local bus, which is actually an open-top, double-deck, 4x4 truck. It's the only way to access the site without hiking over undulating dunes that separate the cape from the highway. Most come to eat fresh fish, surf incoming South Atlantic swells, watch blazing sunsets from a natural auditorium of rocks at the westerly shoreline. And, in many cases, to smoke some weed – though this community is so long and far removed from regular law enforcement that locals say Uruguay's legalisation of marijuana in 2013 made no discernible difference.
There are roughly 100 permanent residents now, though the number apparently drops to 30 or so in the much less hospitable winter. They live mostly without running water or a regular power supply – diesel generators, wind turbines and solar panels keep the lights on and the beer cold. Visiting day-trippers and weekenders get only the briefest, fair-weather taste of the lo-fi, off-the-grid lifestyle that drew most of these settlers to stay. It's a thoroughly modern, eco-conscious, self-sufficient community.
"There's a huge sense of freedom here," says Leonardo Segalerba. "Even just looking at the sky and sea has a huge calming effect on your mind." Now a chef at La Galosa, one of several homely, shack-like restaurants on the cape, Segalerba used to be a lawyer in Montevideo, "with four mobile phones and connected to a computer six days a week."
That city may be relatively sleepy as South American capitals go, and the Uruguayan leftist historian Eduardo Galeano once described his own people as "melancholic and subdued ... [like] Argentinians on valium". But Segalerba and his neighbours tend to see themselves as escapees from their country's accelerating rat-race.
He came here on holiday for decades, and later used his lawyering skill-set to help protect Cabo Polonio from what locals consider state encroachment. Their relationship to successive national governments (even that of widely admired socialist president Jose Mujica, whose progressive run in office ended last year) has been uneasy at best.
Some swathes of beachfront still technically belong to the state or remote private owners, so any properties built in those margins stand on shaky legal ground. In the late 1990s, bulldozers were sent to flatten dozens of homes, both empty and occupied, a resounding event that Segalerba remembers as "like something from the Second World War".
Negotiations over land-leases and building rights are ongoing, while "autonomous" local ownership has been secured in certain other zones. This includes Playa del Sur, where my rented cabin stands facing a painterly evening seascape (once immortalised in song by Uruguayan musician Jorge Drexler, who wrote a whole album inspired by Cabo Polonio).
It's well-stocked with candles and bottled water, the comfort level pitched slightly above the original hand-built, brightly-painted, pioneer-style "ranchos" of the rearward beach, Playa Del Craneo, but below newer luxury "posadas" like La Perla – which offers en-suite bathrooms and a decent in-house wine list. On the first night, a sudden thunderstorm wakes me with gothic stroppiness, gusting open the bedroom shutters and throwing rain in my face. Cloud are bursting over the ocean like balloons popped by lightning bolts.
By morning, I might as well have dreamt it. Looking south from that landmark lighthouse, the horizon appears blue and clear all the way to Antarctica. The current keeper is a friendly guy named Braniel, who gives me a quick primer on Captain Poloni, the 18th-century seafarer this place was named after.
Well before there was a lighthouse here, in a storm even worse than last night's, his ship was wrecked on the rocks and sank just offshore with its cargo of English cutlery. The story goes that fine silver forks were used by humble fishermen for decades afterward, and that the salvaged timber made for sturdy huts.
Back down at sea level I sit for a while outside the Posada Mariemar beach restaurant, where a massive sea lion idly tuts and huffs beside the terrace steps as if waiting to be seated. Such animal encounters are apparently common here. Later, in a dark, cave-like bar run by a blind man named Joselo, I'm told that penguins sometimes wander in, tired from mating or migrating, and are treated as welcome – if non-paying – regulars.
The human customers include a local handyman Punky (real name Joaquin Maora) and his dog, Little Boy. One sings and plays harmonica, the other howls along. Both of them are covered in paint. Up the street is Lo De Dany, a cosy, soft-cushioned bunker where Daniel Machado Molina cooks up seaweed balls in flour and lemon, grilled fillets of lenguado, and fried chunks of meaty little sharks known as gatuso angelico.
Molina is one of the last true Cabo Polonians, in the sense of being born here. His father and grandfather were seal hunters, and he followed them into the trade before it was outlawed in 1990. They were also fishermen and farmers by necessity. Like most local businesspeople, he only started selling his wares when visitors started asking to buy them.
As residents' livelihoods have since shifted from "rustic to touristic", their customers have changed too. In the early days it was mostly hippy types, says Molina, "with long hair and coloured trousers". More recently it's been middle-class couples and families from Montevideo and Buenos Aires, who are not so keen to go without wi-fi.
"We work hard to accommodate them, but we also think that people should adapt to Cabo Polonio, and not the other way around." Molina sighs in the dim candlelight, against the low buzz of the generator.
"Libertad," he says – the Spanish word for freedom – "takes a bit of adjustment."
Travel essentials
Getting there
British Airways (ba.com) and Iberia (iberia.com) run partnered flights with Latam (latam.com) from London airports to Montevideo, usually via Amsterdam or Madrid, with return fares from around £600.
You can rent a car and drive up the coast on Route 9 or 10 to Cabo Polonio – it's a great drive and only takes about three hours from the capital. In high season, SummerBus services (summerbus.com) from Montevideo also stop close to the village.
Cabo Polonio can only be accessed through the park gate (puerta) off Route 10. Entry and transport to the cape costs 200 pesos (around £9) per person return (under 5s free). Private vehicles can't proceed beyond the gate – parking there is 170 pesos (around £7) per day.
Staying there
For a full range of accommodation options and booking services see the official community website: portaldelcabo.com.uy/en
Join our new commenting forum
Join thought-provoking conversations, follow other Independent readers and see their replies