Stand-up paddleboarding: Now you can paddle at the deep end...

Show all 2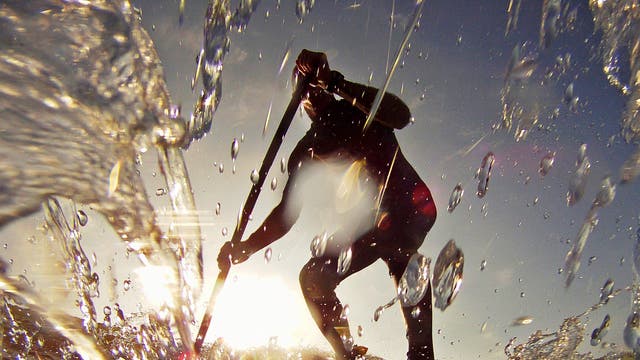 Stand-up paddleboarding: Now you can paddle at the deep end...
Forget surfing – SUP is the cool way to rule the waves on the Florida coast, says Tristan Rutherford
Tristan Rutherford
Tuesday 23 April 2013 17:30 Comments
Stand-up paddleboarding, or SUP, is said to be America's fastest-growing water sport. Little wonder. Gazing jetlagged from my Miami hotel balcony, I spy two sun-tanned seniors easing through the dawn mist in the bay below. The pair glides past a mangrove island, Jesus-like atop their oversized surfboards.They skate in complete silence, leaving the resident pelican population undisturbed.
Bizarrely, this seemingly impossible feat of waterborne balance takes just five minutes to learn. And, thankfully in my case, meagre physical fitness and upper-body strength is no hindrance. To get a first-hand grip on this recent craze, I take a taxi to celebrity-studded Key Biscayne. Here Bulgarian-Bavarian paddleboarder Ljubo Semerdjieff has set up an SUP school for beginners and experts alike. Enrique Iglesias and Arnie may live nearby, but the protected bay is incredibly calm. This shallow sandy-bottomed area is also rich in sea life: "Like a tropical aquarium", Ljubo says. "When I started five years ago, no one had heard of SUP."
His barefoot classroom on the beach is now packed with locals learning the basics. Every new arrival gets a free 10-minute tutorial in paddling, stance and balance at sea.
Wearing nothing but shorts and sunscreen, I place my board beside Ljubo's in the shallow surf. I climb on to my knees, then rise to my feet as instructed. Unlike surfing, which requires days of practice just to stand, this sport seems all too easy. Not only that but, according to Ljubo, "SUP offers the most complete physical training as it focuses on core muscles, cardiovascular, focus and flexibility".
As a vibrant 67-year-old, he's living proof that paddleboarding is the perfect soft workout for all ages. He explains that new composite materials allow SUP boards to be longer, wider and thus much more stable than traditional surfboards. Their low weight also makes them easy to carry from the car, while rubberised tops make them difficult to topple off. Children often cruise along for the ride by sitting on the front of their parent's board. Ljubo brings his two dogs with him on longer-expedition paddles.
As we walk on water 500 yards from shore Ljubo fancies he sees a manatee. These massive seal-like mammals – otherwise known as sea cows – frequent the warm Florida waters and are a common sight for stealthy 'SUPers'. With a few swift paddles Ljubo is off and away, the Miami sun silhouetting him from behind like a Teutonic demigod.
The manatee turns out to be a mirage, but we spot wildlife aplenty as we glide onwards to a mangrove shore. Stingrays and tropical fish swim below, as black hawks circle overheard. A giant iguana soaks up the sun on a sunken tree. And, joy of joys, two dolphins cartwheel past, their silver backs shining in the mid-morning sun. Moreover, as motorboats are prohibited from the shoreline, the only way for tourists like me to see such wildlife this close up is by rented SUP.
Ljubo is keen for me to return to one of his sunset SUP tours. These involve paddling out to an offshore bird reserve and cracking open the bottle of bubbly strapped to his board's bungy cord.
However, I have an appointment in nearby Coconut Grove to try SUP-yoga. This paddleboard derivative is shaping up to be Miami's must-do sport for 2013. No other activity better sums up the city's free spirit.
Nutritionist, personal trainer and now SUP-yoga teacher Christy Maskeroni set up her waterborne practice a few months ago. Since then she's been pursued by SUP establishments in Miami's trendy South Beach that are also keen to offer downward dogs on the high seas.
Granted, paddleboarding is already decidedly yogic. It necessitates open shoulders, measured breaths of sea air and concentration only on the next stroke. But practising meditation, tantra and body balance an inch above the lapping waves is said to be incomparably soothing to the soul.
As we paddle out past the bobbing sailboats in Coconut Grove, Christy highlights the advantages of SUP over the similarly simple sport of kayaking. "When you stand up in the water you have such a different perspective rather than sitting down."
She's also seen locals use paddleboards in countless different ways: "As waterborne picnic tables, transport, floating gym mats, dive platforms. Even as fishing stations with tackle tucked under the bungy."
We stop by a small island. A 5lb weight is dropped over the back of our boards to maintain position. Again, it's a maritime paradise, where pelicans doze on the shore and trumpetfish weave below. Christy then tells me to sit cross-legged, close my eyes and focus on "the sunshine, the breeze and the water flowing below".
It seems that assuming the lotus position on a surfboard is normal practice in happy-hippy Florida. I imagine that doing it on the River Trent in my native Staffordshire would elicit heckles of "oi, beatnik", or very probably something rather worse.
Every position must be performed with a confident sure-footed balance. The yoga is therefore more concentrated, because the focus is absolutely on the movement in flow. Lose concentration on a yoga mat and you topple over like a house of cards. Let distant thoughts cross your mind on an SUP and you're in the drink. Thankfully I'm dry, relaxed and zenned-up after a 60-minute session on the waves. Alfresco Miami certainly beats LA Fitness.
On my final evening I make a farewell paddle along South Beach, the epicentre of Miami's tourism industry. Thanks to the wise teachings of Ljubo and Christy I walk on the water like a true disciple.
Parked along either side of the bay are superyachts, choppers and millions of dollars of muscle cars. But I wouldn't ride into the Florida sunset on anything else.
TRAVEL ESSENTIALS
Getting there
British Airways (0844 493 0787, ba.com) flies Heathrow-Miami from £499 return. It has a code-share arrangement with American Airlines (0844 499 7300; americanairlines.co.uk). Both airlines compete with Virgin Atlantic (0844 209 7777; virgin-atlantic.com) on the same route.
Staying there
Tristan Rutherford stayed at Sonesta Bayfront Hotel (001 305 529 2828; sonesta.com/CoconutGrove). Doubles from $161 (£107), room only.
Paddling there
Ljubo Semerdjieff's Standup Paddling Key Biscayne (001 786 301 3557; standuppaddle keybiscayne.com) offers lessons, nature tours and SUP rental from $20 (£13).
Christy Maskeroni (001 646 491 0839; christymaskeroni@me.com) offers 90-minute SUP yoga tuition for
$65 (£43)pp.
Paddling here
Active360 (020-33935 360; active360.co.uk) offers SUP rental and two-hour training sessions from £50 in Brighton, Essex and London.
St Ives Surf School (01736 793 938; stivessurfschool.co.uk) offers tuition from £35.
Register for free to continue reading
Registration is a free and easy way to support our truly independent journalism
By registering, you will also enjoy limited access to Premium articles, exclusive newsletters, commenting, and virtual events with our leading journalists
Already have an account? sign in
Join our new commenting forum
Join thought-provoking conversations, follow other Independent readers and see their replies