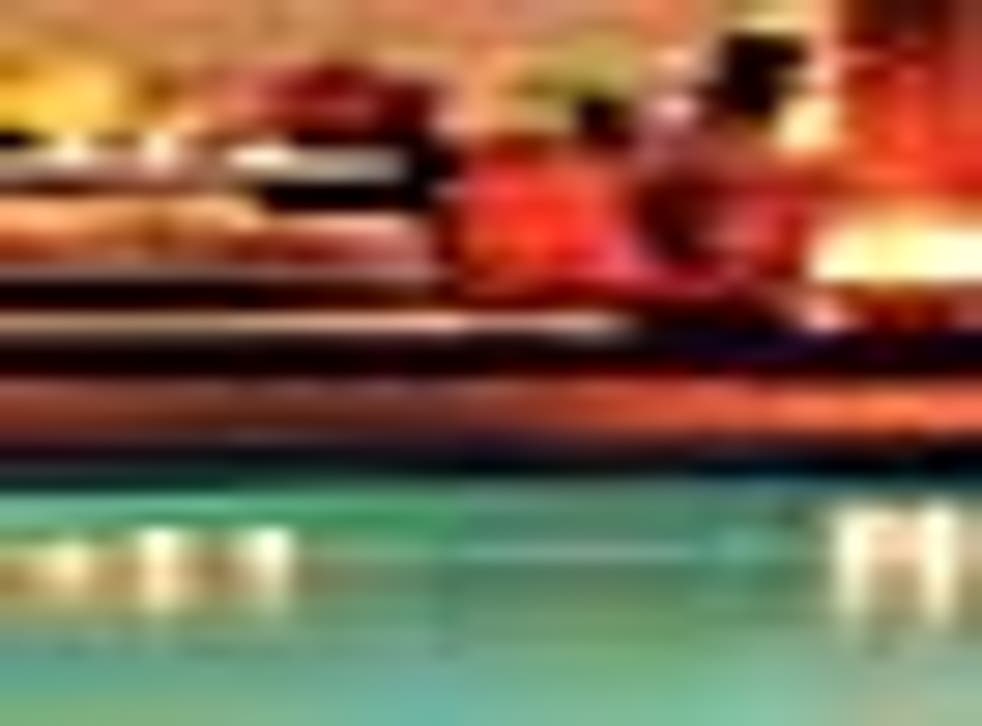 The hottest holiday for mums-to-be - a babymoon
Palm Springs is one of those great American anomalies: an improbable desert settlement wedged between the folds of inhospitable mountains. It's as if someone came out here with a mind to build another Las Vegas, took a hot soak in the area's eponymous thermal waters and thought, "Bugger it, who needs neon?"
The place is a testament to nothing, a celebration of still, somewhere to come to be far from anywhere. Between the 1930s and 1960s this desert town in back-country California became home to Hollywood on holiday, with stars such as Elvis, Sinatra and Sammy Davis Jr taking part-time residence. But somehow Palm Springs remained determinedly low rise, defiantly low-key - an anti-Vegas. Even its little airport, beneath the incongruously snow-capped peaks of the San Jacinto Mountains, looks like a small luxury resort with barely a signpost to hail its entrance.
Perfect for an indulgent spa holiday - the ultimate place to come to do nothing, in style. And that, as first-time spa visitors, is what we were after. This was new territory for the other half and I, accustomed as we were to holidays where frantic sightseeing and socialising takes precedence over sleep and any relaxing. Add to this the new experience of travelling with extra baggage - namely six months of baby brewing in my belly - and we needed all the help we could get to wind down.
Cue the "babymoon", the latest fad to hit America's spa circuit. This rather comical phrase was coined by a Brit, author and childbirth educator Sheila Kitzinger, to describe the first few days of a parent and baby's life together. But the travel industry in the US has taken the idea and run to the spas with it. Now expectant parents are tourism's newest niche market with hotels offering relaxing last-hurrah breaks for parents-to-be; a sort of pamper yourself before Pampers.
The idea is fast catching on in Europe, but we decided to head to the source for our experience and pulling up outside the Parker hotel in Palm Springs, it looked as if we'd made the right choice. If it hadn't been for the navigation system in our car announcing, with a sunny American accent, "you have arrived at your destination", we wouldn't have known we had arrived anywhere. Tall white walls covered in the richest coral pink bougainvillea concealed an elegant driveway and, we assumed, the hotel. Rounding the entrance, we were greeted by a teeming water fountain, which seemed obscenely luxurious after a two-hour drive through desert. A battalion of staff appeared, dressed in white cotton slacks and pink jumpers that matched the bougainvillea.
"Ah, the babymooners," exclaimed Bobby, one of the battalion manning the door, as our car was whisked away by a valet and our names and bags taken. "Welcome to you all!" he said, generously extending the hospitality to my bump without a hint of insincerity. What was in store was something of a mystery. Our weekend's itinerary had been tailor-made by hotel management after we'd answered questions on our favourite movies, music, books and leisure activities. The results had gone towards creating a weekend dedicated to pampering our needs, both as a couple and as individuals. First was something rather unexpected: a massage lesson for "dad", with me as guinea pig. Our masseuse, Andy, a youthful grandmother with an earthy Californian straightforwardness, was the ideal candidate to direct what could have been an uncomfortable threesome. With loooong, soothing vowels she explained to my sheepish dressing-gown-clad husband how to alleviate pain in my lower back, shoulders and legs: the parts of the body that come under most gestational strain.
Twenty minutes later I suspected these skills would never be put to practical use but it felt good to have an objective outsider explain how hard pregnancy is on women physically and emotionally. I relaxed into a smug stupor, only mildly perturbed by the odd sensation of two pairs of hands pummelling me from the outside while the baby did the same inside. For the last 10 minutes we swapped, so that Andy could ease hubbie's lingering backache. "Wow, like most men this stress is really bottled up," she said as she ploughed her elbows around his spine. "Pregnancy can be a quietly angst-ridden time for dads-to-be." Rather than feeling miffed that attention had been diverted from the VIPP (very important pregnant person), I was struck by the urge to weep as my helpless husband lay prostrate trying his hardest not to scream like a big girl. Hormones: undignified things.
The Parker's "Yacht Club" spa could not be better for regaining some composure. Done out like a cross between a Greek temple and a plush Edwardian bath house, the men's and women's areas are divided by sweeping velvet curtains, a partial wall and elegant awnings. Leaving the couple's massage room I happily launched my pregnant bulk into the swimming pool safe in the knowledge that I was only under female scrutiny. After an hour in the hot tub next door my other half reappeared, masculinity and mobility regained, bearing a dopey, spa-drunk smile. We barely made it through the "baby bites" and one of the DVDs from the handpicked library in our room before were both sleeping like babies.
The next morning after a sumptuous breakfast in the shade of a palm tree within our private patio, we began to understand why many Americans go on holiday but never leave their resort. We had barely made it out of our suite. In fact, we were trying to work out where we'd put the baby if we moved in permanently. The square footage beat our tiny Manhattan apartment and, designed by New York interiors guru Jonathan Adler, the décor is trendy, eclectic and indulgently grown up. I lounged on a white bedspread, dug my toes into cream sheepskin rugs and spent an idle hour deciding which of the smorgasbord of designer bathroom products would make it into the monsoon shower with me. Yes, a baby would wreck this place in minutes, but forgive a pregnant girl a delusion or two. The other half had fallen asleep on the patio; head resting on a cushion stitched with the words "Love, cash, bubbles, gin, bunnies, grass."
We finally decided to go for a wander around the 13-acre grounds. Sitting over a vast water table, Palm Springs doesn't lack lush gardens. We took a dip in one of the two outdoor saline water pools. Forty lengths here, breathing in the perfume of citrus trees and mountain sage; certainly beats my perfunctory swim at the chilly municipal pool back home. Next stop: a loll in one of the giant hammocks dotted around the grounds, before we parted company for our individual pampering sessions.
This time I enjoyed a full body massage aided by a clever table built with a recess for my bump. I hadn't lain on my front in weeks and this sensation, along with the expert touch of aunty Andy, sent me back to sleep. Later, reunited with my husband we toasted our indolence with one of the spa's complimentary iced fruit teas served in Martini glasses, which went some way to convincing this booze-starved pregnant women that she was having a proper drink. Hubbie looked happily sunburnt after his session with a pro-tennis coach on the hotel's posh clay courts. "She was amazing!" he said before confiding that she was in her late sixties and had had him chasing balls like a Jack Russell. In an endorphin high he also claimed he'd missed me. A low-lit dinner in the hotel's kitsch-cool Mister Parker's restaurant completed the romantic scene. I had been worried that being on a babymoon package would mean entering some sort of fat-camp-cum-breeding cult, but everyone was delightfully well turned out and well mannered. We were the only pregnant couple in the room, but a very hip pair from Orange County passed on their congratulations, and confessed they were on a weekend away from their four children.
We retired to lounge chairs in the garden outside the hotel's original palatial building. We searched the skies for shooting stars, but camp-fire advice was coming in thicker and faster. One couple recommended we try the hotel's morning yoga classes - which can accommodate pregnant poses. "Children change your life in such unimaginable ways," smiled a movie-star-looking mum from San Diego. If bearing offspring means we treat ourselves to the odd weekend like this, then ring in the changes.
TRAVELLER'S GUIDE
The writer travelled as a guest of the Parker Meridien, Palm Springs, and Expedia (0870 050 0808; expedia.co.uk), which offers fly-drive packages to the West Coast from £475 per person.
GETTING THERE
To reach Palm Springs you can fly from Heathrow to Los Angeles; choose from Air New Zealand (0800 028 4149; www.airnz.co.uk), American Airlines (08457 789789; www.americanairlines.co.uk), British Airways (0870 850 9850; www.ba.com), United Airlines (08458 444777; www.unitedairlines.co.uk) and Virgin Atlantic (08705 747747; www.virgin-atlantic.com).
To offset the environmental harm of a return flight from London to LA, you could pay £19 to Climate Care (01865 207000; www.climatecare.org).
STAYING THERE
The Parker Palm Springs, Palm Springs, California (001 760 770 5000; www.theparkerpalmsprings.com). Babymoon packages start at $725 (£403) per person, which includes breakfast and dinner for two at Mister Parker's, movies/books/ music in-room, baby-bites and activities. An 80-minute massage starts at $220 (£122); tennis lessons from $90 (£50).
TRAVEL TIPS
Flying is safest and most comfortable between 12 and 28 weeks of pregnancy. After 28 weeks, many airlines require a letter from your GP certifying your fitness to travel. Avoid countries that require malaria medication or vaccinations - you won't be able to take them.
Travel with a copy of your policy and record of your blood type. Pregnant women can be more susceptible to DVT, so wear special socks and move about regularly during the flight.
Travel with snacks, and stick to bottled water. In the spa, make sure your masseuse avoids essential oils and manipulating pressure points, in the feet and abdomen especially.
FURTHER INFORMATION
Palm Springs tourism (001 760 778 8418; www.palm-springs.org).
Join our new commenting forum
Join thought-provoking conversations, follow other Independent readers and see their replies