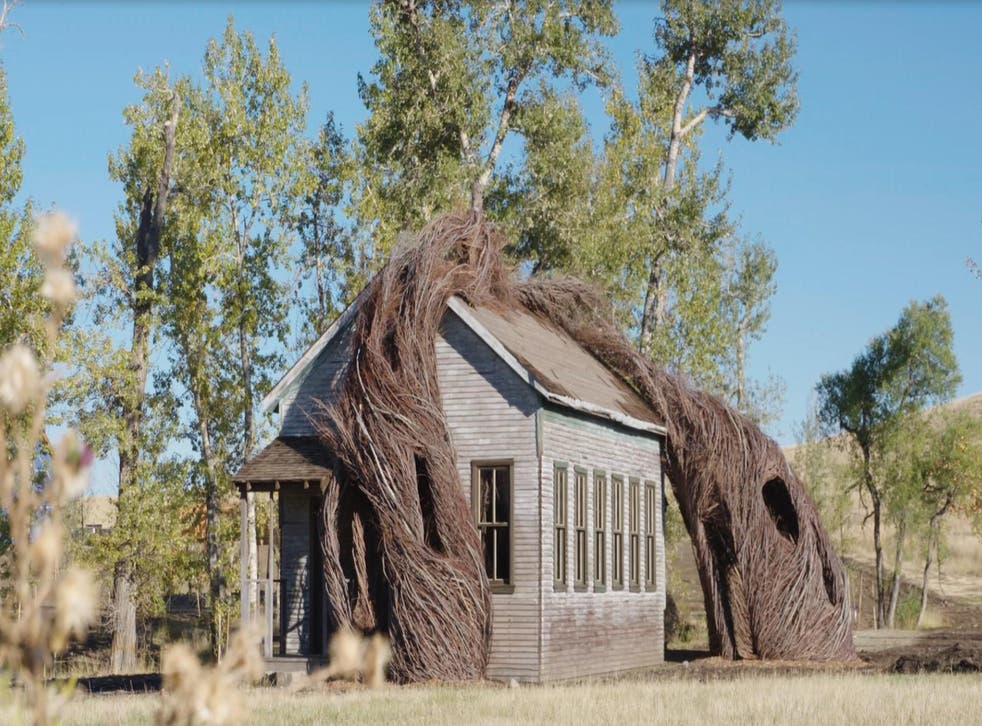 'Portals to another dimension': What on earth is going on in Montana's Wild West?
From a schoolhouse strangled by willows to 'cosmic tuning-forks', a strange new venture in America's Big Sky Country is turning heads
In southern Montana, a few hours' north of Yellowstone and close to the small hamlet of Fishtail, something strange and rather Shakespearean has taken shape across 10,260 acres of rock-ridged pastureland. Perhaps the most unsettling sight is the lonely old schoolhouse, inhabited and overwhelmed by huge, coiling willow wreaths. In the distance, poised on high points along the horizon, three large, profoundly uncanny concrete structures jut upwards. Two of them recall cleaved neolithic standing stones; the third is flat-topped and resembles inverted mountains, its peaks touching the ground to form a grotto.
The scene resembles some sort of artistically otherworldly, high-brow sculptural playground spread across Montana's epic ranchlands – and, well, that's because that's exactly what it is. The philanthropists Peter and Cathy Halstead, who share obsessions for landscape, classical music and Medievalism, are the brains behind the newly-opened Tippet Rise Art Centre, which has the feel of a vast stage set for The Tempest. Prospero's line: "We are such stuff as dreams are made on," hangs in the air here.
The Halsteads' cultural destination is like no other. There are no crowds, no desperately iconic architecture, no gift shop, no queues of cars, no sense of "for-aesthetes-only, darling". Nor is there any noise outdoors, apart from the crunch of gravel underfoot and the burbling hum of solar-powered electric golf buggies ferrying guests between the car park and the musical performance space, the purposefully rusty-looking Olivier Barn.
Tippet Rise is a remarkable addition to Montana's cultural offer. There is a thriving arts community at Bozeman, 90 minutes' drive west, but the only other notable town near Tippet Rise is Red Lodge, which has the idealised look and sentiments of rural small-town America in the mid 20th-century. Exhibit A is the charming and comfortable Pollard Hotel, visited by Calamity Jane and Buffalo Bill Cody in the 19th-century. The town is very popular with tourists, fishermen, hunters and the comfortably-off pilots of flatulent Harley-Davidsons.
Here, American flags fly from the immaculate shop fronts in Broadway Avenue where, in the 19th-century, a Revenant-grade wilderness survivor called Liver-Eating Johnson was the town constable. In Dave Hurt's antiques and gun shop, you can buy an 1850 Wilson percussion pistol for $1,295 (£1,025), or a stuffed bison head for $995.
And booming from the Tannoy during a recent historic car rally in Broadway Avenue: "Low sex-drive? Try Nugenix Testosterone Booster!" A meal at the nearby Carbon County Steakhouse might be just as effective.
Just along from Bone Daddy's Custom Cycles, a "Code of the West" poster in the window of a local business sets out the Right Stuff commandments: "Do What Has To Be Done, Be Tough But Fair, Know Where To Draw The Line." And as you head out of town on the genuinely awesome half-hour drive to the 10,000ft-high Beartooth Pass, you pass the Last Chance ATM.
But the demographics of Montana are evolving: there are more second-homers, a growing number of specialised crafts industries, and increasing numbers of home-working financial services wonks.
Which might go some way towards explaining why, an hour's drive away from Red Lodge, Tippet Rise is an entirely different world. Outside the Olivier Barn, concert guests enjoy convivial, dress-down happy hours. After 90 minutes, the chardonnay and pinot noir is put aside, and everybody moves into the wood-lined auditorium, whose intimate scale was inspired by the music room at the Esterhazy Palace in Hungary, where Joseph Haydn lived and composed in the 18th-century.
They take their seats in rows of canvas-seated director chairs (which squeak and will be replaced) and hear recitals by renowned classical musicians; at the end of July, the superstar British virtuoso, Stephen Hough, delivered what one music critic told me was the best solo piano recital he had ever heard.
From here, you can see those strange, standing stones. Designed by the Spanish architectural practice, Ensamble, there are occasionally performances within these sculptural pieces, which were conceived as expressive communions with the earth rather than land art.
Elsewhere on the Tippet Rise estate, large-scale sculptural pieces by leading artists include Alexander Calder's Stainless Steeler; Mark di Suvero's Beethoven Quartet (and a Beethoven quartet was duly performed next to it); Patrick Dougherty's Daydreams, the fake 19th-century schoolhouse with the willow wreaths; and Stephen Talasnik's Satellite No 5 – an angular cat's cradle of wooden beams which was the centrepiece of an extraordinary, incantatory outdoor performance of John Luther Adams' Inuksuit piece, involving 45 percussionists and other musicians.
The Halsteads' wealth has allowed all of this to be accomplished in an extraordinarily short time. "Two years ago, there was nothing here," explains Tippet Rise's director, the eminent acoustician Alban Bassuet. "No roads, no power, no nothing. Just grass. It was pretty daunting. And we really wanted to do this right."
Today, apart from the Olivier Barn and cabins for visiting musicians, there are 15 miles of compacted gravel roads, 36 geothermal wells at 400ft deep, photovoltaic arrays, a 100,000-gallon rainwater catchment tank, and solar-powered wells to water the grassland for the 3,000 sheep and 500 cattle tended by contract farmers.
The construction and medium term operational costs of Tippet Rise are not available, but it presumably approaches nine figures. For the Halsteads, this non-profit enterprise, educationally linked with the local community and Montana university, is not about money. It is about putting visitors in tune with the universe, via music, art, and landscape.
When Peter Halstead found that all six parcels of farmland at Tippet Rise were for sale, "it suddenly fell into place. It was so primeval – the promised land. The smell of the sage; the gothic rock structures of the pass through the Beartooths". Cathy Halstead's recollection of her first visit to Tippet Rise was equally Damascene: "I just got onto the land, and I just felt it in my cells. It was a physical sensation."
"Like Stonehenge," adds Peter, rubicund and beaming. "A window into space, a rabbit-hole into Wonderland. A place where music and land are attuned to the universe – the medieval idea of the music of the spheres, the uniting of passion and reason. The universe hums in B-flat!
"It's visceral, humanist, spiritual. We want to spend the next 10 years exploring the cosmology of music."
These are complex ideas, but experiencing Tippet Rise is engrossing rather than daunting. What really dominates here is the land, and daily visitor numbers are restricted to about 100 to make sure it stays that way. It seemed entirely appropriate that Stephen Hough's brilliantly compelling renditions of Schubert, Franck, and Liszt were back-lit by lightning, seen through the barn's large gable-end window a few feet beyond his Steinway piano. The collection of Steinways here – two date back to the 19th-century – is the best in the world, according to Hough.
A different kind of harmony is being invoked in the landscape, and the 500-ton concrete "standing stone" structures created by Ensamble – formed by pouring concrete into huge mounds of gravel precisely excavated by GPS-controlled diggers – are both of the earth, yet also utterly unearthly; to the Halsteads, they are cosmic tuning-forks, portals to a different dimension.
Montana's state slogan is Big Sky Country, and the skies over Tippet Rise are dutifully and beautifully vast. But the tagline here can only be Big Dream Country, a place where Caliban might materialise before Montana's very own Mr and Mrs Prospero and repeat his famous lines from The Tempest: "Be not afeard; the isle is full of noises, sounds and sweet airs, that give delight and hurt not. Sometimes a thousand twangling instruments will hum about my ears, and sometimes voices..."
Getting there
I flew to Billings via Denver with British Airways (0344 493 0787; ba.com); return fares are from £662. Return connecting flights on to Billings with United Airlines (0845 607 6760; united.com) are from £125. There are also direct flights to Billings from other US airports, including Seattle, Salt Lake City, Portland, Minneapolis, Las Vegas and, seasonally, Los Angeles. The road journeys from Billings to Red Lodge, and from Red Lodge to Tippet Rise, take one hour each.
Staying there
Our writer stayed at the Pollard Hotel (thepollard.com) in Red Lodge, where bed and breakfast costs from $125 (about £97) per night. Other local accommodation ranges from motels such as The Yodeler (yodelermotel.com), from $48 per night, to timber lodge hotels, such as Chateau Rouge (chateaurouge.com), from $132 per night.
More information
Join our new commenting forum
Join thought-provoking conversations, follow other Independent readers and see their replies