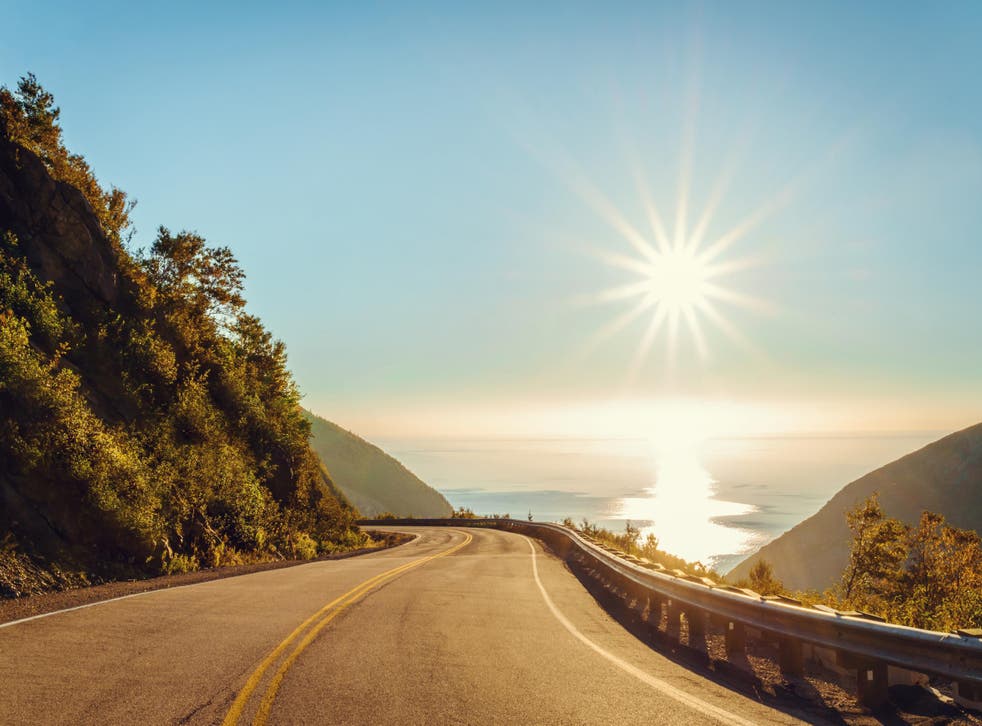 Travel guide to fly-drive Canada: how to plan a road trip to North America's wildest corners
New flights are opening up lesser-visited parts of this vast country; here's how to take advantage of them
It's finally getting busy in the departure lounge for low-cost flights to Canada. Besides trusty Air Transat (airtransat.com) – long serving the UK with affordable flights to Canadian cities – this not insignificant chunk of North America has otherwise been off the radar for no-frills flyers.
But that's changing, thanks to new flights by Westjet (westjet.com). Adding to last year's Glasgow-Halifax route, this month Westjet started flying four times daily from Gatwick to six Canadian cities: Toronto, Vancouver, Calgary and – pretty pioneering routes – Newfoundland, Edmonton, and Winnipeg, which have otherwise been very expensive or impossible to reach non-stop.
Other carriers expanding their low-cost offerings are Icelandair (icelandair.co.uk) and Wow Air (wowair.com), both of which launched services between Reykajavik and Montreal this month, with regular connections from several UK airports. Both allow stopovers in Iceland at no extra cost.
These new connections will put Canada's wild, remote and often unique landscapes within easier reach of travellers who don't have weeks to spare – and taking a road trip is an efficient way to pack a lot in. The world's second largest country has enough highways and byways to wrap around the globe some 22 times, often with nought but towering mountains to interrupt those otherwise endless horizons.
Flanking these roads you'll find everything from the ice-capped, boreal tundra of the northern territories to the Great Lakes of the south; the whale-rich waters and happening cities of the east coast, to the wild open prairies and sky-scraping mountains of the west.
Canada's wildest vistas were the real star (move over, Leo) of the multi-award-winning film, The Revenant. Director Alejandro González Iñárritu chose Alberta to double as America's South Dakota, although a huge area in the north of the province, around the town of Fort McMurray, has been damaged by recent wildfire. Thousands of residents have been evacuated while firefighters try to contain the fire.
Southern Alberta, however is still open for business, and Trailfinders (trailfinders.com) has a Western Canada Motorhome Holiday that takes in several of Revenant's filming locations, along with some classic drives through the Rockie. The 10-night trip costs from £669pp, including flights to Vancouver, two nights in that city and eight days' motorhome hire following a suggested route through Summerland, Wells Gray Provincial Park, Banff and Calgary.
The North
Land of endless horizons, land of extremes: there is perhaps nowhere better to experience those big open Canadian skies – and long (near endless) summer nights than the Yukon. Canada's 18th century gold rush country is still pure frontierland, set on the Arctic fringes, home to more bears than people, and site of the Dempster Highway, the only all-season road in North America to cross the Arctic Circle.
Explore this and neighbouring Alaska on a new two-week fly-drive with Canadian Affair (canadianaffair.com) that starts and ends in the gold rush gateway town of Whitehorse. Take a flight-seeing tour over the glacier fields of the vast Kluane National Park, learn about Inuit culture, and (weather depending) see the Northern Lights. This 13-day tour costs from £1,451pp including room-only accommodation, car hire, the Kluane flight-seeing trip and other scheduled tours. Flights extra.
The Maritimes
The culturally diverse islands that make up Canada's Maritimes (Nova Scotia, New Brunswick and Prince Edward Island) often get overlooked in favour of the mainland by roadtrippers. But with a little over a five-hour flight, you can be exploring Nova Scotia's pretty, lighthouse topped, tall ship-thronged Unesco-listed town of Lunenburg, kayaking over the world's highest tides at Fundy National Park, or taking ferry or 13km bridge to reach the rugged beaches and rolling farmland of New Brunswick and Prince Edward Island (the latter being home of Anne of Green Gables).
This new itinerary, from Audley Travel (audleytravel.com), then returns roadtrippers to Nova Scotia, to drive the Cabot trail, one of North America's most scenic routes, with the chance to stretch legs on the Cape Breton Highlands National Park's walking trails, with cliff-top whale-watching spots. From £2,755pp, including flights, car hire and B&B.
Quebec
See Quebec's "big five" on a roadtrip around Quebec City, and Gaspésie and Mont Megantic National Parks. More than 650 types of vertebrate — including 90 mammal and 300 bird species — inhabit these carefully preserved territories including moose, black bears, grey wolves and striking yellow-eyed Arctic owls.
The dense forests that cover much of Canada's largest province are accessible places to explore on a self-drive tour, and the St Lawrence River is one of the few places in the world to see the final member of the big five, blue whales, often from the shore, along with fin, mink and humpback whales.
Wildlife Worldwide (wildlifeworldwide.com) offers a Quebec's Bears, Whales & Moose self-drive tour from £2,195pp including car hire, seven nights' accommodation, some meals and flights.
Ontario
Combine a stay in one of Canada's most buzzing cities, Toronto – host of the TIFF film festival each September, and an ever-incresing number of cool restaurants and bars – with a tour of the surrounding national parks. A roadtrip around Ontario really ticks off some of Canada's bucketlist sights and experiences: visit the great falls at Niagara, hike a segment of Canada's oldest and longest footpath, the Bruce Trail, scuba dive in the Fathom Five National Marine Park, explore the pristine beaches of Lake Huron's Manitoulin Island and canoe on the forest-fringed waterways of Algonquin Provincial Park.
Wexas Travel (wexas.com) has a 15-day Wilderness Ontario Self-Drive from £2,065pp, including flights, car hire, hotel accommodation and some meals.
Newfoundland
Done the Rockies, driven coast to coast and explored the whale-flanked highways of the Saguenay and St Lawrence rivers? Then consider the latest destination to make an appearance up in the programmes of Canadian fly-drive specialists: the Atlantic island of Newfoundland.
One of the country's least-known provinces is also one of its earliest, settled by Europeans; its capital, St John's, is one of North America's oldest English-founded cities, with a diverse culture that reaches back 5,000 years to early Norse settlements. This is a place where icebergs regularly make appearances offshore, in whose waters whales and puffins also loom large.
Don't miss the chance to explore Gros Morne National Park, known for its tiny villages, bare-topped mountains and populations of moose and caribou. Cox & Kings (coxandkings.co.uk) offers a 16-day self-drive from £1,375pp including accommodation with some breakfasts and car hire. Flights extra.
Travel essentials
Getting there
Canada's main gateways are Toronto, Vancouver, Montreal, Calgary, Halifax, Edmonton, Ottawa and St John's. Connecting flights from these airports deliver travellers into more remote corners of the country. Carriers offering direct links from the UK include Air Canada (aircanada.com), British Airways (ba.com), Westjet (westjet.com) and Air Transat (airtransat.com).
Red tape
Since March this year, all British visitors to Canada now require an ETA (Electronic Travel Authorization), though the system has been beset by problems since its launch. Apply online (cic.gc.ca); cost C$7 (£4), valid for five years or until your passport expires, whichever comes first.
When to go
May-October is the most popular time for road trips; September-October is best for fall foliage. It snows in most provinces November-March, which can make driving tricky, so ensure you hire a capable vehicle and enquire about emergency supplies.
More information
Join our new commenting forum
Join thought-provoking conversations, follow other Independent readers and see their replies