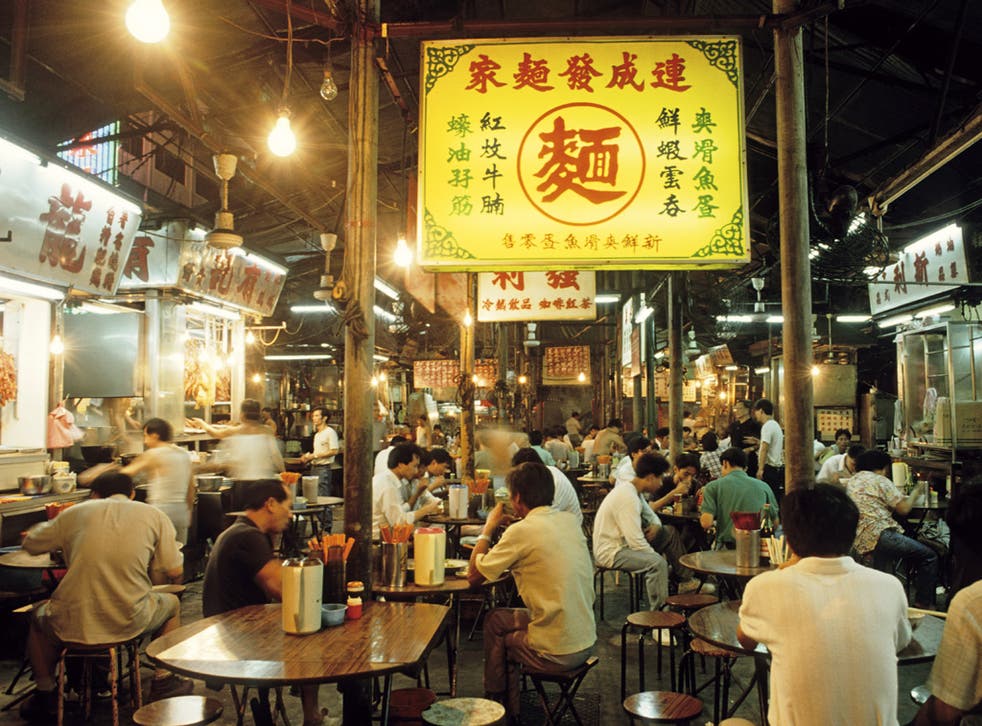 Hong Kong Foodie: a feast in the East
From wine-tasting in the dark to what may be the world's cheapest Michelin-starred meal
Tommy puts two glasses of wine on the table and asks me to guess which is which. One is a chablis, the other a rioja. Obviously, one is white and the other red. But what if you can't see the wine, and they're exactly the same temperature, and you're sitting in pitch darkness in the back room of a Hong Kong shopping mall? Not so easy.
Welcome to Wine Tasting in the Dark, a new experience designed to challenge your tastebuds. For 90 minutes you abandon sight, the idea being that your other senses are heightened. It's the latest venture by Dialogue in the Dark, a social enterprise that aims to improve awareness of blindness, which has also launched Dining in the Dark. Only at the end did I discover that Tommy, who had seamlessly been serving, is visually impaired. A sobering experience. It also demolishes my long-held belief that I know something about wine. "That's obviously the rioja," I bellow into the blackness. Of course, it's the chablis.
Humiliation isn't what I came to Hong Kong to experience. Mind you, nor is European wine. But then, what did I expect of this former colony, clinging to the edge of China? As the trading floor of the East, Hong Kong has a history of lavish corporate entertaining. Only this month, Michelin awarded a galaxy of stars to Hong Kong restaurants, including a third for L'Atelier de Joël Robuchon. Alain Ducasse also picked up a second star for Spoon at the InterContinental hotel, now one of 13 two-star restaurants here, and 11 new one-star restaurants have been named in the latest Michelin guide.
In 2008, the government slashed wine import duties to nothing, which has coincided with China's growing obsession with quality French wine; today, you can't move for magnums of Margaux. At the InterContinental, where I am staying, the glass wall of the hotel's wine bar is crammed with 4,300 bottles. I feel tipsy just looking at them.
The day I arrive is the opening of the annual Wine and Dine Festival, so I head down to West Kowloon Park. My preconception of Hong Kong – a hedgehog of skyscrapers squatting on a speck of land – is only a tiny part of the picture. The former British possession is spread over more than 200 islands, though most of its seven million residents live in the hedgehog, which is squished along the north edge of Hong Kong Island. Just across the water is the Kowloon peninsula, attached to the mainland. This is where the festival takes place – and it has the best views, looking out to Hong Kong Island.
The Wine and Dine Festival is busy: more than 200 suppliers have set up booths offering wine and mouthfuls of accompanying food: ham from Serrano and sizzling prawn satay sticks, but the focus is on the wine. It's essentially a trade fair, except anyone can come, and they do. Students, housewives, trendies – everyone I talk to is a gastronome. Only in its third year, the festival is already well established. Hong Kong is that kind of place. Things move fast.
As I discover the next day on a walking "wine and art" tour, organised by the InterContinental Hotel, of the hilly Hollywood Road part of town in Sheung Wan, just west of the Central district. An exhibition of old photographs shows the city in its colonial heyday: where skyscrapers now jostle, magnificent mansions used to stand. None remain, though Hollywood Road hints at the past: a massive old tree spills out of the walled garden of a red-brick mansion, and some streets are still cobbled. Art ticked off, I move on to food and hit the restaurants and bars of Shelley Street, in the Central district, a steep hill with the world's longest escalator running up the middle. (They like superlatives here. Later that evening I have a cocktail at the highest hotel in the world, the Ritz-Carlton, which occupies the top 16 floors of the newly opened International Commerce Centre, the world's fourth-highest building. At least it is at the moment. Things change quickly here, as I said.)
But back to the escalator. It opened in 1993 and still hasn't been beaten, according to the Guinness World Records book. At 800 metres long, it was designed to encourage commuters between the Central and Mid parts of the city, so in the morning, it runs downhill, taking workers into the centre, then at 10.30am, it changes direction to go uphill until midnight. It's not just one long stair though: you can hop on and off regularly (there are 20 separate escalators in total, with a total vertical climb of 135 metres) and best of all, it's free.
For a gourmet, it offers a similar experience to those sushi restaurants with the conveyor belts, except you're the one on the move. On I climb, passing streets with distinctively English names: Elgin, Wellington, Stanley, Gage.
It's 14 years since Chris Patten officially handed Hong Kong back to the Chinese. I notice that the postboxes have been painted green, and the Queen's head has dropped off the stamps. But English remains an official language, and you get the occasional burst of empire nostalgia. Like on the corner of Staunton Street, where a massive London Underground sign reads "Yorkshire Pudding", telling you you've found the "Best of British" café, where they serve full English breakfasts.
I trundle past, and get off a few doors up at Sakesan, the just-opened sake bar and Robatayaki restaurant, where food is cooked on an open fire. Admittedly sake is Japanese, but that's part of the point of this city: you can get anything you want here. A tasting session of four different sakes, paired to various sweet and savoury dishes, reveals how varied rice wine can be.
Taster menus prove to be a theme: lunch that day has 10 courses. I'm back at the InterContinental, which has no fewer than five restaurants, including two Michelin-starred venues: a Nobu and Alain Ducasse's Spoon. I plump for the Chinese option, Yan Toh Heen, and immediately regret having been greedy at the breakfast buffet.
The first dishes seem small enough: this is dim sum, which the Chinese eat throughout the day as a light snack. Trouble is, they keep coming. Scallop dumpling is followed by golden prawn and turnip in puff pastry, then a whole crab's shell stuffed with creamy crabmeat. A roast duck appears, and soon we're on to wagyu beef, a black cube of sweet flaky meat, which I'm told is the result of playing harps to the cows. It's rounded off with a mango and sago soup.
So who can blame my tastebuds if they weren't quite what they should have been by the time I went to wine tasting in the dark? They had been put through their paces: I had eaten 10 types of fish, 12 types of meat, seafood which had been alive 10 minutes before, and, on my last night in town, chickens' feet. I had made a pilgrimage to Tim Ho Wan, which, on the face of it looks like any cheap Chinese canteen, but is the world's cheapest Michelin-starred restaurant. In fact I went to a sister restaurant, just opened in Sham Shui Po, possibly the least touristy part of the city, because to go to the main branch, in the more happening Mong Kok district, you have to queue for three hours. Prices hover at HK$10 (80p) per course, and the most expensive dish is £3. But chickens' feet? Lightly battered and smothered in an orange sauce, they are slimy on first contact, gristly within. It was the last day, and the last meal, and there was nothing for it. Reader, I swallowed it.
Travel essentials
Getting there
The writer travelled with Cathay Pacific (020-8834 8888; cathaypacific.co.uk), which flies four times a day from Heathrow to Hong Kong. Return economy fares start at £689, business from £2,469.
Staying there
InterContinental Hong Kong, 18 Salisbury Road, Kowloon (00 852 2721 1211; hongkong-ic. intercontinental. com). Doubles start at HK$2,882 (£236), room only.
Visiting there
Wine Tasting in the Dark (00 852 2310 0833; dialogue-in-the-dark.hk).
Ritz-Carlton, International Commerce Centre, Kowloon (00 852 2263 2263; ritzcarlton.com).
Sakesan, 18 Shelly Street, Soho, Central (00 852 2525 1660; cafedecogroup. com).
Tim Ho Wan, Mong Kok, Kowloon (00 852 2332 2896).
More information
Hong Kong Tourist Board: 020-7432 7700; discoverhongkong.com/uk
Join our new commenting forum
Join thought-provoking conversations, follow other Independent readers and see their replies