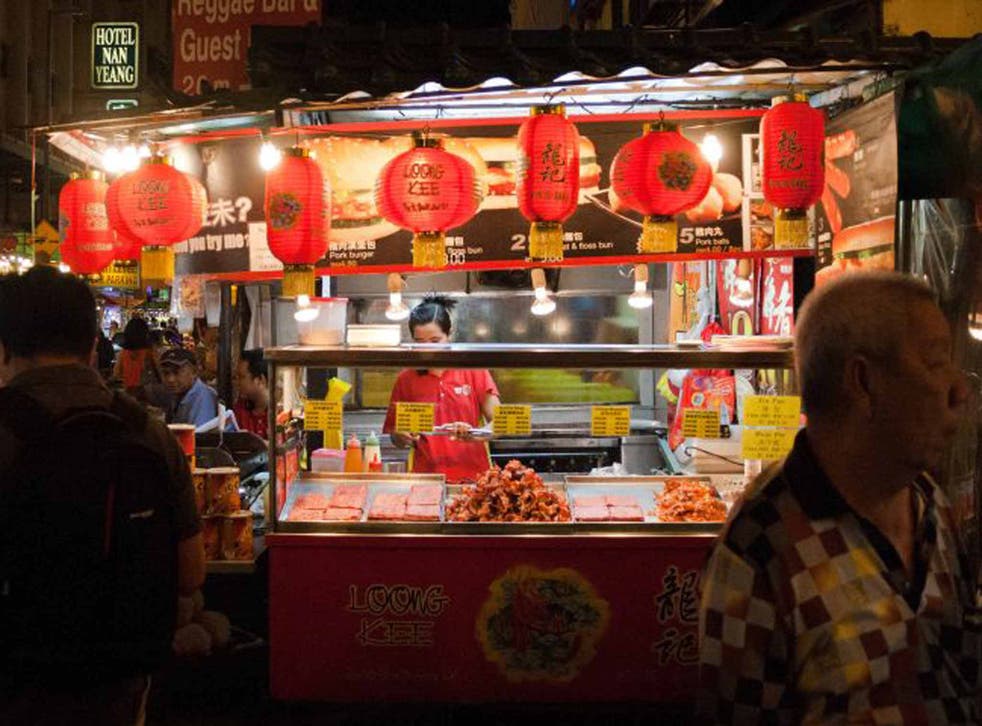 Kuala Lumpur's street food: Not a 'scene', more a way of life
It's getting easier to enjoy Kuala Lumpur's food with new flights taking off from London this week. Will Hawkes gets stuck in.
It's 11am on Sunday morning and Kin Kin, a hole-in-the-wall restaurant in Kuala Lumpur, is full. Nobody is here for the extensive menu. There isn't one. Kin Kin is famous for one dish only: chilli pan mee – minced pork, poached egg, dried anchovies and home-made noodles. It's rich, unctuous, spicy – and most importantly, delicious.
Kin Kin is indicative of Kuala Lumpur's relationship with food. There are no frills. You don't get fancy decor or service. There is a lot of plastic: the chairs, the tables, the bowls. The inventor of chilli pan mee, Mr Tan Kok Hong, sits by the counter in shorts and polo shirt, occasionally jumping up to take an order or oversee the cooking. He runs a tight ship.
"The first time I came here, I had three bowls," Alan, my Malaysian guide, tells me. "I told my friend: this is awful. Awful good!" He chuckles and piles some noodles into his mouth. I'd agree, but my mouth is full too.
Street food may be fashionable in other parts of the world now, but in Kuala Lumpur it's just the way things are. I spent a few days wandering through the city – not an easy task given the humidity and local passion for the motor vehicle, but it is possible – and I passed countless street stalls, hole-in-the-wall restaurants and hawker markets. It proved to be a fantastic way to get to know Kuala Lumpur's mix of ethnically Malay, Chinese and Indian residents. These cultures have created a fascinating, messy food culture entirely at odds with the glistening, modern skyscrapers that dominate the capital's skyline. It's also being opened up to visitors, with British Airways resuming flights to the capital after a 14-year hiatus today.
That contrast is evident down at Wong Ah Wah, a restaurant that covers five shopfronts along Jalan Alor. A short walk from the shiny heart of KL's shopping district, it's like a different world – or, perhaps more accurately, a different era. Quiet during the day, the street comes alive in the evening, when the pavement is covered with those ubiquitous plastic tables and chairs, the Chinese lanterns overhead are illuminated and the road fills with stalls selling every Malaysian food imaginable.
Wong Ah Wah, which began life as a stall run by Wong Mew Chan in the 1970s, is a frenzy of activity. The menu is as extensive as Kin Kin's is short. "We sell all of Malaysia's most famous street foods," says Wong Mew Chan, who is still very much in charge (in order to "monitor the quality of the food", she says). "I think that's the reason for our success."
In one corner, a man presides over a charcoal-heated grill in which Wong Ah Wah's celebrated chicken wings are cooked; nearby a young woman produces lamb, chicken and beef satay, available for 1 ringgit (20p) per stick; further along, another man stands tentatively awaiting an order, a selection of fresh, uncooked fish in front of him.
I order roast stingray, which comes with a tangy, sour chilli sambal (sauce) on the side, and some chicken wings. The former is a reminder that Kuala Lumpur's cultural mix doesn't end with the three main groups here today; this dish is influenced by the Portuguese, who established a colony in coastal Malacca in the 16th century. Cooked on the grill, it offers that superb contrast of crispy skin and soft, white flesh. The chicken wings, meanwhile, are a deep, charred reddish-brown, with a subtle, mildly spiced flavour.
While much of the best street food in KL is Chinese in origin (not a surprise when you consider that more than 40 per cent of the city's population are ethnically Chinese), there is a sizeable Indian population, too. This community is concentrated around the neighbourhood of Brickfields, just south of the centre. However, the best place I found for Indian food, Malaysian-style is Sri Nirwana Maju, a bit further west in Bangsar, a fashionable suburb.
Like Wong Ah Wah, this place is bustling. It's lunchtime; waiters in light blue shirts and dark blue aprons race around, dispensing curry from cylindrical metal tins and filling cups with sweet black tea. There's no time to luxuriate over the menu; tables are shared and as soon as I sit down my order is taken. I go for a banana-leaf curry, excellent value at 8.80 ringgits (£1.60) and a dry mutton peratal curry on the side. Both are delicious, with the unexpected highlight a tangy, citric fish curry that I hadn't realised was served on the banana leaf.
There are places where old and new Kuala Lumpur meet. That evening I head to Hutong, where some of Malaysia's most noted food stalls have set up branches in air-conditioned splendour beneath the Lot 10 shopping mall. It's a slightly strange experience – there's a German-themed stall dispensing expensive European beer – but the food is good. I try rich minced pork noodles and beef meatball soup from Soong Kee, whose original branch has been in business on Petaling Street since 1945.
Tang City food court, at the back of Chinatown's no-frills food market, is less manicured. Unlike some of the city's better-known street food markets, this place – a big enclosed barn with stalls around the outside, cooled by huge fans – seems to be full almost entirely with locals. An advert for Skol beer amuses; a plate of steamed pork spare ribs with garlic, which comes in a foil wrapping, impresses. It's baked with cabbage and onion and is a snip at 6.50 ringgits (£1.20).
It's a dish that sums up Kuala Lumpur's remarkable food culture: simple but delicious, and presented unpretentiously. Oh, and very cheap. Kuala Lumpur is full of gleaming skyscrapers, but its most impressive asset can be found down on the street. µ
Getting there
British Airways (0344 493 0787; ba.com) re-launches direct flights from Heathrow to Kuala Lumpur today. Malaysia Airlines (0871 423 9090; malaysiaairlines.com) operates the same route.
Eating there
Alan Wong offers tours of Kuala Lumpur (email: alanwong29@yahoo.com).
Restoran Kin Kin, 40 Jalan Dewan Sultan Sulaiman Satu, Kampung Baru.
Wong Ah Wah, 1, Jalan Alor.
Sri Nirwana Maju, 43, Jalan Telawi 3, Bangsar Baru.
Lot 10 Hutong, Lower Ground Floor, Lot 10 Shopping Centre, 50 Jalan Sultan Ismail (lot10hutong.com).
Tang City, 20 Jalan Hang Lekir.
More information
Tourism Malaysia: tourism.gov.my
Join our new commenting forum
Join thought-provoking conversations, follow other Independent readers and see their replies