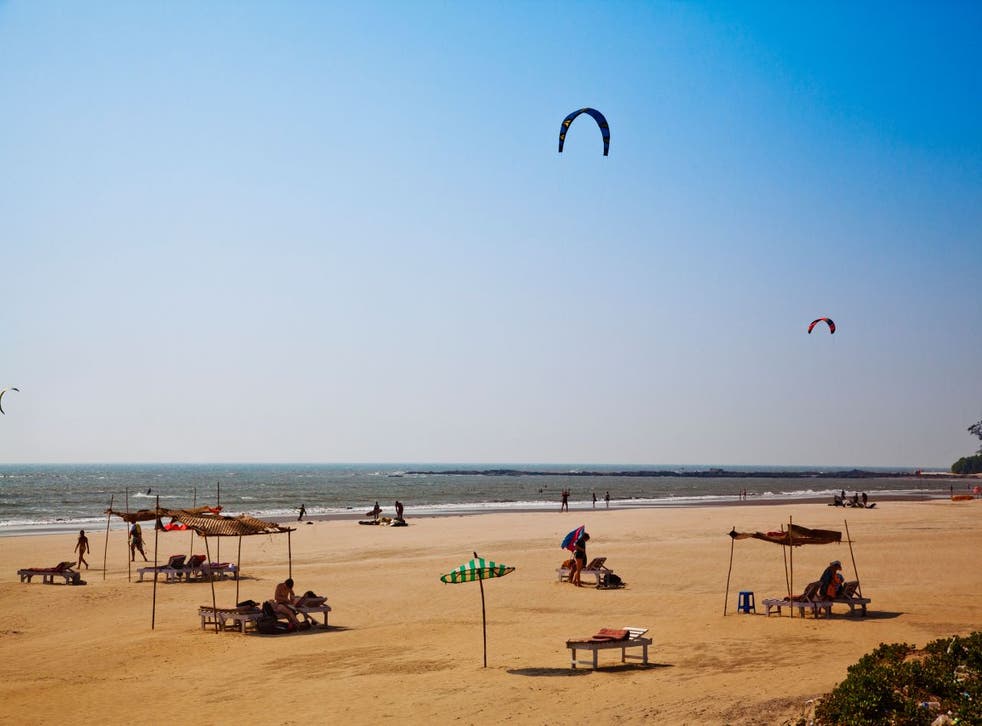 Take it easy in Goa, a different sort of India: The Hedonist
What to see and where to be seen
Just an hour after leaving steamy Mumbai's palpable energy behind, our plane touches down in a different sort of India. Tinged as it is with leftover Sixties bohemianism, flea market psychedelia and recent waves of chic, Goa remains a lush, tropical enclave where sossegade – "take it easy" – is the order of the day.
The taxi veers down a rustic lane and soon we are being shown into Konnager, the handsome master bedroom at Vivenda dos Palhacos (00 91 832 322 1119; vivendagoa.com). This enchanting old Portuguese mansion is attached to a much older Hindu-designed house, discreetly tucked beneath the palms in residential Majorda. It's been restored by siblings Simon and Charlotte Hayworth, who've transformed it into a splendid little boutique hotel furnished with idiosyncratic antiques, books and art. We steel ourselves against the soupy heat with drinks served from a counter designed like the back of a truck; it opens up from the kitchen where a jovial barman does our bidding. Since he's offering, I sink another G&T.
An hour later, we're down the road at the Balinese-styled spa at Alila Diwa (00 91 832 274 6800; aliladiwagoa.com), a sumptuous resort tucked behind swaths of tropical foliage. I succumb to an hour-long ayurvedic pizhichil massage, drifting off as two therapists simultaneously slather me with warm oil. After a cleansing steam bath, we slink across to the hotel's infinity pool from which we peer into adjacent paddy fields, watching cows and quizzical water buffalo staring back.
Back at Vivenda dos Palhacos we have to climb a set of steps into our high, antique bed and fall asleep to the gentle pastoral sounds filtering through the windows.
After breakfast in the garden, we head north, first stopping in Panjim, the state capital, for a brief shopping spree at the boutique of Goa's best-known designer, Wendell Rodricks (00 91 832 223 8177; wendellrodricks.com) where we pick up a few garments in his typically non-conformist style.
North Goa is fraught with crowded beaches, but we head for Ashwem, a pleasant enclave where we've booked lunch at La Plage (00 91 982 212 1712). Sheer curtains billow in the breeze, a sensuous backdrop to the designer kaftans draped over the high-cheekboned hippy-model types who've congregated here with their equally pretty boyfriends. Eyeing the scene, we tuck into warm tiger prawn carpaccio, sardine fillets with wasabi cream, and fillets of rare tuna encrusted with sesame seeds.
We spend the afternoon's remains coveting magnificent treasures at Monsoon Heritage (00 91 832 651 5298; monsoonheritage.com); marvelling at funky furniture, lamps and mirrors at Sotohaus (00 91 832 248 9983; sotodecor.com); losing ourselves in miles and miles of brilliantly hued fabrics at Rust (00 91 832 652 0851; colonialcollectionsindia.com); and choking at the prices of rattan loungers and Rajasthani chests at Sangolda Nilaya Home Collection (00 91 832 240 9310).
We arrive at Sublime (00 91 98 2248 4051) on Morjim beach to witness sunset while owner-chef Chris Aga Bee stops by to recommend the Goan pork sausage, mozzarella filo parcels and lavender and honey crème brûlée.
Next we take a taxi way down south to Palolem, where we join the revellers at Silent Noise (00 91 77 98 68 08 42; silentnoise.in). Here we're each handed a set of wireless headphones and told there's a choice of DJs. I lose myself in the sensation of being at a private party while surrounded by multitudes of hedonists dancing between the same glittering lasers.
At dawn, we sit on Palolem's crescent beach watching the fishermen. I wake our driver and sheepishly ask him to deposit us back in Majorda. We doze though much of the day, lazing by the pool and then cycle to the beach for dinner at Zeebop by the Sea (00 91 832 275 5333). Waiters in orange tropical shirts ply us with big smiles and freshly-caught kingfish, which we order recheado – stuffed with chillies and spices blended in vinegar. Sinking our feet into the sand, we sip sweet lassi, cast our eyes across the Arabian Sea's silvery horizon, and witness an exhilarating sunset of molten lava spreading towards infinity. Sossegade, indeed.
A Hedonist's Guide to ... (Hg2) is a luxury city guide series for the more decadent traveller. For more information, see hg2.com
Join our new commenting forum
Join thought-provoking conversations, follow other Independent readers and see their replies