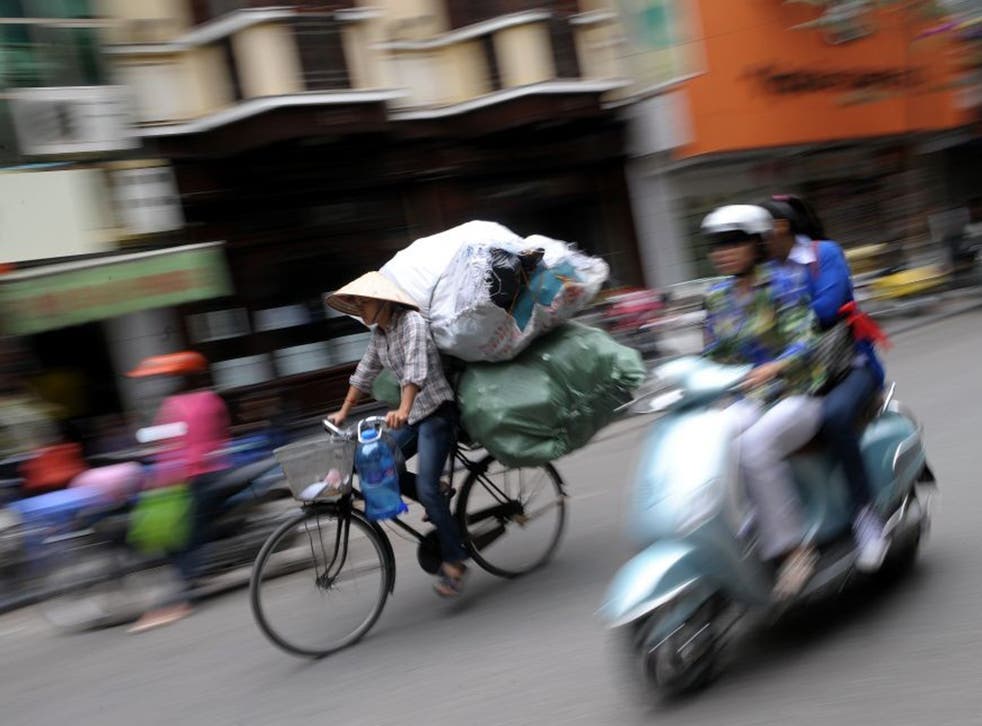 Terence Carter in Hanoi, Vietnam
On the road: Karaoke, bikes, loudspeakers – peaceful it's not
"You won't hear anything – they're soundproofed," the Hanoi real estate agent lies to us about the karaoke bars adjacent to the fifth-floor apartment my wife and I are about to rent for three months.
The immensity of this fib will be demonstrated every day at 2.15pm when a karaoke bar staff member proceeds to strangle to death a Vietnamese ballad with his bare voice, only occasionally hitting a note in passing.
It's not that we didn't expect noise. The street is a lively one. Lined with shop-front food stalls and gaudy bars, our lane is closed to cars, yet motorcycles treat it as a highway. No two days start the same. Most mornings we're woken at 6.45am by announcements broadcast in Vietnamese on loudspeakers from the local Communist Party office, followed by rousing patriotic tunes inexplicably set to a salsa beat.
Soon after, female vendors on bicycles start moving slowly down the street, chatting and occasionally making a sale of anything from vases to vegetables. Cooks begin to prepare food for the day. One pho stall gets busy with customers slurping bowls of the fragrant noodle broth. Around 11am our favourite bun cha stall opens, the aroma of chargrilled pork belly tempting us for lunch.
As night falls, local diners descend upon the lane to down bottles of rice wine and cheap vodka and chant toasts. By 11.30pm things start to get really interesting. While our neighbouring karaoke bar is in full swing, the police arrive, barking into microphones to order eateries to shut for the night. Owners hastily comply, reopening after the police have moved on. A young man appears in the shadows, directing hip young things on scooters to an after-hours bar.
The shophouse eateries stay open for as long as the tunes are belted out in buildings along the street. This can go until 5am. The two hours of silence until the morning loudspeaker briefing are the best two hours of sleep we'll get.
Now that we've moved on, we're actually missing the noise. Well, apart from karaoke practice.
Writer-photographer Terence Carter is co-author of Footprint Italian Lakes and Milan Focus guides with his wife Lara Dunston. He is currently eating his way through Vietnam. The new edition of Footprint's Vietnam, Cambodia and Laos guide is out now.
Join our new commenting forum
Join thought-provoking conversations, follow other Independent readers and see their replies