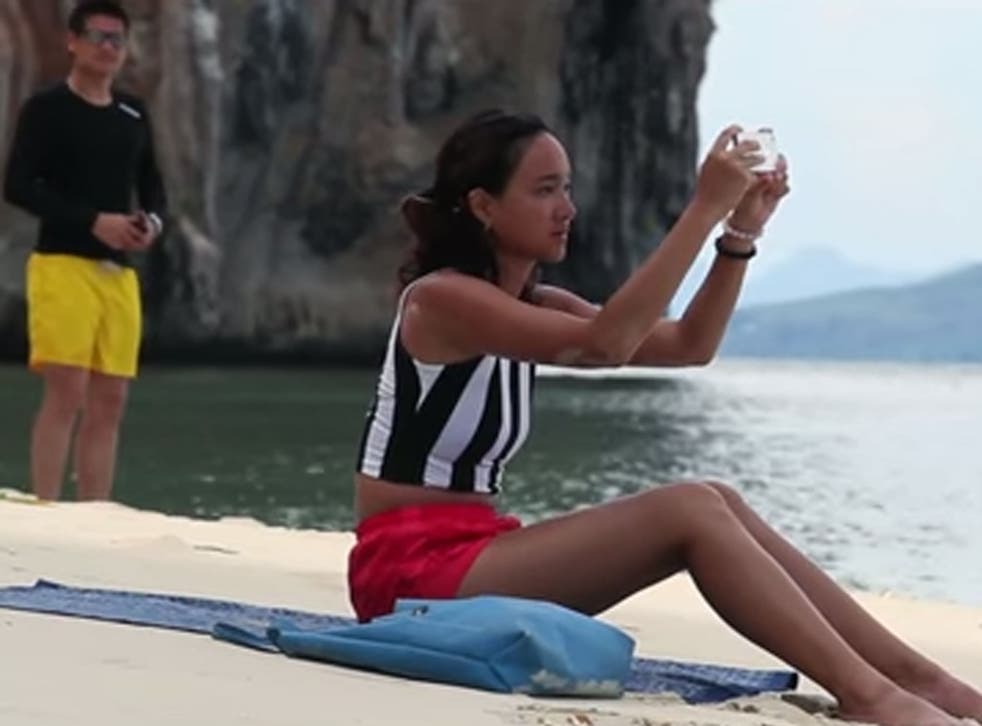 Thailand tourism video Love En Route criticised for featuring Instagram stalker
The main character follows a woman across Thailand via her Instagram posts
Saturday 28 February 2015 00:21
comments
A digital abuse charity has criticised Thai tourism officials for releasing a video which effectively shows a man stalking a woman, as he follows her around the country by tracking her location using her Instagram.
The Love En Route video co-produced by the Culture Ministry and Tourism Authority starts with an American tourist describing how he is embarking on a journey across Thailand to mend his broken heart.
But the film takes an odd turn around 1.30 minutes in, when he declares he has ditched travel guides in favour of following a woman via her Instagram account titled Love_En_Route.
"And now I want to find the woman in the photos, after following her footsteps this whole time it would be nice for us to meet and maybe become friends," he says.
The video appears to acknowledge that the male character's behaviour is odd, as when he asks the woman, named Pim, if she is the owner of the Love_En_Route profile, she nervously tells him he "must be mistaken".
Disregarding her hesitation, he tells her he recognises her sunglasses and a tag on her bag.
She responds by saying that the glasses are common and the tag was a gift, but the man responds by asking again if she is the Instagrammer.
The next scene shows the man tracking down the woman on a beach, before he stands behind her and messages her: "#Alone!! #need Friend?" to which she replies she has enough friends with a string of fish emojis.
He then follows her scuba diving and asks her if she'd like to travel ahead with him, and the pair become friends.
"I embarked on this journey to remember a special someone, but now I met someone who I'll never forget. Now I'm falling in love. Maybe he is my destiny," the woman concludes in the video.
Watch the shorter and full-length versions of Love En Route below:
She told The Independent that there are many apps which are geared around people meeting each other, but she warned that like the Love En Route film makers, the creators don't think like an abuser. They therefore do not realise that they are feeding into a pervading view that it's OK to pursue someone even if they say no.
"[The man in the video] is trying to find someone to love online but in order to do that he is tracking an individual down. A lot of times it might turn out just fine, but in the world I deal with there are a lot more abusive scary individuals out there than you would think," she said.
Explaining how dangerous people can often appear harmless at first, she said: "I have had people coming to me with horror story after horror story. The reality is some of the most violent and scary individuals come across as very charming."
She added that the video reflects a naive attitude towards relationships, and it may have had a different ending if it reflected reality.
"It's a naive view of the world and a very naive view of women that suggests we want to be pursued, and that as long as you're persistent and charming you can get them to change you mind and you will end up with her as a prize. We see that in film after film. It's a common thing. That's a dangerous myth," she said.
The Tourism Authority of Thailand has not yet responded to a request for a comment.
Join our new commenting forum
Join thought-provoking conversations, follow other Independent readers and see their replies