Australia's Red Centre

Show all 4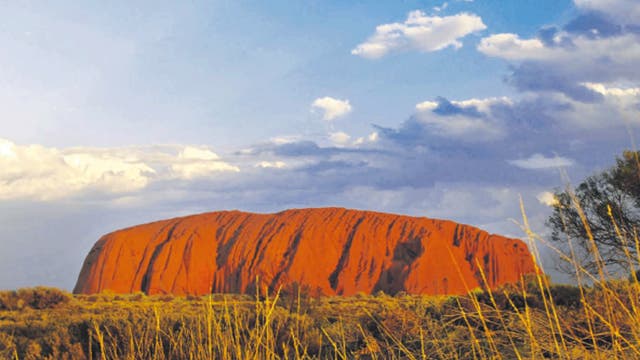 Australia's Red Centre
It's Australia Day, the perfect time to celebrate the natural wonders and fascinating culture of the Northern Territory's remote Outback, says Lonely Planet's Ethan Gelber
Yes, it really is true: the earth and rocks of the Red Centre are ... red. Spectacularly so. But red isn't the area's only notable colour. The blue skies (and their shades of pink at sunrise, purple at sunset) are just as indelible. Ditto the greens and yellows of the desert flora, especially after rain. In fact, there are vivid flashes of unexpected hues almost anywhere you look in central Australia.
The appeal of the Red Centre also spans other areas – such as cultural interests and outdoor activities – as broad as its geographical scope. Bang in the middle of the Australian Outback, the Red Centre encompasses a vast area in the Northern Territory including the township of Alice Springs, the MacDonnell Ranges, Watarrka National Park (Kings Canyon) and, especially, its most iconic points of interest: the unforgettable monoliths (once known as Ayers Rock and Mount Olga) of World Heritage-listed Uluru-Kata Tjuta National Park.
Despite the region's remoteness and extreme desert conditions (the recent nationwide heatwave sparked bushfires and pushed daytime highs in the area to more than 45C), the Red Centre attracts about a half a million visitors a year. This may sound trifling compared with the Sydney Opera House's seven million, but for an arid inland zone more than 750 miles from the nearest major city, it is significant.
Tellingly, however, these are visitor numbers that kicked in only during the mid 1980s, more than 30 years after surfaced roads and tourism facilities made the access straightforward for mainstream travellers. This may in part reflect the new and growing assortment of desert experiences. These days, in addition to standard walking tours, the Red Centre can be appreciated on the back of a camel (00 61 8 8956 3333; uluru cameltours.com.au) from A$75 (£50pp); from the air (00 61 8 8956 2077; helicoptergroup.com) from A$100 (£67pp); and even alongside a candlelit dinner (00 61 2 8296 8010; ayersrockresort.com.au/sounds-of-silence) for A$169 (£113pp).
The Red Centre's growing appeal is also due to significant changes around the prominence of Aboriginal people and their culture. Nearly one‑third of the Northern Territory population is indigenous to Australia and, after years of Aboriginal land-rights activity, they now hold title to about 50 per cent of the province. Since 1985, this title includes Uluru-Kata Tjuta National Park, the sacred ancestral home of the Anangu people.
The reassertion of Aboriginal influence coincides with two important trends. First, more and more people are journeying to the Red Centre to learn about Aboriginal culture, believed to be the oldest surviving culture in the world. This is a place of profound Tjukurpa, the Anangu word for a timeless law and religion. The second is symbolised by a new management plan for Uluru-Kata Tjuta National Park that enshrines stronger co-operation between the traditional owners and the park representatives, and demonstrates that "Tjukurpa will be heard in all aspects of tourism". Accordingly, one key element of the plan is to forbid the climbing of Uluru, replacing it with new cultural and natural visitor experiences, such as those led by Uluru Aboriginal Tours (00 61 4 4787 8851; uluru aboriginaltours.com.au), which are designed to foster connections with local Aboriginal culture.
One option for travellers on a budget is to choose a local tour operator. Wayoutback Desert Safaris (00 61 8 8952 4324; wayoutback.com.au), for example, leads a five-day Kangaroo Dreaming safari beginning and ending in Alice Springs. It's a real bush experience for A$975 (£650) that covers travel to Red Centre highlights, plus camping at private bush camps and all meals.
* Ethan Gelber is a Lonely Planet author. For more information on the Red Centre, see Lonely Planet's Australia guide, £18.99, available from shop.lonelyplanet.com
A sacred place to park it
The region's greatest national parks are Uluru-Kata Tjuta (deh.gov.au/parks) and Watarrka (parksandwildlife.nt.gov.au), above. Uluru (formerly Ayers Rock) and Kata Tjuta (Mount Olga) are considered sacred by the Anangu people. Entry is $25 (£17)pp for three days, with access to the cultural centre. Instead of climbing Uluru, which is not advised for cultural, safety and environmental reasons, book a six-hour sunrise tour along the rock's 8.7-mile base with SEIT Outback Australia (00 61 8 8956 3156; seitoutbackaustralia.com.au) for A$139 (£93). Kings Canyon gets top billing at Watarrka National Park. The 3.7-mile Canyon Walk here is spectacular.
Gorges and gaps in the big Macs
The MacDonnell Ranges are the remains of a 400-mile massif, divided today by Alice Springs into its west (above) and east wings. The MacDonnells contain a spread of natural attractions centred around gorges and gaps, some with ancient rock art. In the east are the Emily and Jessie gaps, Corroboree Rock, Trephina Gorge and N'Dhala Gorge; to the west are Simpson's Gap, Standley Chasm, Ellery Creek Big Hole, Ormiston Gorge and Glen Helen Gorge – all of the latter now part of the West MacDonnell National Park, which is crossed by the 140-mile-long Larapinta Trail (lara pintatrail.com.au), one of Australia's premier bushwalking experiences.
Pioneer heritage
Alice has preserved important traces of its pioneering past, most of it attached to the Overland Telegraph Line completed in 1872. The restored Alice Springs Telegraph Station, now a historic reserve, is built adjacent to the water hole, Alice's Spring, where the township first grew up. The Old Stuart Town Gaol, Adelaide House (the first hospital) and Anzac Hill, above, are registered with the National Trust (00 61 8 8952 5950) in the Old Hartley St School (39 Hartley Street).
Reaching out to the locals
Central Aboriginal Experiences (00 61 8 8952 0405; caent.com .au), which works with small, Aboriginal-owned businesses, is the perfect one-stop shop to encounter the indigenous culture. Nature lovers should not miss the Alice Springs Desert Park (00 61 8 8951 8788; www.alicesprings desertpark.com.au). It's A$25 (£17) entry, but this superb biopark on traditional land off Larapinta Drive takes its inspiration from the Arrernte people's worldview that unites desert plants, animals, people and the earth.
At Uluru, left, take the free, ranger-guided Mala Walk offered each morning. Check at the Cultural Centre for times, as well as other tours, not to mention the two community-owned Aboriginal art stores: Maruku Arts (00 61 8 8956 2153; maruku.com.au) and Walkatjara Art (00 61 8 8956 2537; walkatjara.com.au). Take a moment to consult Desart (00 61 8 8953 4736; desart.com.au) that supports these vital community mainstays. For more about ethical trading in Aboriginal art, study the Indigenous Art Code (indigenousart code.org).
A town called Alice, better than swags
As the Red Centre's gateway township, Alice Springs offers the region's greatest choice of accommodation – caravan parks, backpackers, motels, hotels and full-service resorts. One perennial mid-range favourite is the Alice Motor Inn (00 61 8 8952 2322; alice motorinn.com.au) – with doubles from A$80 (£53) with breakfast. The Alice Springs Visitor Information Centre (00 61 8 8952 5800; centralaustralian tourism.com) has alternatives. Beyond the town's borders, there are good options, although they are not numerous. Prominent is Voyages Ayers Rock Resort (00 61 2 8296 8010; ayersrockresort.com .au), a tourist township within sight of Uluru. It includes everything from a campground (00 61 8 8957 7001) with sites from A$36 (£24) to exclusive under-the-stars tents (longitude 131.com.au), where doubles run from A$2,000 (£1,300) for two nights including all meals, a tour programme and park access.
Elsewhere in the region, a few character-filled Outback lodges include Watarrka's Kings Canyon Resort (00 61 3 9426 7550; kingscanyonresort.com.au) with doubles from A$125 (£85) without breakfast; Glen Helen Resort (00 61 8 8956 7489; glenhelen.com.au) in the West MacDonnells, where doubles start at A$160 (£105) excluding breakfast; and Old Ambalindum Homestead (00 61 8 8956 9993; oldambalindum homestead.com.au) in the East MacDonnells with doubles from A$150 (£100), excluding breakfast.
Travel Essentials
Getting there and getting around
Perth is the main gateway to the Red Centre, with flights from the UK on Singapore, Emirates and Qatar Airways. From Perth, Qantas and Virgin Blue fly to Uluru and Alice Springs. Two other possibilities: Darwin, with flights from Singapore on Jetstar, and Adelaide, now served via Dubai on Emirates. Both have good air and rail links to Alice Springs.
A luxury train, the Ghan (00 61 8 8213 4592; greatsouthernrail.com.au), links Adelaide and Darwin via the Red Centre.
Greyhound Australia (grey hound.com.au) runs long-haul buses to Alice Springs.
Once in Central Australia, hiring a car or camper van is common practice. Outlets are in the arrival halls of both airports, as well as Alice Springs. Britz (00 800 200 80 801; britz.com.au) is the largest camper van rental outfit.
Driving is challenging. Before jumping behind the wheel, review road rules (bit.ly/11Eiqsp) and road safety (bit.ly/U6ecp1), and check the road reports (www.road report.nt.gov.au).
Join our new commenting forum
Join thought-provoking conversations, follow other Independent readers and see their replies