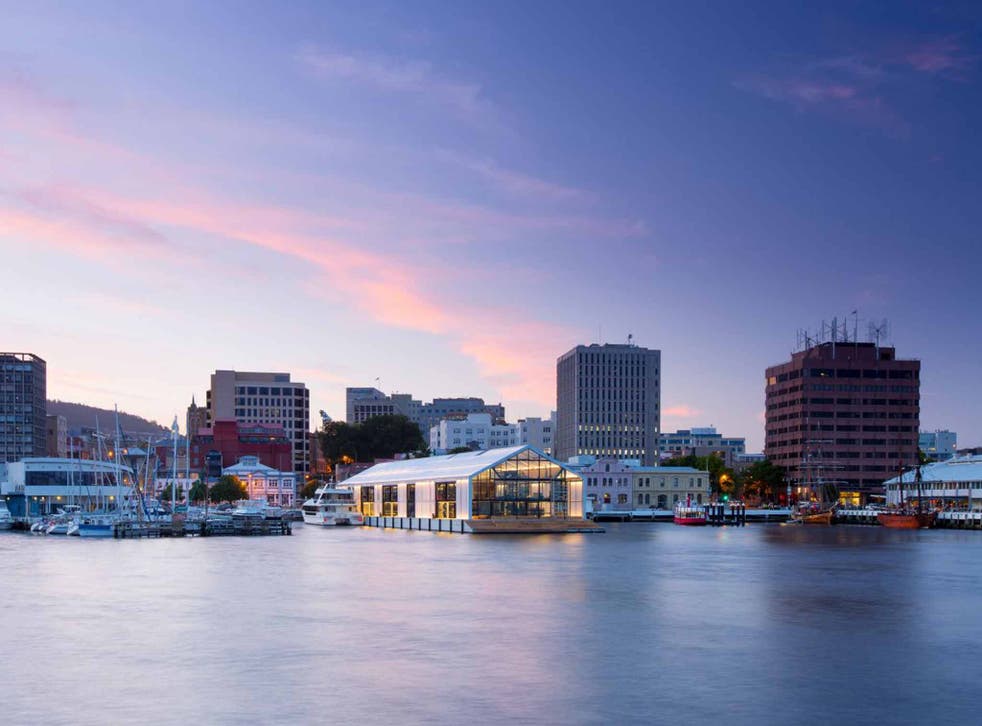 How Tasmania became Australia's newest gourmet hotspot: This island could become a pit-stop on the Michelin circuit
It was once nobody's choice as a gourmet destination, but Tasmania's rich produce has turned it into a Michelin contender. Mark Ellwood explores, spoon in hand
It was the fresh fruit in Alistair Wise's ice cream that convinced me. "My favourite is raspberry-rhubarb sorbet, rippled through vanilla – it reminds me of an English summer," swoons the Tasmania-born chef, dolloping out another serving.
Six years ago, Wise returned to his home island after apprenticing in London with Gordon Ramsay's protégée, Angela Hartnett. He opened the bakery in which we now sit, Sweet Envy, on a quiet residential street in north Hobart. Perched at a wooden table in the all-white space, with his shaven head and sleeve of tattoos, Wise more resembles an army reservist than a chef – at least, until he starts raving about food, specifically desserts like that home-made ice cream.
His cooking on the island benefits from the superb fruit here, grown in the cooler Tasmanian climate; it makes berries and stone fruit less sugary but gives a richer mouth feel. The price helps, too: blackberries cost just a quarter of what they do in London, he explains, so he can affordably pack ice-cream full of fruit.
"It's not a cream base that's tinted with a flavour – it's reversed, so it's more like a vanilla ripple," he says. Wise will often pick up superb produce at honesty boxes on the roadside groaning with juicy apples – a few dollars for a kilo, he marvels – he even relies on a network of cottage gardens, where individuals grow produce as a hobby. For reasons like these, and more, as an unexpected gourmet paradise, Tasmania is the Garden of Eating.
It's startling to realise that this island could become a pit-stop on the Michelin circuit. After all, among fellow Australians, Tasmania is known largely for its now-endangered namesake devil and rural, backward-thinking mores (homosexuality was decriminalised less than 20 years ago). In the past decade, though, Tasmania has quietly earned its culinary credentials and become a pilgrimage-worthy destination for dinner.
Driving the lanes and quiet roads which fan out from the state capital, Hobart, Tasmania reminds me of northern California. The two areas share many attributes: lush, fertile land quilted with smallholdings where farmers lovingly cultivate heirloom vegetables, small batch wines or hormone-free meats. Both are blessed with a passel of microclimates, almost anything will grow and most crops thrive. Just as chefs like Alice Waters championed the produce of the Bay Area in the 1970s, kick-starting new American cooking, so folks like Alistair Wise have arrived in Tasmania to open small restaurants and develop their own distinctive style of cooking. Call it Country Australian.
Take Steve Cumper, a true pioneer; he was one of the first to emerge here as chef-owner of Red Velvet Lounge just outside Hobart. It has just reopened after an extensive renovation in the wake of a terrible fire back in 2014 which gutted the century-old building in which it's housed.
Then there's jolly expatriate Canadian Kim Seagram. She was so impressed by the quality in Tasmania while on a visit that she moved here. She set up not one but two thriving restaurants in Launceston: Stillwater, a high-end spot tucked into a historic flour mill, and the more casual Black Cow Bistro, the best place in Tasmania to sample island-raised beef. Unlike in mainland Australia, no growth promoters are allowed in cattle-rearing.
Areas with a somewhat damp, English-style climate are ideal for traditional breeds such as Angus and Hereford. They are slower growing than some more mass-market breeds but offer meat that is more buttery with a stronger flavour.
The fish from surrounding waters is exceptional, too; it's served at new restaurants such as chef David Moyle's Franklin, a raw concrete space carved out of an old Ford showroom in downtown Hobart. "Why does our fish taste so good? It's the cold water, mate," shrugs Mark Eather. The gruff but charming fisherman is one of the local restaurant scene's secret weapons. Until the recent surge in new restaurants, he flew almost his entire haul to Japan – so high is the quality of his abalone, or king fish, that Eather's long-time prime client was the exacting Tsukiji fish market in Tokyo. Now, though, he only exports 20 per cent, and the rest stays to be cooked and served on the island.
Eather's particular success also owes much to a stringent adherence to the principal of ikejime, a practice aiming to kill fish as fast and as painlessly as possible to stop stress hormones flooding the flesh and so tainting the taste. "I won't even give them a fish that's got a scar on it," he says. No wonder he's been nicknamed Perfection-San.
But nothing surprises me more than the calibre of Tasmania's wine. Hobart is full of new bars where the backbone of their list is an impressive haul of local vintages – see Glass House, built on a pontoon in the town's harbour and aptly named for the views it offers across the water; and Society Salamanca, which augments local wines with small-batch liqueurs made on the island.
No sector better illustrates Tasmania's concentration on quality over quantity than wine. There are just 200 or so vineyards here. In 2014, they produced less than 1 per cent of Australia's total output. However, Tasmania supplied more than 10 per cent of the nation's premium wine – indeed, none of the island's vintages sells for less than the A$15 (£8) threshold to be considered A-grade.
As one bartender explains, thanks to the cool nights and warm days of Tasmania's autumn, growers can leave fruit on the vine for longer; that chillier overall climate is ideal for pinot noir and chardonnay, which form the majority of the grapes grown here. A few of the most impressive sparkling wines are exported overseas, including the UK, such as Jansz, an enterprise co-founded in the 1980s by Louis Roederer.
I'm also impressed by the high standard of cooking and enthusiasm on Tasmania, a contrast with the somewhat careworn effect of Hobart itself and the rustic, countrified landscape elsewhere. It's a local food writer, Matthew Evans, who helps me best understand the shift. He was lured here from Sydney by the burgeoning gourmet scene.
"Tasmania was widely known for having the best produce in the nation, but the worst chefs," he explains. This began to change a decade ago, when cheaper domestic flights on budget airlines helped better connect Hobart with the mainland. It made commuting to, and holidaying on, the island far easier, and siphoned fresh visitors down to explore one of Australia's quieter corners. Among them were several chefs who ended up making Tasmania their permanent base.
Next time I visit, I'm determined to refine my techniques via a day or so at one of the island's new cooking schools such as Agrarian Kitchen, run by Rodney and Severine Dunn. In a process they call Paddock to Plate, the couple task students with spending the morning foraging and picking produce, before cooking what they've retrieved together in class during the afternoon.
On this trip at least, though, I'm focusing on working my way through Alistair Wise's entire dessert cabinet at Sweet Envy. Just as he hands me another scoop of ice cream, he stage-whispers his excitement at his latest ingredient. "You can even get fresh yuzu here now," he says, a nod to the stringent controls on produce imported to the island. "A woman ate a yuzu to bring the seeds in, and then pooped them in the garden."
Getting there
There are no direct flights from Britain. Connect from Melbourne, Sydney or Brisbane on Jetstar (jetstar.com), Qantas (qantas.com) or Virgin Australia (virginaustralia.com).
Visiting there
Agrarian Kitchen, Lachlan (00 61 3 6261 1099; theagrariankitchen.com). Classes from A$385 (£190)pp.
Black Cow Bistro, Launceston (00 61 3 6331 9333; blackcowbistro.com.au).
D'Meure vineyard, Birchs Bay (00 61 3 6267 4483; dmeure.com.au).
Franklin, Hobart (00 61 3 6234 3375; franklinhobart.com.au).
The Glass House, Franklin Wharf, Hobart (00 61 437 245 540; theglass.house).
Stillwater, Launceston (00 61 3 6331 4153; stillwater.com.au).
Society Salamanca, Hobart (00 61 6223 1497).
Sweet Envy, Hobart (00 61 3 6234 8805; sweetenvy.com).
Staying there
The Moorilla wine estate at Mona (the Museum of Old and New Art) in Berriedale has eight standalone modernist cottages with views across the water (00 61 3 6277 9900; mona.net.au). Prices start at A$650 (£322), including breakfast.
The only downside to staying in one of the sumptuous but minimalist suites at Saffire Freycinet, on the east coast, is that you won't want to leave the room (00 61 3 6256 7888; saffire-freycinet.com.au). Doubles from A$1,950 (£965), all inclusive.
More information
Mark Eather: mark-w-eather.com
Join our new commenting forum
Join thought-provoking conversations, follow other Independent readers and see their replies