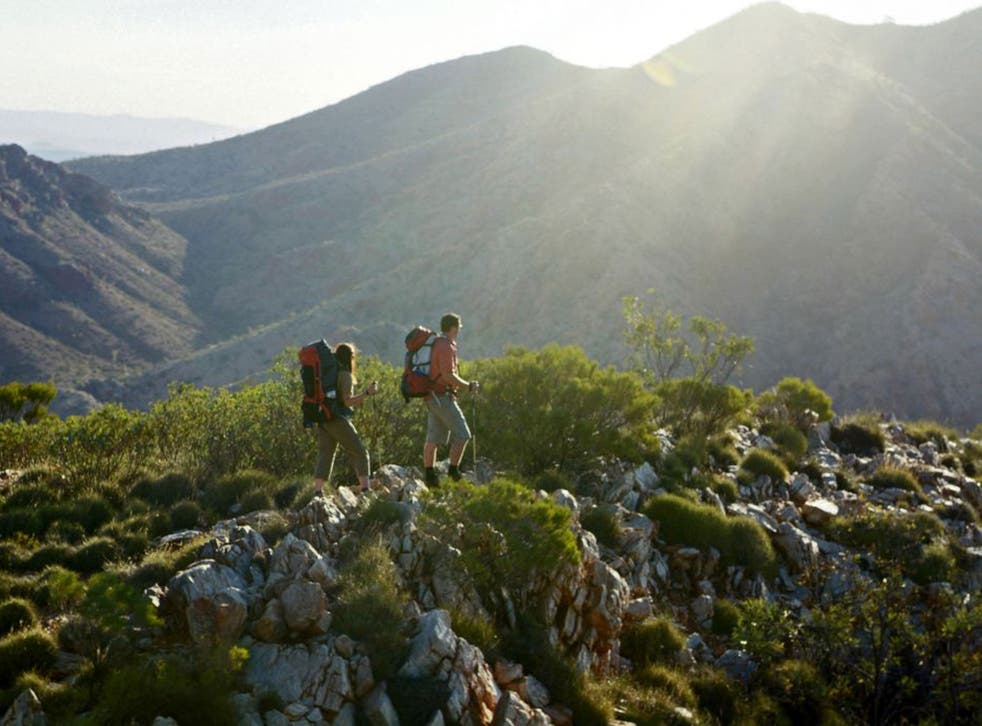 The Lonely Planet Adventures: The Larapinta Trail
In 1908, it was called the finest walk in the world. It's still the country's most popular hike
Every day, busloads, carloads and planeloads of people squirm through the mountains of Fiordland National Park to visit New Zealand's postcard-perfect Milford Sound, but once it was only walkers who could make it to these shores.
Not all desert adventures need be about hardship and Herculean endurance. First mooted as a walking trail in 1987, and completed 15 years later, the Larapinta Trail delves into central Australia's finest natural features – waterholes, gorges, razorback ridges – squeezing the beauty out of Australia's harshest desert environment. Such is its accessibility, that the Larapinta has become one of the most popular long-distance trails in the country.
It begins (or ends, depending on which direction you choose to walk it in) at the actual springs that the township of Alice Springs is named after. The trail follows the length of the West MacDonnell Ranges to its most striking peak, Mt Sonder. Its 223km of twists, turns, mountains and gorges are divided into 12 sections, each somewhere between 13km and 31km in length. Every section represents a day or two of walking, and each is intent on showing off hidden mountain wonders.
Campsites are spaced at manageable distances and, though the land is as dry as bones, there are water tanks acting as virtual oases found no more than 33km apart.
Along the way the trail passes through tourist set-pieces such as Simpsons Gap, Standley Chasm, Ellery Creek Big Hole, Serpentine Gorge, the Ochre Pits, Ormiston Gorge and Glen Helen Resort, but also seeks out walker-only delights such as Hugh Gorge, Inhalanga Pass and the signature Larapinta view at Counts Point, one of the West MacDonnells' best lookouts.
The adventure unfolds
It's been a long haul across the desert plain, switching from one line of mountains to the other, but you've finally arrived at Hugh Gorge. Inside, the rock walls are as smooth as plates, towering above you as you step around waterholes. At Hugh Gorge Junction, the trail turns east into Linear Valley but you continue up the gorge for a few hundred metres, until its walls almost clamp shut above a waterhole.
You turn back to camp at the base of Razorback Ridge, saving this gymnastic mountain ascent for the morning. The cry of a dingo cuts through the evening and temperatures slip below freezing as you lie beneath a sky flecked with stars.
When the sun hits in the morning, the mercury rises. It's a long hot day across the ridge, the exposed rock feeling like the very bones of the land, but soon you're weaving through dry Spencer Gorge to Birthday Waterhole. The gift here is rest. It's been a tough few days and tomorrow brings another ascent to Brinkley Bluff.
Approached from the west like this it's a grunt of a climb, ascending 500m to its summit, where you make camp before a golden sunset. You half-expect to be able to look west and see Mt Sonder yet again. This mountain, shaped like a sleeping woman, has been part of your view for so many days. But the mountain is gone; you've finally left it behind. Instead, to the east, there's a faint glow of light on the horizon that can only be Alice Springs. The end is nigh.
Making it happen
Independent walkers can make food drops at Standley Chasm, Ormiston Gorge, Glen Helen Resort and the walkers' camp at Serpentine Gorge, meaning they need carry only four or five days' worth of food at a time.
A number of companies lead guided walks on the trail. Locally operated Trek Larapinta is one of the most experienced. There are also walker shuttle services to Mt Sonder from Alice Springs.
This is an extract from 'Great Adventures', published by Lonely Planet (£29.99). Readers can buy a copy for £25, including UK P&P, by going to shop.lonelyplanet.com and using the code INDEPENDENT
Join our new commenting forum
Join thought-provoking conversations, follow other Independent readers and see their replies