Tasmania: A widescreen view of a wild wonderland

Show all 4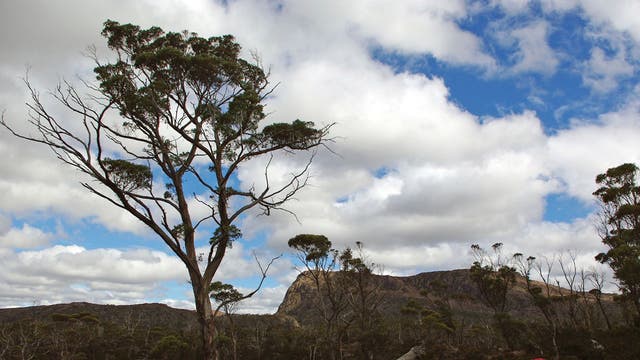 Tasmania: A widescreen view of a wild wonderland
As a new film, 'The Hunter', showcases the dazzling landscapes of the island, James Stewart discovers that its scenery is even more impressive in real life
Someone pinch me: I've slipped into a fantasy and it's as unsettling as any scene in new movie The Hunter. Set in Tasmania and based on a novel by Australian writer Julia Leigh, the film opens in the UK this weekend having already wowed critics in Australia. It is a taut psycho-drama that stars Willem Dafoe as a solitary mercenary hired by a shady bio-tech firm to hunt down the last Tasmanian tiger; a quest obstructed by landscape and by a local guide, played by Sam Neill, as much as by doubts about whether the animal exists at all. Officially, the last tiger died in 1933.
Right now, though, the truth in Tasmania is proving just as fantastical as the fiction.
For three hours I seem to have been walking in Wonderland; a Skye through the Looking Glass, tumbled and stretched in the washing-machine weather systems of the Roaring Forties, then reassembled into a tangential reality. Psychedelic coral heads bubble up among the buttongrass – cushionplants, their acid-green bolsters composed of tiny, fragile flowers. Wallabies, not rabbits, lollop away into the scrub. The pervading scent of citrus seems just another hallucination until my guide, Tim, mentions that the shrub we are wading through is called lemon-scented boronia. Curiouser and curiouser.
Tim introduces me to the locals: here, the grey pellets of a Tasmanian devil, there the nuggets of a wombat. I stare at them. Something is odd. "You've noticed," Tim says with a smirk. "Square poo." He's right – wombats lay neat faecal bricks, stacked like trig points as territorial markers. Apparently the cartilage plate that shapes these anal dice can also crush the skull of any animal that enters a wombat's burrow. Death by teddybear bum-plate – I have fallen down the rabbit hole and emerged in the Walls of Jerusalem National Park.
The Walls is the forgotten bit of the Tasmanian World Heritage area, even though, by local standards, it is easy to access. The gateway car park is only two hours from Launceston Airport, beyond pretty farming villages and a dirt road that buries through aromatic eucalyptus, wattle and sassafras. Even the park's boundaries jigsaw with the state's most popular national park, Cradle Mountain.
Every national park ranger you meet raves about the place. Like a supersized bonsai garden, one warden said of the stunted tundra-like flora. Tolkienesque, volunteered another: "You half expect a wizard to emerge from the f orest at any moment."
To the newcomer, Tasmania is the surprise of Australia. It is the size of Ireland, which makes it tiny by Australian standards. After centuries of isolation at the edge of the habitable world, it is a weird and wonderful state, an island where real devils (Tasmanian, naturally) utter banshee wails, and moss-bearded giants stand in forests that predate mankind. A minor Middle Earth is just part of the scenery – and there's an awful lot of that in a state that's a quarter wilderness.
Recent years have seen increased sophistication, with headline developments such as Mona, Australia's hippest art gallery in the capital city, Hobart, and a burgeoning gourmet scene. But what sets Tasmania apart is its landscape. Willem Dafoe may get top billing in The Hunter but make no mistake, the scenery is the star. On screen it becomes a personality in its own right. Mist-wreathed mountains out-brood Dafoe's unwavering gaze across the buttongrass plains. Dark secrets as well as possum eyes lurk within the primeval rainforests where he tracks the tiger. Tasmania has it all, said Australian director Daniel Nettheim after filming. This is a state that begs you to get out there and explore.
A section on my Walls of Jerusalem map had other ideas, however. Like a dire prophet, it warned that the ascent to the sub-alpine plateau was steep, and that tracks within its mountain citadel were rough. The weather was fickle, too: heavy rain, hail, snow and blazing sun could come in any month of the year and within a few hours, it said. Faced with hypothermia and sunstroke between breakfast and lunch in a park that was only accessible on foot, it was imperative to put safety first. So I did.
The four-day Walls of Jerusalem Experience is run by a company called Tasmanian Expeditions. It is simultaneously one of the best and least-known walking trips in Tasmania. From a base camp at the splendidly named Wild Dog Creek in the bosom of the national park, it provides modestly challenging day walks followed by proper dinners beneath nights boiling with stars, perhaps a glass or two of Tasmanian wine, then snug nights cocooned in goosedown. It is "adventure lite", wilderness without the wild: no heavy rucksacks, no packet pasta, no cold nights.
No worries, Tim promised our little group as we shouldered supplies to carry into the park. For a few hours we ascended through a sylvan cathedral buttressed by eucalypt trunks and vaulted by leaves. Then we crested the Walls' plateau and stepped from soft green into glorious colours. Bright orange splashed granite boulders – caloplaca lichen, a marker of the air's exceptional purity – and white scarpia flowers exploded like popcorn. Ridge after ridge of charcoal-grey peaks peeled into the distance. I recalled a scene in The Hunter in which Dafoe, venturing into the Tassie wilderness for the first time, had gazed over a vast bowl of forest and whispered simply: "Good Lord."
Names scattered across the map suggest that the first explorers on the Walls' plateau were just as awestruck: King Davids Peak, Solomon's Jewels, Lake Salome, the Wailing Wall. Stuck for suitably epic names when christening this wilderness, the old-timers had reached for their Bibles.
While they were spot on with the Old Testament grandeur, they were way out with the timeline. When King David and co were just a glint in history's eye, glaciers tore the plateau's dolerite mountains into ragged cliffs – the walls of the park's name – and scooped out the numberless tarns that gave my map the appearance of marbled paper.
With tents pitched on raised platforms (no damp groundsheets either – hurrah!), Tim led us out through Herod's Gate pass beneath a kilometre-high cliff clawed by aeons of ice. We crossed a saddle beneath Mount Jerusalem then descended into a grove of stunted trees – pencil pines, a scruffy first-draught proto-pine that barely survives outside the national park. The larger trees were around 1,500 years old, Tim said casually. Indeed, the Walls' plateau had barely changed in appearance since the glacial ice melted. Talk about conservation up here and your timeframe has to stretch 20,000 years – small wonder the BBC came to film backdrops for Walking with Dinosaurs.
Part Wonderland, part Lord of the Rings, with a pinch of The Land That Time Forgot on the side, the Walls is a place where fantasy and reality blur. You could lose yourself for weeks up here, and not just because of iffy map-reading.
After a breakfast of porridge and strong coffee the next day, we laced boots beneath a sky that seemed pegged bizarrely low because of our high altitude. A sketchy trail led through misty vales and around high bluffs, their summits furred by cloud. At the edge of the map we came to Tiger Lake; more haunting dreamscape than landscape now that a fine drizzle had misted the gum-trees to ghosts. Half-hidden in the bush stood an A-frame hut the size of a garden shed. "Solitary Man" was carved into the lintel – a Vietnam veteran, Tim explained. The story goes he built this stone-and-tin hermitage a decade after the war's end and survived alone up here for years until discovered by rangers. Tasmania's very own Rambo.
Inside, spotted skins of the Eastern quoll (a ferret-like marsupial) were draped over a mattress of sacks. Snowshoes improvised from eucalypt branches, a rudimentary fishing rod and dented hurricane lanterns spoke of endurance in the wild. A yellowing book lay abandoned: The Complete Book of Running. It seemed a metaphor – running from what or who?, I wondered. The hut was basic and shabby, yet it was also strangely moving. A scriptwriter could not have storyboarded it better.
Travel essentials
Getting there
There are no direct flights from the UK to Tasmania, so you will need to connect at one of Australia's mainland cities. The main gateway is Melbourne, served direct from Heathrow by Qantas (020-8600 4300; qantas.co.uk). Indirect flights are available on Cathay Pacific, E mirates, Etihad, Qatar Airways, Singapore Airlines and many more.
Seeing there
Tasmanian Expeditions' four-day "Walls of Jerusalem" tour departs fortnightly (tasmanianexpeditions.com.au). The tour costs AU$1,095 (£719) and includes all meals, transport by minibus, park fees, professional guides and equipment. For bookings in the UK contact World Expeditions (020-8545 9030; worldexpeditions.co.uk). Tasmanian Expeditions is part of Great Walks of Tasmania (greatwalkstasmania.com).
More information
Tasmania Tourist Board: discovertasmania.co.uk
Join our new commenting forum
Join thought-provoking conversations, follow other Independent readers and see their replies