Traveller's Guide: Great Barrier Reef

Show all 7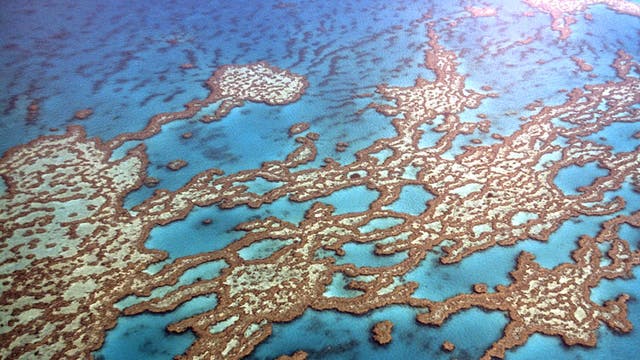 Traveller's Guide: Great Barrier Reef
It's 2,000km long and home to a dazzling array of marine life – and the onshore options are just as vibrant, says Lonely Planet's Catherine Le Nevez.
There's a reason that it's called the Great Barrier Reef. With a surface area larger than the British Isles, the most extensive reef system in the world is 2,000km long: the only living structure visible from the International Space Station. It's made up of more than 3,000 separate fringing reefs that lie between Australia's Queensland coast and the edge of the continental shelf. All exist thanks to colonies of tiny polyps, the "architects" of the reef, whose outer skeletons form intricate multicoloured coral metropolises.
Monty Halls' recent BBC series showcased this Unesco World Heritage-listed treasure, which is home to not only the world's greatest concentration of coral (400 types of hard coral and 300 types of soft coral) and 1,500 or so species of glittering fish, but also 4,000 breeds of molluscs; 500 types of seaweed; 1,500 varieties of sponges; 200 bird species; and more than 30 marine mammal species including humpback, minke, killer and pilot whales.
The reef stretches from just south of the tropic of Capricorn to north of Cape York, and incorporates about 900 coral islands. For a close-up of the kaleidoscope of corals and marine life teeming below the surface, diving and snorkelling offer a truly hypnotic, outer space-like experience in the warm waters (often as shallow as a swimming pool). The reef lies 16km to 160km off the Queensland shore. Day cruises generally incorporate about three hours of underwater exploration and include snorkelling gear, with many day trips offering diving as an optional add-on for certified divers for about A$250 (£167) for two dives including gear. Some also offer an introductory dive – a controlled scuba dive with no certification or experience necessary – from around A$245 (£163), with additional dives about A$40 (£27).
For a more immersive stay, there is a multitude of overnight or "live-aboard" packages on offer, some incorporating learn-to-dive courses for the as-yet uninitiated. Five-day courses that include two days of pool theory and three days living aboard a boat start at A$805 (£537) with Cairns-based operators such as Deep Sea Divers Den (00 61 7 4046 7333; diversden.com.au), which also offers cheaper four-day certification courses combining pool training and day-trip reef dives from about A$580 (£387).
Reef trips of all kinds run year round, but peak in the winter dry season (May to September); things are quieter during the summer wet season (October/November to March/April), when tropical downpours descend and potentially fatal jellyfish inhabit the waters, which mean swimmers must wear a body-stocking-like "stinger suit".
Accommodation on the islands and along the coast ranges from backpacker hostels to five-star hotels and some gorgeous national park camping grounds, managed by the state's Department of Environment and Resource management (derm.qld.gov.au). For more information, visit Queensland's tourist board website: tq.com.au.
As if one World Heritage area weren't enough, the Great Barrier Reef neighbours another Unesco-listed wonder. The Wet Tropics World Heritage Area covers an area bigger than Wales running north from Townsville, and includes some of the world's oldest rainforest. Numerous tour firms offer reef and rainforest combination deals. Cairns Heliscenic (00 61 7 4031 5999; cairns-heliscenic.com.au) offers hour-long helicopter flights over the city, hinterland and reef from A$529 (£353).
This fragile ecosystem is under threat from climate change and pollutants. The authorities have responded by creating the Great Barrier Reef Coast Marine Park (www.gbrmpa.gov.au) encompassing 3,600km of coastline. You pay a tax of A$5.50 (£3.70) per day (normally included in trip prices), which helps to safeguard the reef's future.
Getting there & around
Cairns is the main entry point for visiting the Great Barrier Reef, with an international airport and good bus and rail links to the south and buses north to Port Douglas and Cape Tribulation.
The most direct route from London to Cairns is offered by Cathay Pacific (020-8834 8888; cathaypacific.com) from Heathrow – including one stop in Hong Kong; the shortest journey time is just over 25 hours.
Qantas (08457 747 767; qantas.co.uk) has abandoned its flights from Singapore to Cairns, so you must now travel via Brisbane – the same routing applies to airlines such as Emirates and Singapore Airlines.
Cairns has domestic connections with Qantas and Virgin Australia (0843 104 7777; virginaustralia.com) to Townsville and Hamilton Island. The Whitsundays' mainland airport, Whitsunday Coast, just south of the town of Proserpine, currently only has flights from Brisbane.
Alternatively, cruise between Cairns and Townsville aboard the Coral Princess (00 61 7 4040 9999; coralprincess.com.au), exploring the reef en route. Three-night cruises cost from A$1,546 (£1,031) per person.
Renting a car offers the ultimate freedom to explore the Queensland coast. Apollo Car Rentals (020-7193 2066; apollocarrentals.com.au) has branches at Cairns airport and city centre; weekly rates start at A$390 (£260). Alternatively, Greyhound Australia (greyhound.com.au) runs regular services along the Queensland coast. A one-way pass for journeys between Cairns and Brisbane costs A$321 (£214) and last for 90 days, with as many stops as you wish.
Gateway to the reef
The provincial sugar cane town turned international resort city of Cairns is the main launching pad for Great Barrier Reef explorations.
Unwitting visitors are often caught off guard by Cairns' mudflats location. (That means no beach.) But the city makes up for it with a sparkling man-made lagoon, some great art galleries and an excellent Aboriginal cultural centre, Tjapukai (00 61 4 4042 9900; tjapukai.com.au; admission A$35/£23.30, night-time dinner and show A$99/£66) on Kamerunga Road, Smithfield. There's also a sizzling Asian-influenced dining scene, vibrant Night Markets (nightmarkets.com.au) on the Esplanade, and bars and clubs that pulse until it's time to board your reef cruise the next morning.
A mind-boggling 600-plus tours depart from Cairns daily, including numerous learn-to-dive courses. The inner reef areas can be patchy, showing signs of damage. Companies licensed to visit the more pristine outer reefs include Silverswift (00 61 7 4044 9944; silverseries.com.au), which has day trips from A$190.50 (£127).
For central tropical charm, the timber-shuttered, plantation-style Hotel Cairns (00 61 7 4051 6188; thehotelcairns.com), pictured left, on the corner of Abbott and Florence streets, offers doubles from A$169 (£113), room only.
Sand-seekers should base themselves at Cairns' Northern Beaches, which include the family favourite Trinity Beach, or the ultra-posh Palm Cove, a short local bus ride away. Most tour companies pick up from Northern Beaches accommodation.
Small-town sophistication
From Cairns, the Captain Cook Highway twists and turns north for 67km along the fissured coastline to the swish resort town of Port Douglas, pictured. With a beautiful white-sand beach, stylish seafood restaurants and quality Sunday-morning art, craft and food markets on the foreshore, "Port" is a more upmarket, lower-key alternative to Cairns as a base.
The town has some decadent spa hotels to stay at. The Balinese-styled resort Hibiscus Gardens (00 61 7 4099 5315; hibiscusportdouglas.com.au) at 22 Owen Street – which offers doubles from A$145 (£97) room only – has an in-house spa. It specialises in Aboriginal healing techniques and products, such as a half-hour paudi (head) pressure-point massage with a quandong (bush berry) hair mask from A$70 (£47).
Scores of cruise and dive boats depart daily from Port's marina for the reef. Operators such as Haba (00 61 7 4098 5000; habadive.com.au) usually make at least two stops on the outer and ribbon reefs on their day trips, which start at A$175 (£117) per person. Several companies also visit the Low Isles: a reef with an idyllic little lighthouse-topped island and fringing coral, where sea turtles make common appearances. Reef Sprinter (00 61 7 4099 3175; reefsprinter.com.au) zips over from Port in 15 minutes for two-and-a-quarter hour snorkelling trips, costing A$110 (£73).
Smart city
A recent facelift has smartened up Australia's largest tropical city, Townsville, more than 300km south of Cairns. Newly paved paths and a smart piazza now flank its 19th-century architecture. The landscaped waterfront park, The Strand, is interspersed with natural and man-made swimming pools and umbrella-decked cafés. Above Townsville's trendy foodie strip, Palmer Street, the newly-built Oaks M on Palmer (00 44 7 4753 2900; oakshotelsresorts.com; 81 Palmer Street) has doubles from A$160 (£107), room only.
If you'd prefer not to get wet and still see a living reef, head to the Great Barrier Reef's national education centre, Reef HQ (00 61 7 4750 0800; reefhq.com.au; admission A$26.50/£17.70) on Flinders Street East.
More than 130 coral and 120 fish species swim in the aquarium's 2.5 million litres of water; it also has a new turtle hospital, touch tanks and feedings. The aquarium is utilised by Townsville's James Cook University – one of the world's leading marine science research facilities.
The Great Barrier Reef itself lies further offshore from Townsville than from most mainland departure points. Reef trips from here are dive oriented and include the wreck of the SS Yongala, which sank during a cyclone in 1911 and is now the domain of 120 fish species.
Adrenaline Dive (00 61 7 4724 0600; adrenalinedive.com.au) runs wreck dives from A$226 (£151) in addition to other day and overnight reef cruises and diving certification courses.
Rainforest haven
The awe-inspiring Daintree Rainforest tumbles right down to the beach at Cape Tribulation, pictured above. Like the reef, the rainforest has astonishing biodiversity, with one-third of Australia's frog, reptile and marsupial species, two-thirds of its bat and butterfly species, more than 12,000 insect species and rare birds including flightless cassowaries, some taller than humans. All this, despite the region covering only a thousandth of the continent's surface area. Rainforest treks and mangrove boardwalks are the best-known pursuits in this tiny village 84km north of Port Douglas, but the Great Barrier Reef is about as close to shore here as it gets. Ocean Safari (00 61 7 4098 0006; oceansafari.com.au) runs small-scale, half-day snorkelling cruises from A$119 (£79).
Ten minutes' stroll from the beach, a pair of romantic, timber-pole cabins with huge decks are far enough apart to make you feel as if you're alone in the forest. They're part of the Cape Trib Exotic Fruit Farm (00 61 7 4098 0057; capetrib.com.au). Doubles start at A$180 (£120), with a minimum two-night stay. The rate includes breakfast baskets that make use of some of the farm's 200 varieties of organic tropical fruits.
Non-guests can book ahead for a seasonal-fruit tasting here for A$25 (£16.70).
Island paradise
Turquoise seas and palm-shaded sugar-white sand beaches make the Whitsundays – a dazzling archipelago of 74 islands less than 50km offshore – the stuff of dreams... and screensavers. They offer superb aquatic adventures, hiking and wildlife-spotting, including prehistoric goannas (monitor lizards).
Day and overnight sailing and cruise trips take in the islands, and seven islands also have high-end resorts. Boats ply the limpid waters from Abel Point Marina, in the party-hard tourist hub of Airlie Beach, and from Shute Harbour, 10km east of Airlie.
Cruise Whitsundays (00 61 7 4946 4662; cruisewhitsundays. com) operates a speedy catamaran from Abel Point Marina to a pontoon and underwater observatory moored at Knuckle Reef Lagoon from A$199 (£133) for spectacular snorkelling, diving and sea walking. Helireef (00 61 7 4946 9102; helireef.com.au) can whisk you from the pontoon for a 20-minute flight over the Heart Reef for A$199 (£133).
With its own airport, a marina served by frequent ferries making the 30-minute journey from the mainland and inter-island transfers, Hamilton is a handy island base. The resort's diverse accommodation, all bookable through Hamilton Island (00 61 2 9433 0444; hamiltonisland.com.au), ranges from palm-set bungalows, offering doubles from A$268 (£179), room only, to the all-out luxury of its flagship retreat, Qualia, where doubles start at A$950 (£634), including breakfast.
Lonely Planet's Queensland & the Great Barrier Reef guide (sixth edition) is available now, priced £14.99. lonelyplanet.com
Join our new commenting forum
Join thought-provoking conversations, follow other Independent readers and see their replies