Into the blue of the Azores: It's even easier for whale-watchers to catch one of the planet's great spectacles

Show all 4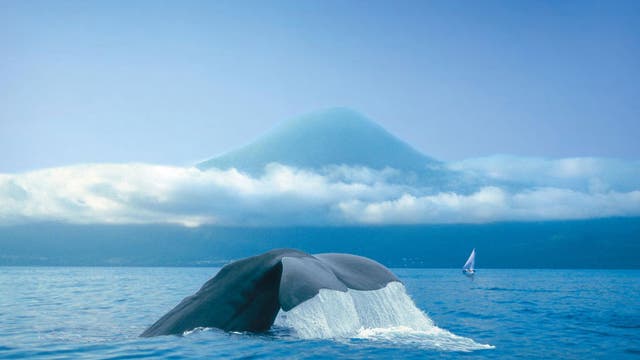 Into the blue of the Azores: It's even easier for whale-watchers to catch one of the planet's great spectacles
Direct flights to these Atlantic islands have resumed.
For a confirmed whalehead such as myself, the islands of the Azores offer the equivalent of a cetacean safari. A remarkable 26 different whales and dolphins have been recorded in these waters – one-third of all known species. But even for those not obsessed with these miraculous mammals, their reason for being here – the spectacular geography of the place – draws discerning visitors to this enigmatically beautiful archipelago.
From today, direct flights to the Azores from the UK return for their summer season, with a weekly non-stop link from Gatwick to the largest island, São Miguel. The islands themselves are really just a series of drowned volcanoes, set on the vast ridge that runs down the mid-Atlantic like an underwater spine. Indeed, the archipelago is formed at the meeting of three tectonic plates, the Eurasian, North American and African, each pulling the islands in different directions.
This remains a restive place. The last eruption, on Faial, was only in 1957, and there are still regular, and fatal, earthquakes.
Truly, these are dark, almost satanic islands; even the houses are black, built from basalt rocks. The central and youngest island of Pico – only 3,000 years old, and also known as Ilha Negra, black island – has no beaches, centred as it is around one huge volcano, the tallest peak on Portuguese territory. Boulders tumble like clinker into the sea, as if still simmering with heat. Just 100 yards from the shore the depth drops to one mile, and then to a further three. It's a fearful place from which to swim for anyone with an overactive imagination; climbing down a ladder into water made inky by the rocks, I felt distinctly spooked by what might lie below. Yet for my fellow mammals, it's precisely this profundity that makes these waters a perfect home. This is where leviathans linger, sucking up the plentiful supply of squid.
Zooming out of the harbour at Lajes, Pico's oldest settlement (its chapel dates back to 1460, the time of the islands' discovery by the Portuguese; Columbus heard Mass in the Azores on his way back from America), I set off in search of whales in the estimable company of Espaco Talassa – the first whale-watching operation in the Azores. Founded by a Frenchman, Serge Viallelle, Espaco Talassa took advantage of an older profession: the Azorean whalers who'd learned their trade from Yankee whalers, the men of Moby Dick fame.
Whaling ended here only in the 1980s, and the town bears witness to this legacy. Its pavements are set with a mosaic of whale images; over the local bar hangs the huge jaw of a sperm whale. But as most of the world moved from regarding whales as an industrial resource to seeing them as a natural wonder, Viallelle capitalised on that turnaround: he persuaded the whalers that people would pay to see living whales.
To spot their prey, the hunters had used cliff-top towers or vigias, resembling narrow pillboxes with an open slit at the top. On seeing whales, the watcher would light a rocket with his cigarette, summoning the hunters to the pursuit. Now the Lajes vigia is manned by Marcelo André da Silva Soares, the soft-spoken, 24-year-old son of a whaler. His lofty viewpoint and sharp eyesight (his previous career was as a soldier serving in Kosovo) gives Espaco Talassa a head start on the tricky business of finding whales. For although they're the biggest animals on Earth, they can be elusive. In the summer, you're most likely to see sperm whales: the world's largest predators, and owners of the planet's biggest brains. Far from terrifying monsters, they're extraordinarily timid animals – which makes watching them all the more challenging.
I last came to Pico four years ago, for a memorable close encounter with the island's gargantuan residents, the culmination to a half-decade spent working on my book, Leviathan. Now, returning to Pico, I felt the familiar mixture of rising excitement and apprehension. To see one of these animals surfacing only a few yards away, blowing exhausted air from its huge, single nostril after a dive which may have taken it a mile below, is a salutary experience – not least because we're collectively aware of how close we came to driving them to extinction. In São Roque, on the north side of Pico, you can visit – if you have the stomach for it – a museum set within a grim whaling factory, filled with autoclaves and winches: the brutal equipment employed to turn these animals into pet food, fertiliser and vitamin supplements.
If cetaceans have good memories – and the latest research indicates that they do – then they appear to have forgiven us. Out here, the ocean erupts with marine mammals. Bottlenose, spotted, striped, common and Risso's dolphin all scythe through the surf in a show which puts SeaWorld to shame. Piloted by Espaco Talassa's expert young skipper, Joao Quaresma, to the radio directions of Marcelo in the vigia, our rib, which seats only 12 passengers, brings us right down to sea level. The result is spectacular: watching a sperm whale raising its flukes against the majestic backdrop of Pico is probably one of the most sublime cetacean experiences.
Sperm whales can be seen here all year round, but weather permits whale watching (from boats, at least) only from April to October, on three-hour trips. As with such operations, no trip guarantees sightings. But of all the places I've watched whales, the Azores is the most dependable. Not only sperm whales, but humpbacks, minkes, pilots, fin and blue whales are seen here, at different points in the season. And you'd be very unlucky indeed if you don't come across at least one pod of dolphins. You might even see a beaked whale – one of the rarest and most mysterious of all.
From this marine perspective you appreciate just how green the island is. On a day off from whale-watching, we drove more than 4,000ft up into the clouds that ring the volcano's lower reaches like a fur collar, emerging into a Middle Earth landscape studded with vertebrae-like lava cones named mistérios negros (literally, "black mysteries") and deserted lanes lined with giant heathers, ancient ferns and acid-blue hydrangeas. The volcanic soil encourages everything from grazing cows to basalt-walled vineyards. Bananas, tea and even tobacco all flourish here.
The ferry that arrives from neighbouring Faial is laden with fish, eggs and other produce. With a population of only 15,000 and tourists a relative rarity, Pico feels like a living, working place: reserved, insular and yet open to the world, too.
Here, everything looks familiar, yet not quite. I've seldom eaten such good, or strangely named fish – amberjack, parrotfish, forkbeard – as those served at Espaco Talassa's chic café (Hélène, its elegant head waitress, was on secondment from Peter Jones's department store), or at our hotel, the Aldeia da Fonte. Set a couple of miles west of Lajes, this collection of quirky villas, with the eccentric air of Portmeirion, is only 15 years old but looks as though it's been here for centuries.
Down at the hotel's swimming cove, its erudite, yoga-practising owner, Dr Antonio – having welcomed me to paradise – gives me a brief natural history lesson (with the chilling detail of the cries of harpooned dolphins, victims of the hunts which he witnessed as a boy) before blithely diving into the rock-strewn water. Sequestered in its tree-shaded cliff-top perch and wonderfully quiet (despite the occasional singing French osteopaths), the Aldeia is surrounded by lush gardens and active wildlife, from Azorean blackbirds to noctule bats, the island's only endemic mammal.
As twilight falls, Pico's ghosts appear. Wheeling overhead as starry shadows in the dark sky, the eerie squawks of the Cory's shearwaters announce their return to land after a day foraging at sea. Pico is one of their major nesting sites, and they use the cover of darkness to avoid predators, rearing their chicks on regurgitated fish. Their homecoming call is a strangulated screech somewhere between Donald Duck and Punch and Judy; disconcerted sailors believed they were drowned souls in torment.
These birds were also once hunted and eaten by the Azoreans. Happily, they are no longer on the menu. Out on the open ocean, they're daringly beautiful birds, swooping with slender wings that almost seem to touch the waves. Together with the cetaceans with which they share the sea, their airy spirits seem to embody Pico's tantalising beauty; but also its darker history, too.
Leviathan or, The Whale by Philip Hoare is published by Fourth Estate (£9.99). His latest book, with Angela Cockayne, is Dominion: A Whale Symposium, Wunderkammer Press (17.99)
Travel essentials: Azores
Getting there
* The airline of the Azores, SATA (0844 482 1678; sata.pt/en) resumes weekly non-stop flights from Gatwick to Ponta Delgada on the island of São Miguel today.
* Many other possibilities are available on a combination of SATA and TAP Portugal (0845 601 0932; flytap.com/UK) via Lisbon. TAP flies to Horta, Faial, via Lisbon. The author paid £439 for a return flight.
Staying there
* Aldeia da Fonte, Pico (00 351 292 679 500; aldeiadafonte.com) offers B&B from €89.
Seeing whales
* Espaco Talassa (00 351 292 672 010; espacotalassa.com) conducts half-day whale and dolphin-watching trips from €37.
More information
* Azores Tourist Board: 00 351 296 288 084; visitazores.com/en
Join our new commenting forum
Join thought-provoking conversations, follow other Independent readers and see their replies