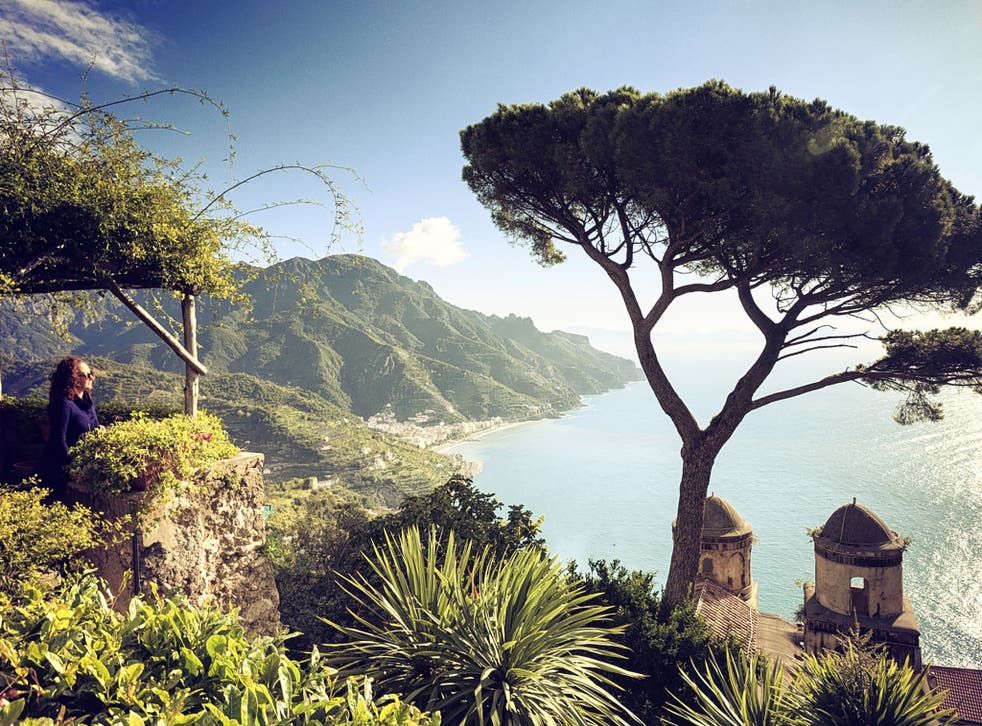 Arias and graces in Ravello
With today marking the 200th anniversary of Richard Wagner's birth, Linda Cookson heads to Italy's Amalfi coast to visit the composer's favourite resort – still a celebrity hang-out today
It's only the first night of my visit, and I'm beginning to wonder if I'm the only non-famous person to have stayed in this lovely southern Italian town. Richard Wagner, born 200 years ago today, was one of many celebrities to appreciate the operatic drama of the Amalfi coast – and its main town, Ravello.
I've lunched in Netta Buttone's traditional trattoria underneath a grainy black-and-white snap of Humphry Bogart riding a donkey that belonged to her father. I've bought a cute red jug from ceramicist Pasquale Sorrentino, who told me proudly that Rod Stewart and Richie Sambora both ordered dinner services following their visits. Around the corner, in Giorgio Filcamo's cameo shop, I've been shown thank-you notes from Winona Ryder and Hillary Clinton, and – as if that wasn't impressive enough – a framed photograph of Pope John Paul II receiving the coral rosary that Giorgio was commissioned to make for him.
The roll-call of high-profile visitors to this hilltop town in southern Italy is as star-studded as it gets. But the real star of the show is Ravello itself. Right now, I'm sipping prosecco on my balcony at the opulent Hotel Caruso, set in a former 11th-century palazzo. The warm evening air is brimming with birdsong. I have to keep pinching myself at the romance of it all. No wonder honeymooners and A-listers alike are drawn here. Perched on a rocky spur, fringed by macerine (terraced citrus groves) of deepest green and jutting out like a stone crown over a breathtaking sweep of brilliant blue sea, Ravello is simply ravishing.
The busier waterfront resorts of the Amalfi coast – such as nearby Positano, with its much-photographed tumble of ice-cream coloured houses – are no slouches in the beauty department and have their own quota of celebrity fans. But chic little Ravello stands shyly aside from the main action, always at one remove from the crowds. Effortlessly elegant, with her splendid cathedral and warren of pretty churches, crumbling arches and gorgeous gardens, she hovers discreetly in the background – the most unassuming guest at the wedding, but easily the classiest and most seductive.
Unsurprisingly, Ravello has long been a magnet for artists and writers. Turner, Escher and Joan Mirò painted here. André Gide, E M Forster, Virginia Woolf, DH Lawrence and Graham Greene all visited. Lawrence wrote part of Lady Chatterley's Lover during his stay, and Forster's short story – The Story of a Panic – is set in the glorious chestnut woods on Monte Brusara, above the town.
Earlier, as I made my way along a narrow alleyway leading from the hotel to the town square, passing tiny gated courtyards tangled with ancient tree roots and splashes of wild flowers, I came across the house where Gide and Forster lodged. It's faded now, and boarded-up, but it felt mysteriously alluring. It was like looking at a sepia print from long ago.
To reach Piazza Vescovado, the cathedral square, I walked down a broad stone stairway, edged with troughs of yellow pansies. Its name – Viale Richard Wagner – is in honour of the great German composer who visited Ravello in May 1880. The composer of The Ring stayed just off the main square at the fairytale Villa Rufolo – a wildly romantic confection of ivy-clad towers, with a Moorish courtyard, tumble-down archways and astonishingly lovely gardens cascading with tropical plants. Wagner was working on Parsifal, his final opera, at the time and was so entranced by the magic of his surroundings that the Villa's gardens inspired the setting for the opera's second act.
"Finally, the enchanted garden of Klingsor has been found," he wrote in the guest book.
In celebration of Wagner's life and his love of Ravello, the town has hosted a lavish, internationally renowned music festival every summer since 1953, the 140th anniversary of his birth (and the 70th of his death). Villa Rufolo is no longer a private home. Today, its gardens are open to the public and many of the concerts take place there on a vast stage built out over the sea.
Wagner's own works feature in each year's programme and it would be hard to imagine a more thrilling place to experience his music. As I stood in the gardens this morning, captivated by their beauty, strains of violin music were wafting from a concert room housed in a magnificent stone tower as swallows skimmed through the boughs of surrounding trees.
Ravello's elegant cathedral square and quaint vaulted shopping alleyways are all part of its timeless appeal. But, in the end, what most took my breath away were its gardens – all, like Villa Rufolo's, suspended dreamily over the sea. Near the Hotel Caruso I discovered the pint-sized Belvedere Principessa di Piemonte, a dinky flower-packed platform, tucked away behind iron railings and stone arches. Black-and-white stills were on display from the 1953 film Beat the Devil, starring Bogart, Jennifer Jones and Gina Lollobrigida, part of which was shot there. Nothing seemed to have changed much. The views from the green-slatted benches looking out to sea were the same now as then.
A 15-minute uphill stroll past the monasteries of San Francesco and Santa Chiara took me from pocket handkerchief charm to the full-on glamour of the picture-book Villa Cimbrone, Ravello's other hard hitter in the romance stakes. Greta Garbo stayed at the villa itself (now an upmarket hotel) in 1938, during her love affair with conductor Leopold Stokowski. (Other former guests included Churchill and Salvador Dalí.)
The gardens are vast – laid out with formal avenues and studded with ornate groves, hidden glades and classical statues. I followed in the footsteps of the American novelist Gore Vidal, who lived in Ravello for more than 30 years, and headed for Terrazza dell'Infinito (Terrace of Infinity), a majestic stone sea-facing balcony with jaw-dropping views over what Vidal once described as the best panorama in the world.
I reflect happily on my day. No wonder Ravello's charms have proved irresistible to so many visitors, and how marvellous to discover Parsifal's magic garden, as created by Wagner. When I stood gazing from that terrace, with the Gulf of Salerno some 350m below me, a vast sweep of electric blue, it was like standing on God's own diving board.
TRAVEL ESSENTIALS
Getting there
The writer travelled with JCJourneys (01886 812862; jcjourneys.com) which offers three nights in the Hotel Caruso from £1,325pp, including flights to Naples, private transfers and breakfast.
The main gateway to the Amalfi Coast is Naples, served from Gatwick by British Airways (0844 493 0787; ba.com) and easyJet (0871 244 2366; easyjet.com); the latter also flies from Stansted, Liverpool and Edinburgh.
More information
The Ravello Festival runs from 28 June to 7 September.
Tickets: 00 39 089 858 422; ravellofestival.com
Join our new commenting forum
Join thought-provoking conversations, follow other Independent readers and see their replies