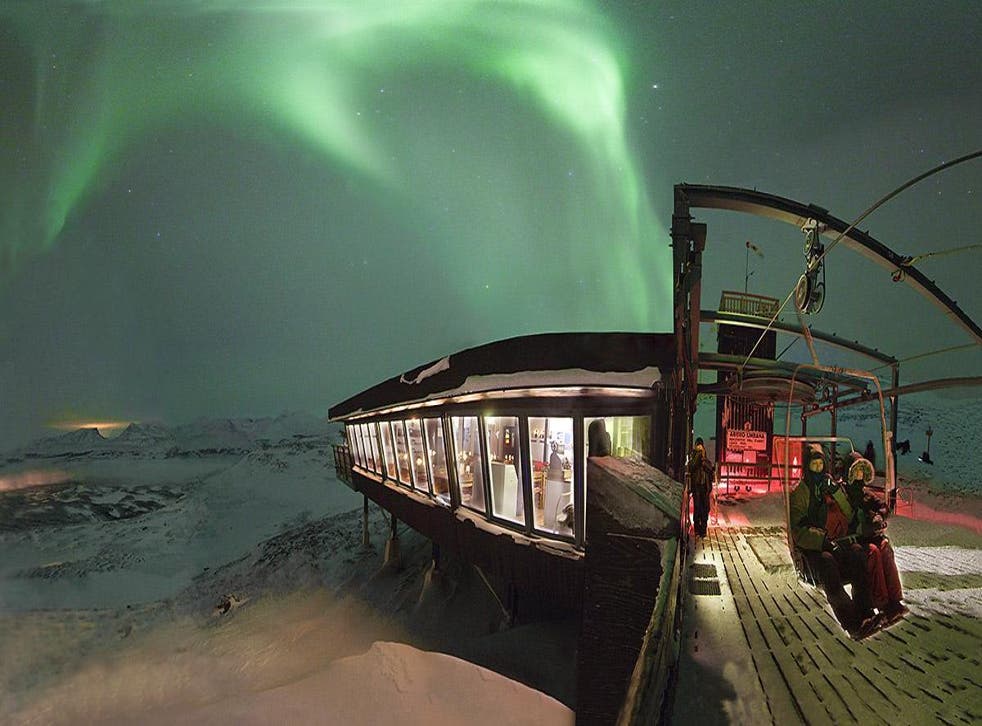 What's the deal: The Independent's travel team battle it out to find the best northern lights break
From a Norwegian cruise to a remote mountain in Swedish Lapland, here are our top picks
Each week, The Independent's travel team go head to head to see who can come up with the best version of a particular trip. Today we're tackling a trip to see the northern lights. Prices are per person, based on two travelling together.
Simon's choice: a Norwegian coastal cruise
Cost: £1,067 for 12 days
When you are searching for the northern lights, it helps to have someone on your side, watching all through the night for the elusive Aurora Borealis – the luminiscent dance around the Arctic of charged solar particles interacting with our planet's magnetic field. And that's why I reckon Norway's Hurtigruten "Fast Route" voyage offers the best chance of experiencing the greatest light show on earth. Each evening, a different vessel departs Bergen on a six-day voyage to the port of Kirkenes, the last port in Norway before Russia. Its primary purpose is as the nation's lifeline for passengers and freight, but tourists are welcome as financial ballast. The reward during daylight is some superb scenery, and the chance to visit a number of coastal communities, And in winter, astronomically inclined tourists can ask to be woken if the northern lights put on a show.
I have taken two voyages, one southbound in early March and the other northbound in late October. The first delivered a faint glow on the final night, while the second provided a magnificent veil of green that twirled and swirled, then puffed itself into a great, ghostly pillow of plasma before melting into the night.
So confident is the firm that you will seen the Aurora Borealis in the course of a full 12-day round trip in winter, that it offers a guarantee. A northern lights occurrence is defined as "a sighting from the ship which is recorded by the ship's deck officers and which is announced to passengers on board". If there is no such Occurrence, then you get a second, shorter trip for free.
The basic 12-day voyage starts at £999, including meals on board, plus flights to and from Bergen; I managed to find some from Gatwick with Norwegian for £68 return in November.
Simon Calder, travel correspondent
Laura's choice: borealis on a budget in Norway
Price: £362 for two nights
There are lots of spectacular, and spectacularly expensive, ways to catch the northern lights – from spending the night in a glass igloo in Lapland to being pulled around the Canadian tundra in a glass sled. But if you'd like to see the lights and be able to continue paying rent, Tromso in Norway – a city 400km north of the Arctic Circle – could be for you.
Sure, climbing aboard the "Northern Lights Bus" doesn't sound glam, but this minibus tour – at around £120 a pop – is great value when it comes to chasing the aurora. Leaving at 7pm every evening, you'll drive out into the wilderness to escape the city's light pollution (the trip lasts between five and seven hours), and they'll even keep you supplied with hot chocolate and cake.
No matter how much you spend on a northern lights expedition, no sightings can ever be guaranteed, so the bus's last season rate of 175 sightings out of 200 tours isn't too shoddy. Plus Tromso itself offers more than just staring intently at the night sky – it's a lively prospect with more pubs per capita than any other Norwegian city, "beer safari" tours, a taxidermy museum and contemporary Nordic fare around every corner (hello reindeer risotto). The cheapest route to Tromso in November goes from Gatwick via Oslo with SAS for about £167 return. A night at the no-frills-but-comfy Ami Hotel downtown costs as little as £75 for a double if you book ahead.
Laura Chubb, deputy head of travel
Nicola's choice: an icy escape to Swedish Lapland
Price: £1,303 for three nights
I've done the northern lights on a budget, leaving Reykjavik on a packed coach to trundle around the Icelandic wilderness. Of course, you can never guarantee a sighting, but the faint glimmer of green we did spot was soon dashed by flashes from the cameras of fellow tourists who'd chosen to ignore the guide's advice that directing light towards light does not a good photo make. As you might be able to tell, it wasn't a great experience.
So, next time I seek out the lights I'd like to do it properly, and that means heading to Abisko National Park in the extreme north of Swedish Lapland, which has one of the world's best track records for the aurora putting in an appearance. Discover the World offers trips that include two nights at the Icehotel (including winter activities such as snowmobiling and husky sledding) followed by a night at Abisko Mountain Station, perched on top of a hill in the heart of the national park, where you can watch for the lights from the chairlift or the outdoor deck. The package starts from £1,303 from mid-December until late March, including direct flights from Heathrow to Kiruna, activities and some meals.
Nicola Trup, head of travel
Join our new commenting forum
Join thought-provoking conversations, follow other Independent readers and see their replies