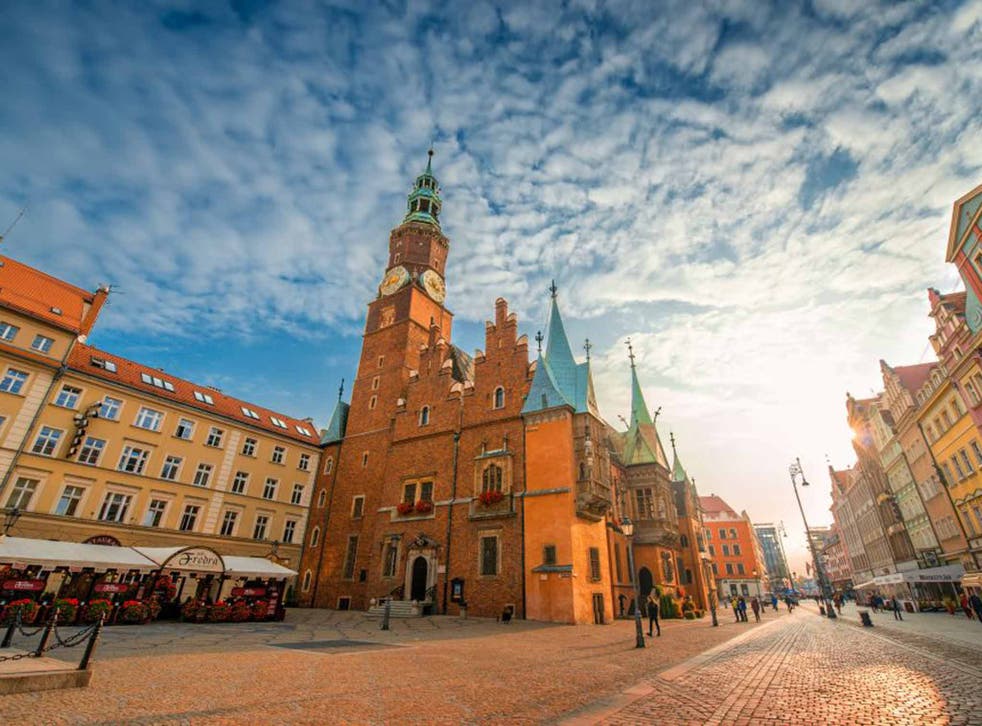 The best budget 'Brexit breaks' outside the Eurozone, as chosen by The Independent's travel team
The pound may be weak against the euro, but you needn't leave Europe to find a more favourable exchange rate. Here are our favourite city breaks where you can still get value for money
Each week, The Independent's travel team go head to head to see who can come up with the best version of a particular trip. Today we're tackling a "Brexit break", a budget-friendly city escape outside the Eurozone.
Simon's choice: Wroclaw, Poland
Price for two people: £370
A post-Brexit break where you can still splash out? Head for Poland, and its current European Capital of Culture. Wroclaw is a profoundly historical city that has extra shine this year thanks to its special status. It was heavily bombed and shelled in the Second World War (and some unrestored post-war cityscapes stood in for 1960 East Berlin in the 2015 film Bridge of Spies). But the cultural clean-up has worked wonders. The handsome main square (Rynek) is complemented by a wide range of galleries and museums elsewhere in the Old Town, and the Jewish quarter, dating from the 12th century, is particularly worth exploring.
With the pound so puny, make the most of the superb places to eat and drink, such as jaDka -– a former abattoir, now serving vernacular food (wild boar loin, pork knuckle) with panache. Menu prices are a fraction of those across the border in Germany, and you could also stock up for a picnic at the excellent market on a fine day. Ryanair and its rival, Wizz Air, fly in from a range of UK airports. For an outbound flight from Stansted on Friday 30 September, returning on Monday 3 October, the return Ryanair fare is currently just £80 per person. The corresponding three-night stay in the Hotel Dwor Polski, occupying a 16th-century townhouse close to the city centre, costs £210.
Simon Calder, travel correspondent
Nicola's choice: Budapest, Hungary
Price for two people: £238
Why not swap your sterling for forints and head to Hungary? The charming capital, Budapest, was named this year in Post Office Travel Money's City Costs Barometer as one of the cheapest European cities to visit (it came third after Warsaw and Vilnius), with typical expenses such as meals, booze and entry to tourist attractions coming in well below average. Wizz Tours (Wizz Air's package holiday arm) is offering a three-night break in the city for a bargain £119 per person, including flights from Luton on 7 October and B&B at the Hotel Gloria Budapest City Centre. The hotel is not quite as central as the name suggests, but by public transport it's within easy reach of the Neo-Baroque Szechenyi Thermal Bath, which has 18 indoor and outdoor pools heated to 38C (entry 4,900 forints/£13.50), and the River Danube, where you can cross the Szechenyi Chain Bridge from Pest to Buda's medieval heart.
Nicola Trup, head of travel
Laura's choice: Sofia, Bulgaria
Price for two people: £256.50
Doubtless you'll get more for your money in Europe if you go east, and for an experience as exciting and exotic as it is economical, the Balkans are a good bet. The Bulgarian capital is a spirited, youthful city, as good for exploring a thriving underground bar scene as it is taking in brutal Soviet relics, grand onion-domed churches and red-brick Ottoman mosques. You can get two nights at the four-star Best Western Plus Bristol Hotel, plus flights and transfers, for an astoundingly good value £128.25 per person with easyJet Holidays, if you leave from Gatwick on 7 October (the flight leaves at 6.10am, but the plus side is you'll be in Sofia by 11am, giving you maximum time to explore). As well as checking out top sights like the gorgeous, green-domed Alexander Nevsky Cathedral and uncompromisingly Cubist 1,300 Years Monument, try finding Hambara Bar, a secret candlelit drinking den concealed in a dilapidated-looking shed, lurking down a residential alleyway. The locals will be impressed if you find it. If you're keen to strike out beyond the city, the hiking trails of Mount Vitosha are a 50-minute bus ride from the centre. A study by FairFX in April found Sofia was the second-cheapest city in Europe for a stag do – which means the beer and food is especially affordable, too.
Laura Chubb, deputy head of travel
Join our new commenting forum
Join thought-provoking conversations, follow other Independent readers and see their replies