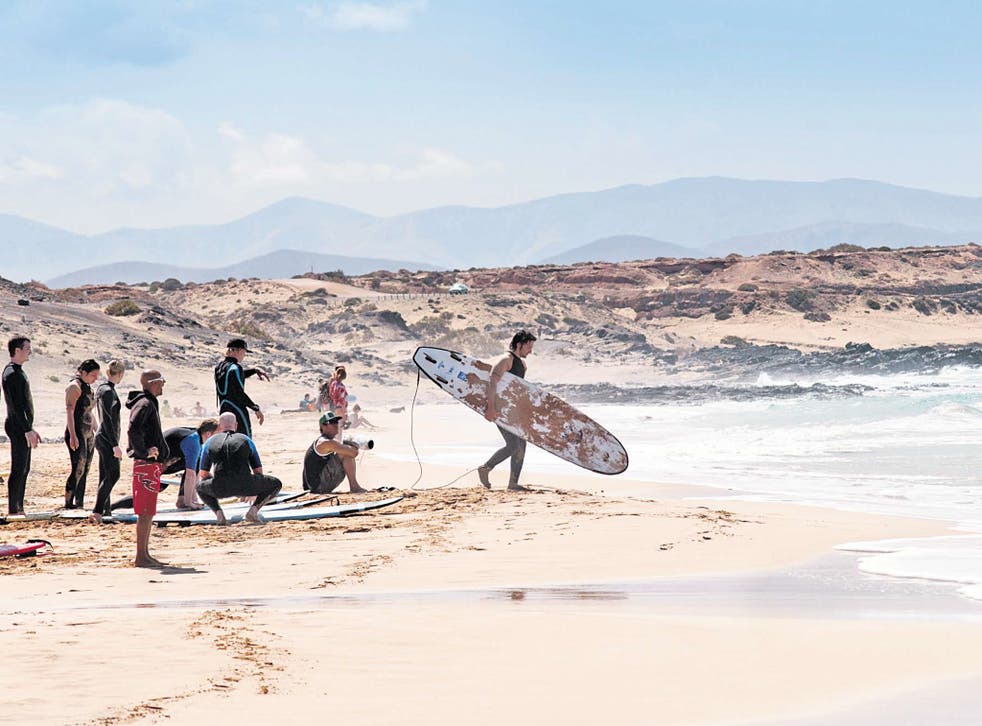 Canary Islands: Wave hello to a warm winter of surfing in Fuerteventura
Is this really Europe's answer to Hawaii? Emily Dugan packs her lightest wetsuit in an attempt to find out
The last time I went to the Canary Islands was almost enough to put me off for life. I was one of a group of 17-year-old girls on a dirt-cheap package to Gran Canaria. From what little I remember, it was a girls' version of The Inbetweeners Movie. We stayed in a poky high-rise and struggled to come across anyone who wasn't (a) English, (b) hideously drunk or (c) the colour of a lobster.
So when I asked friends which were the best (and closest) places to go for winter sun and surf, I was surprised to hear the Canaries among the suggestions. I got in touch with Chris Thomson, who runs Errant Surf, a company that specialises in bespoke surfing breaks. According to Thomson – a former professional surfer – the Canaries had fallen out of fashion but are now making a comeback. "Morocco has stolen the limelight a lot over the last seven years, but people are going back to the original winter surf destination," he said. "Especially now there is more for the family to do."
Thomson recommended Fuerteventura. Its north shore has been called Europe's answer to Hawaii. So, within a few weeks I was packing up my lightest wetsuit and heading for the warm seas of this mid-Atlantic outpost with my friend Gen, a fellow surf enthusiast.
As we stepped out into the arrivals hall at El Matorral airport it was easy to guess the Errant Surf representative from his blond hair, baggy hoodie, shorts and flip-flops. This was Richie Moore, our guide for the week. Despite having been born in Watford – about as far from the sea as it's possible to be in the UK – Richie caught the surfing bug and settled here. Driving out of the airport, I could see why: it was close to midwinter, yet the sunshine appeared to be as reliable as the waves.
We'd already had one look at the island's barren volcanic landscape when we flew over. Seen from above, it is like a geology lesson, with pockmarks of volcanoes running in neat lines across it. Outside the towns, the view turns to a starkly beautiful rocky wilderness in minutes, punctuated only by the odd goat or thorny bush. In fact, it looks so much like desert that Sacha Baron Cohen's most recent movie, The Dictator, was filmed here.
Locals call Fuerteventura "The Rock", but unlike the sand on many of the other Canary Islands – whose volcanic rock makes their beaches black – Fuerteventura's is a holiday-brochure pale yellow.
We were staying in Corralejo in the north of the island, a town with seven miles of fine, sandy beaches. Despite a 4am start in the rainy darkness at East Midlands airport, we two land-locked surfers were itching to get in the sea as soon as we touched down. So Richie gave us a couple of hours to dump our stuff, get our bearings and gobble up some lunch, and then he was back at our apartment.
In the two hours since he'd left us, Richie had gathered three surfboards – teetering on top of his car – and a bucket full of wetsuits. His VW van was being repaired, so our transport was an unusual surfmobile: a Vauxhall Corsa. He drove us five minutes south to the sort of beach that you dream of on a grey day in the office: yellow sand, sparkling sea and a royal-blue sky. It's called Playa Morro, which means "wall beach". (Richie helpfully pointed out that, "They call it the wall because, er, there's a big wall.")
The beach was sheltered and the waves nicely unrumpled by the wind that whips across the island. Fuerteventura is known for its strong winds, which can occasionally churn the surf into a state of un-rideability (though it makes kite and windsurfers very happy).
After a rusty start, we were soon riding long, gentle waves into the shore. In fact, it was so pleasant to be in the bath-warm water that it wasn't until Richie shouted for us to come back to the beach that we realised the moon had become brighter than the sun and the first stars were beginning to appear.
The main drag in Corralejo reminded me of the last time I was on the islands: rows of identikit shops selling cheap perfume, inflatable toys and fake Ray-Bans. But the town has also done a good job of saving unspoilt corners for those willing to seek them out. When Corralejo's tourism industry took off in the 1980s, the first sensible move by the then-small fishing town was to keep the late-night bars and clubs cordoned off in one area. If you look carefully, you can still find local restaurants serving excellent Spanish food and fresh fish. The cafés catering for surfers are a good bet, even if you're not into the sport.
Citrus Surf Café offers great smoothies and salads made with the island's distinctive goat's cheese. Singer James Gillespie plays mellow songs on an acoustic guitar here in the evenings. And at the Avenida fish restaurant – where locals queue out of the door – two people can share an enormous platter of fish for just €30.
Next morning, we headed west to Playa Cotillo, where the wave was a high wall of water that detonated on to the beach with a deafening boom. We stepped in gingerly, not sure whether to be more wary of the enormous wave or the human obstacle course provided by the hordes of German nudists on the beach. The conditions were therefore ... challenging, but we still enjoyed flying across the surf.
Out of the water, we moved inland for lunch in the village of Lajares. This is the heart of the island's surfing community, within easy reach of the north-shore waves and also a central launch point for the east and west coast. We stopped at the excellent Canela Café, which supplies fresh wraps and burgers, as well as healthy juices, all for about €3 each.
On our penultimate day, Richie took us to the alarmingly named Shark Bay, where the waves are in fact less scary than Acid Drop or the Bubble, the north-shore breaks that made this part of the island famous with surfers. Though they're more predictable, reef waves are trickier to negotiate at first, as they generally involve a long paddle out to sea and are less forgiving than a sandy beach if you fall off.
After a couple of cautious attempts I got too confident. I kicked backwards off my board and flipped it into the wind, so that it delivered a perfect upper cut to my jaw. With what felt like a mild concussion, I decided to call it a day.
But the next morning I went for one last dawn surf. With the sea to myself, glorious waves and picturesque sand dunes, I decided the Canaries weren't so bad after all.
Travel Essentials
Getting there
Emily Dugan travelled to Fuerteventura with Errant Surf (020-8133 6438; errantsurf.com), which offers week-long trips with accommodation at La Concha in Corralejo, including all surf tuition, equipment, insurance and transfers, from £433 per person, flights extra. Options from the UK include: Ryanair (0871 246 0000; ryanair.com); Monarch (0871 940 5040; flymonarch.com); and easyJet (0843 104 5000; easyJet.com).
Eating there
Canela Café, Lajares (00 34 928 86 17 12; canelacafe.com). Citrus Surf Café, Corralejo (00 34 928 53 54 99; citrus-surfcafe.com). Avenida Restaurante, General Prim 11, Corralejo.
More information
visitfuerteventura.es turismodecanarias.com
Click here to view Spanish tours and holidays, with Independent Holidays.
Join our new commenting forum
Join thought-provoking conversations, follow other Independent readers and see their replies