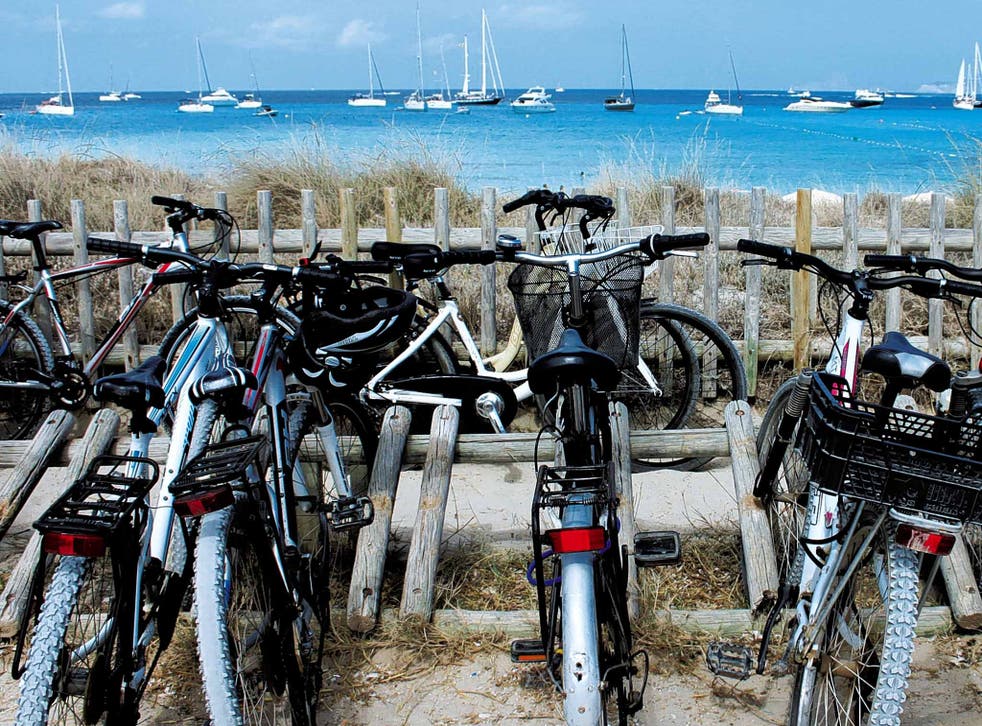 Cycling the Balearics: Dramatic coastlines, mountains and views to take your breath away
Darren Loucaides explores four very different islands on two wheels
My legs have turned to jelly and I'm gasping for air by the time I reach Sa Foradada, but at last the sweat and tears of this morning's bike-athon seem worth it. Parked on the edge of a battlement-like viewpoint embedded in the mountainside, the warm glow of reward spreads through my tired muscles as I marvel at a sheer, tree-topped slab of headland jutting into ultramarine sea beyond my handlebars. It looks like the spine of some colossal Kraken risen from the ocean depths, especially for the slender right-angled promontory tacked on at the end; there's an uncanny perforation in it, like the eye of a monster.
The cycle route from the town of Valldemossa to the mirador of Sa Foradada has tested my limits, but I'm not alone on this section of Mallorca's rugged northern coast in the Serra de Tramuntana mountain range. Riders of all shapes and sizes have cruised past me along the way. With their surprisingly unspoilt and changeable landscapes, the Balearic islands are ready-made for activity, not least biking, with some 150,000 cycling tourists speeding to Mallorca last year. They're following in the cycle-tracks of those increasingly using it as a vital training ground, with Bradley Wiggins calling Mallorca a "Scalextric track for bicycles".
As the crow flies, the 9km from Valldemossa to Sa Foradada are nothing, but like most of the roads in the Serra de Tramuntana, the route rolls relentlessly, with hair-raising drops followed by thigh-defying climbs. The upshot is that every swing round a shoulder of mountain affords vistas more vivid than the last, of mighty green hills sliding down to immaculate sea beneath clear skies.
The pleasant, centuries-old village of Valldemossa is a wonder in itself, with its paved streets and old stone houses, once hosting Chopin and Rubén Darío. Beyond Sa Foradada lies the even more impressive Deiá, whose only real road winds its way through the fairy tale town up to a 15th-century hilltop church. But it takes a very special kind of pit stop to ensure that I'll make it this far, to my journey's end.
Dubbed Sa Foradada in Mallorquín, "that which has a hole" is apparently best seen at sunset when, at the right moment, twilight pierces the puncture in the cliff face like a blazing iris. To avoid the early evening tourist rush and for the cooler temperature, I've come at daybreak. Personally, I can't imagine that it gets much better than this: the sun peeling back the mountains' canopy of shadow to reveal Sa Foradada in morn-gilt glory. The vision is enough to spur me on to the finish line.
By the end of my ride to Deiá, I've experienced a mere tract of the Serra de Tramuntana – the road continues on to the vertiginous, hairpin bends above the port town of Soller, through the pretty village of Caimari, and past the 13th-century Sanctuary of Lluc. Beyond the mountains, there's a whole island of heavenly beaches and dreamy country roads to explore in Mallorca – not to mention the assorted treasures of Ibiza, Formentera and Menorca, whose more forgiving terrain is kinder to two-wheeled explorers.
Several companies offer cycling trips around the islands. Triple Crown champion Stephen Roche leads regular tours and training in Mallorca (00 34 971 683665; stephenrochecycling.com; a week's guided riding costs from €850pp, excluding flights), as does Sun Velo (01432 860609; sunvelo.com). But if like me you're more acquainted with the pub stool than the bike saddle, there are plenty of easy routes to choose from. The benefits of biking? Whether it's the wind at your back as the sun kisses your skin, or the ease of halting by the side of the road whenever a heart-melting scene rolls into view, cycling through the Balearics can seem like the only way to travel.
Menorca
There are more than 300 days of sun in the Balearics, yet when I cycle from the village of Llucmaçanes near Menorca's east coast, the heavens burst. By Cap de Faváritx, about 19km north of Mahon, I'm soaked through, but the rain has reduced, allowing me to savour the view: a slender limb of grey slate topped by a lighthouse poking out of the noisy sea. The furthest of the islands from Spain, Menorca varies wildly from its siblings, with every section of coast strikingly distinct. The island was declared a Unesco Biosphere Reserve in 1993, and its natural beauty is well-preserved.
Ringing Menorca is the 186-kilometre Camí de Cavalls, the old road for horses, perfect for mountain biking. Reddish cliffs above Cala del Pilar and the turquoise waters of Cala Pregonda are notable stopping points, while the winding lanes around the old capital of Ciutadella offer a leisurely ride.
The Tour of Menorca sportive covers 166km over two days, drawing some of Spain's cycling legends (15-16 October; menorcacicloturista.com). Inntravel (01653 617003; inntravel.co.uk) offers a week's cycling holiday in Menorca from £775pp excluding flights. For more details, see menorca.es
Formentera
Every morning, ferries cross from Ibiza to nearby Formentera. The smallest Balearic island at less than 20 kilometres long, it's also flatter and surprisingly peaceful – perfect for cycling. I head from the port up the sand-strewn coastal path of Camí de Sa Guía until I reach Illetes, a sliver of white sand with turquoise sea on either side. A limited number of vehicles are permitted, so bikes are very practical.
Southwards is Camí des Brolls, a track through scrub and marsh edging the tranquil lagoon S'Estany Pudent. East, the island's most difficult cycle route, La Mola, traces a path around stony cliff-edges 192m high. Like all of the island's circuits verds, the way is signposted; the so-called green routes are designed to lessen the impact on the island's fiercely protected environment.
Despite routes being marked, I lose my way retracing the Camí Vell de la Mola, the old road linking the whitewashed "capital" of Sant Francesc to Es Caló – known for clear waters and relaxed restaurants – due to a detour in search of Torre des Pi des Catalá, a 300-year-old defensive tower hidden among thick vegetation. The flip side is a ride along the golden beaches of the southern coast. For details see formentera.es
Ibiza
Although the westernmost Balearic island remains famous for clubbing, Ibiza has a quiet side, too. The sleepy towns and forgiving terrain of its green interior are suitable for long cycle rides, while the uplands of the north provide more of a workout with stunning views out to the sea and over little coves.
Several tracks in the heart of Ibiza are ideal for mountain biking. Camí Vell de Sant Rafel, the old road connecting the towns of Sant Rafel and Sant Antoni de Portmany, is an easy, flat ride through picturesque countryside, passing pine woods, olive trees and cropfields. I'm advised to reach Sant Antoni for sunset, but plunging a little further down the coast I find a quiet spot where the rocky shore and restless sea are brushed reddish gold as the sun slips away.
The northern coast is the most dramatic: undeveloped and a world away from the party zones in the south. The Na Xamena route is intermediate level with winding paths along lumpy cliffs, descending to Port de Sant Miquel and the hill-enclosed Cala de Benirrás. The overlapping, but more difficult, Moon Beach route starts from Sant Joan de Labritja, heaving towards Es Pujolots, then down to the eponymous cala and past other secretive coves, before a tricky climb and descent along rocky trails back to Sant Joan. For details, see ibiza.travel
Mallorca
By far the largest of the Balearic islands, Mallorca's cycling credentials lie mainly with the Serra de Tramuntana mountain range – both for its killer climbs and sweeping sea views. Most iconic, perhaps, is the Puig Major: reaching more than 800 metres, it's Mallorca's highest climb starting from Soller, passing the idyllic town of Fornalutx, and culminating in the cavernous Tunel de Monnaber. The nearby Coll dels Reis route rises from sea level to 682m in less than 10km and involves both a struggle up to and then joyous descent from the pretty fishing village of Sa Calobra. Although these arduous climbs are two of the main reasons cyclists come to Mallorca, there are many other ways with gentler gradients beyond the Serra de Tramuntana.
The cosmopolitan capital Palma is very popular with two-wheeled tourists, but it's the first time in the Balearics I encounter traffic. Nevertheless, I weave a path through the historic old town of paved lanes and little archways, pause at the enormous gothic cathedral and then head along the red-painted S'Arenal cycle path, an easy ride hugging the seafront.
The eastern Artá-Sineu route is long but straightforward. It begins with the classic Mallorcan town of Artá, before plunging through orange groves and open countryside to Petra and past the Ermita de Bonany monastery. It stops in Sineu, after which the hardy continue to Pollença at the eastern edge of the Serra de Tramuntana. Like most of the island, the route is well signposted; where it converges with the road, drivers are considerate – especially during the International Masters Cycling Week (vueltamallorca.com) in October and other year-round events.
Where to stay
Can Lluc (00 34 971198673; canlluc.com) is well known in Ibiza as much for being bang in the centre of the island as for its warm, personable owner. Lucas's grandparents once lived in this former finca and it remains a family-run affair situated in a tranquil spot among forested hills. Doubles from €363 B&B.
Can Alomar (00 34 871 592 002; boutiquehotelcanalomar.com), a five-star boutique property in the heart of Palma's old town, is one of the finest hotels in Mallorca. With terrific views over the city, the buzzy bar and restaurant are becoming popular with the see-and-be-seen crowd. Elegant rooms are graced with soft tones, while common areas feature pieces by Mallorcan artists. Doubles from €308 room only.
With its old stone-brick walls and nine rustic-chic rooms, Mirabó (00 34 661 285 215; mirabo.es) is at an altitude of half a kilometre in Mallorca's Serra de Tramuntana. The 16th-century finca – complete with olive press – offers jaw-dropping views of Valldemossa. Doubles from €220 B&B.
For a fully authentic agroturismo, look no further than Menorca's Llucmaçanes Gran, which has been in the same family for more than three decades. Its owners grow their own fruit and vegetables. Doubles from €90 B&B (00 34 971 352 117; llucmagran.com).
Getting there
The Balearics are well served from the UK; airlines include BA (0344 493 0787; ba.com), Vueling (0906 754 7541; vueling.com), Norwegian (0330 828 0854; norwegian.com), Jet2 (0800 408 1350; jet2.com) Monarch (0871 940 5040; flymonarch.com), easyJet (0843 104 5000; easyjet.com) and Ryanair (0871 246 0000; ryanair.com). Ferries ply between the islands; Formentera is reached by sea, via Trasmapi (00 34 902 314 433; trasmapi.com) and Baleária (00 34 902 160 180; balearia.com).
Getting around
You can rent bikes or arrange cycles tours with Port Bike in Mallorca (00 34 638 840 443; portbikemallorca.com), Velos Joan in Menorca (00 34 971 369 979; velosjoan.com) and Ibiza Sport (00 34 971 348 949; ibizasport.com), Into the Wild (00 34 63528 2700; intothewild.es) and Tracks de Ibiza (00 34 656 54 93 10; tracksdeibiza.com) in Ibiza. There are numerous bike rental shops near the port in Formentera.
More information
Find out more about cycling in the Balearics at illesbalears.es and spain.info for cycling further afield.
In association with
Join our new commenting forum
Join thought-provoking conversations, follow other Independent readers and see their replies