Extremadura: Luxury in the homeland of the Spanish conquistadors

Show all 3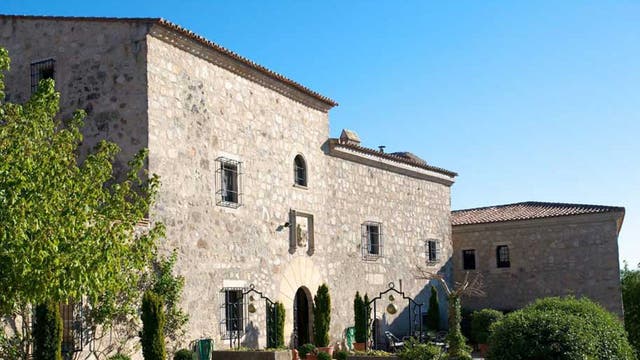 Extremadura: Luxury in the homeland of the Spanish conquistadors
Five centuries ago, the harsh life in south-west Spain drove men to Latin America. Today, the fruits of their exploits are still evident, says William Cook.
In the hilltop town of Trujillo, above the sunburnt plain of Extremadura, there stands a statue of a man who changed the course of history. Francisco Pizarro was born here, the illegitimate son of a Castilian soldier. Five hundred years ago, he left to seek his fortune in the New World. With fewer than 200 troops and a few dozen dogs and horses, he conquered the vast empire of the Incas. The Spanish colonisation of South America had begun.
Francisco Pizarro wasn't Trujillo's only conquistador. His three half brothers were all born here, and followed him to the New World, as did their neighbour Francisco de Orellana, the first European to map the Amazon. So, what made this town such a rich breeding ground for soldiers and adventurers?
Well, Trujillo has always been a tough old place. "Its inhabitants normally survive on pillage and trickery," wrote El Idrisi, an Arab traveller, in the 14th century – and pillage and trickery were what the Pizarros did best. They sent back shiploads of plundered gold and filled their home town with flamboyant mansions. Francisco was murdered in South America (serves him right), still searching for El Dorado, and Trujillo sank back into obscurity. Half a millennium later, the town that his riches built remains.
It used to take seven hours to drive the 250km from Madrid to Trujillo. Now the trip takes under three, along a modern motorway which has opened up a part of Spain that was once way off the tourist trail. Driving through Extremadura – still the poorest, most sparsely populated part of Spain – you begin to understand why it produced so many conquistadors. Baking hot in summer and bitterly cold in winter, it's a hard land that breeds hard people with little to lose. A place where widows still wear black, and some houses still have no running water.
Cortés, scourge of the Aztecs, also came from Extremadura, and the view of his homeland hasn't changed much since he set off to conquer Mexico. Stunted oaks and olive trees provide the only cover in this harsh terrain. But although it sounds bleak, this dramatic landscape has a barren beauty. Far from the crowded beach resorts, this is Spain's unspoilt heartland. It's popular with hunters and birdwatchers, rather than sunbathers or sightseers. You feel like a real traveller here, not just another Brit abroad.
Without much work or money, Extremadurans have always been emigrants, but now the human traffic is starting to move the other way. Centuries of hardship have saved its historic towns from modernisation, and nowadays it attracts weekend visitors from Madrid. Trujillo's gold rush left it with a wealth of Renaissance architecture, and some of its finest buildings have been converted into holiday apartments and hotels. I stayed at Trujillo Villas, a cluster of robust granite houses built within the castle walls. The foundations are Roman; much of the masonry is medieval. From the battlements, you look out across dusty meadows, towards the Portuguese frontier. Birds of prey hover, the only sound is the wind, humming in the lemon trees. It's hard to believe Madrid is just hours away.
Naturally, Spain has no shortage of high-class holiday accommodation, but it was a surprise to find such smart apartments so far off the beaten track. From the exterior photos I'd seen online (the website has a good selection), I'd expected Trujillo Villas to be plush but a bit impersonal – like a lot of posh villas, in fact. Actually, once you're inside, they feel more like family homes than rented rooms – and that's what makes them special. Filled with books and vintage curios, no two are alike. Villa Piedras Albas is a grand old palacio; Villa Moritos is a classic hacienda; Villa Martires is positively regal, with oil paintings, tapestries and marble floors. The garden cottage (restored last year) is more informal – its groovy poolside lounge feels like a little corner of ibiza.
The artist's studio is minimal, with modern decor and whitewashed walls. It's chic and understated, a stylish antidote to five-star glam.
They're all supremely comfortable, tastefully furnished and discreetly decorated with original art works. George Carter, a Chelsea Flower Show gold medallist, designed the subtle landscaped gardens. It's very tempting to while away the day on the terrace or by the pool. The surrounding area is good for hiking, but the extreme climate is unforgiving. These bespoke villas provide an elegant refuge from the unremitting glare.
You'll probably need a siesta to escape the midday heat at the moment, but as the sun goes down Trujillo comes alive. The cobbled streets fill with people dressed up for the evening. I followed a winding alley downhill, between the wooden doors of weathered churches, into the imposing Plaza Mayor. The grandest building is Pizarro's palace, decorated with his coat of arms, depicting Inca slaves in chains. I ate a plate of partridge in rich, oily sauce, washed down with sharp red wine, and watched children playing football on the flagstones, beneath busts of the Pizarro brothers. I suppose, in a roundabout way, I had his gang to thank for my gazpacho and my coffee. As I walked back up the hill to my palatial villa, the stars above shone very bright.
Next morning, I woke up early and went out to explore. Trujillo is festooned with churches, and each tower hosts an enormous stork's nest. These big, ungainly birds watch over the town like grumpy sentries, suddenly becoming graceful as they fly across the rooftops. There are also several convents, closed orders whose sisters never venture out. The closest you come to them is if you attend church for communion or buy their almond pastries through a hole in the convent wall. At the Convento Santa Clara you don't even see the nuns who serve you. You put your money in a dumb waiter, shout out your order and say "Ave Maria". The dumb waiter takes your cash and delivers your cakes and change.
The cloistered convent next door, built in 1533, is now a smart new parador – part of the state-run collection of upmarket, characterful hotels in historic settings. Even in Extremadura, tourism is gradually gaining ground.
Trujillo is an ideal base for exploring this neglected region. The handsome city of Cáceres is only half an hour's drive. The parador here is even older (14th-century) and is a good spot for lunch – be sure to try the sweet black pudding.
Extremaduran food is distinctive, but it's not for the faint hearted. It's a carnivorous diet: classic peasant fare. The local delicacy is cured ham – the pigs are fed on wild acorns, which gives the meat a wonderful nutty, smoky flavour. Vegetarians' best bet is probably manchego, a waxy, tangy sheep's cheese. My highlight was migas – chorizo and breadcrumbs, fried in garlic, cooked in a big pan over an open fire.
An hour's drive further south from Cáceres, towards Portugal, is the Roman metropolis of Mérida. It's littered with classical relics. A temple, an aqueduct, an amphitheatre are all virtually intact. Locals still use the Roman bridge over the Rio Guadiana. There's a fine museum, full of beautiful statues and mosaics, but the biggest thrill is to stroll through the busy centre, full of modern shops and cafés, then suddenly encounter an ornate basilica, or a triumphal arch.
On my final morning in Trujillo I walked up to the castle, for a last look at the antique town below. The Romans called it Turgalium, the Moors called it Taryala. Both left their mark on this ancient citadel: the public baths are Roman; the keyhole arches in the castle walls are Moorish. Nearly 800 years after the reconquest, the Moorish influence remains. The old town still has the ambience of a Moroccan medina. The castle feels more like a kasbah than a Christian fort. The granite glints in the sun.
Before I left for home, I dropped into the modest house where Pizarro was born – now a small museum. It's a simple stone farmhouse, quite unlike his palacio in the main square. Trujillo still seems unsure quite what to make of its most (in)famous explorer. The main exhibit in his birthplace focuses on his contribution to Spanish and South American cuisine.
"Hero or villain?" I asked my guide. Her reply was a model of diplomacy. He was no worse than the others, she told me, and, anyway, it was all a long time ago.
Travel Essentials
Getting there
The nearest airport is Madrid to where easyJet has the widest choice of flights (0843 104 5000; easyJet.com) from Bristol, Edinburgh, Gatwick, Liverpool, Luton and Manchester. From next month many flights are to end as easyJet closes its base. British Airways and its partner, Iberia (0844 493 0787; ba.com), fly from Edinburgh, Glasgow, Heathrow, London City and Manchester; Ryanair (0871 246 0000; ryanair.com) flies from Manchester and Stansted; and Air Europa (0871 423 0717; aireuropa.com) flies from Gatwick. Trujillo is about a two-and-a-half hour drive south-west (three hours by bus: avanzabus.com).
Staying there
The writer was a guest of Trujillo Villas (trujillovillasespana.com); prices from £495 per week in the Artists' Studio (a cosy one-room cottage) to £4,500 in Villa Martires (a little mansion with tennis court and pool). For bigger parties, Villa Piedras Albas, in the Plaza Mayor sleeps up to 14. Villa Moritos (from £1,950 in low season) is a conquistador's house with four double bedrooms, secluded gardens and its own outdoor pool.
Join our new commenting forum
Join thought-provoking conversations, follow other Independent readers and see their replies