Find the fizz in France: Sample the delights of the Aube region of Champagne

Show all 4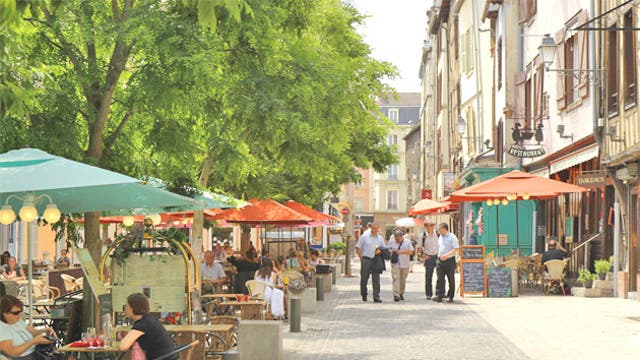 Find the fizz in France: Sample the delights of the Aube region of Champagne
Once marginalised for selling its grapes too cheaply, the region is sparkling once again.
It was a cruel condemnation, after which chaos ensued. "The announcement that our grapes didn't produce true champagne was devastating. But of course everyone knew that the evaluation was really about money and not quality. That's why the protests started – and developed with such passion." Standing on the steps of the cathedral at Troyes, in the Aube district east of Paris, I was hearing about events that took place 100 years ago this year: the champagne riots of 1911.
Riots might be topical in Britain this week, but this was the culmination of a vexed period in the history of champagne. Wine-makers and merchants in the Marne area of the northern Champagne region ruled that the Aube area in the south of the district should be excluded from the Champagne appellation – the bottom line was that the southern growers were selling their grapes too cheaply. Violence erupted on such a scale that the army was called in. It took 16 years before the Aube regained the right to call its elegant, sparkling wine "champagne".
Inside the cathedral, the conversation with my guide, Christine Lerat, had started on an entirely different subject. But like so many discussions in the Champagne region, the topic had seamlessly shifted to its glamorous and eponymous product. I had at first wanted to learn about the stained-glass windows, of which Troyes Cathedral is a luminous treasure trove. A tour of these riches had led us to a particularly fine 1625 work featuring grapes – as well as Christ, donors and apostles.
Vines are evidently bound to the very essence of the area. So why, I'd wondered, had the Aube acquired a reputation as an also-ran, a secondary champagne-producing area less important than the Marne and so less featured on the tourist map? As we left the cathedral, Lerat had explained that it was partly because the biggest and best-known champagne houses are in the north of the region (Moët & Chandon, GH Mumm, Bollinger, etc) – but mainly because of that anguished early 20th-century blip over the Champagne appellation. Today, she added with pride, many of the Aube's growers supply grapes to the great champagne houses, the majority of which also own land in this southern area. Evidently, reputation can be as relevant as soil and sun when creating the world's favourite celebratory drink.
Wine-producing considerations aside, the Aube is a glorious area to visit. Being slightly off the tourist radar adds to the attraction. Troyes (whose name is pronounced "twa") is a fabulous little city, whose old town is contained within an area that, on the map, happens to resemble a champagne cork. I felt as if I might have morphed into a medieval traveller there.
Once capital of the entire region, Troyes contains a wealth of creaky timber-frame buildings complete with wobbly overhangs. Some sport wooden shingles, some have terrific little towers, some look as if they just about to topple over. Even the police station on rue Claude Huez is contained in a venerable half-timbered property.
The town is also an intriguing place of hidden courtyards complete with wells and open galleries, some of which are accessible – if you know where to look. No 111 on the bustling shopping street of Emile Zola, for instance, appears to be a private door next to an office of Mutuelle de Poitiers Assurances. But during working hours this door is usually unlocked and visitors may enter. It gives access to a narrow corridor that leads to the stunning inner space of a timbered townhouse, the Hotel du Lion Noir. This courtyard was restored only in 2001, its galleries and spiral staircase previously covered in drab-looking plasterwork.
Indeed, some of the city's streets are only now being uncased from unremarkable rendering that was put up in the 17th and 18th centuries to protect all that timbering from fire. Along little rue Gambey, for example, you can currently see all that history being peeled back. The tourist office organises tours of the city and the cathedral.
Beyond Troyes, the more recent past has been coming back to life at the charming small town of Essoyes, about half an hour's drive to the east. Earlier this year, L'Espace des Renoir opened in a converted stable by the town hall. It's a celebration of Pierre-Auguste Renoir and his family: his sons were the actor Pierre, the film-maker Jean, and the ceramicist Claude. They spent their summers here and are all buried in the cemetery. At the new exhibition space you can watch a film about the Renoirs and their holiday house in Essoyes and browse a series of booths giving an insight into the good life the family enjoyed here, with photographs and audio clips from Jean Renoir.
Then you wander through the town to the artist's studio (admission is included in the price of the ticket). Along the way you'll marvel at the town's sense of enchantment and at how it still looks remarkably unchanged from the photographs the Renoirs took 100 and more years ago. The Impressionist master would have known of the champagne riots of 1911 – he died in 1919.
No trip to the area would be complete without sampling the local tipple. On my way back to Troyes from Essoyes I stopped at the pretty stone village of Celles-sur-Ource. There are more than 40 wineries here, most of which welcome visitors. I called in at Richard Cheurlin, a family operation producing about 70,000 bottles a year.
Lucie Cheurlin took me on a tour of the works, from press to cellars, explaining how their wine is made from chardonnay and pinot noir grapes and how their vineyard plots are kept small to benefit from different aspects of sun and soil. Then we settled down to the serious pleasure of tasting: light and delicate blanc de blancs; fresh, floral Carte d'Or; and a fine dry rosé. It was a wonderfully civilised way to spend an afternoon – and a world apart from the champagne riots of the past.
Travel essentials
Getting there
The writer travelled by train via Paris with Rail Europe (0844 848 4070; www.raileurope.co.uk). The journey from London St Pancras takes around five hours, with a short walk between the Eurostar terminal at Paris Gare du Nord and Gare de l'Est, the terminus for Troyes. For the lowest fares – below £100 return – book about three months early.
By air, you can connect from Paris Charles de Gaulle airport via the RER suburban train to Gare du Nord and the train from Gare de l'Est. By car, Troyes is four hours from the Channel at Calais or Dunkirk, using the E17.
Staying there
Le Relais Saint-Jean, 51 rue Paillot de Montabert, Troyes (00 33 3 25 73 89 90; www.relais-st-jean.com). Doubles start at €95 (£83), room only.
La Charmette, 1 Chemin Gabrielle Renard, Essoyes (00 33 3 25 38 57 23; www.domainedelacharmette.com). Doubles start at €60.
Visiting there
Champagne Richard Cheurlin, 16 rue des Huguenots, Celles Sur Ource (00 33 3 25 38 55 04; www.champagne-cheurlin.com). Open by appointment.
L'Espace des Renoir, 9 place de la Mairie, Essoyes (00 33 3 25 29 10 94; www.renoir-aube-champagne.com). Open 10am-12.30pm and 2-6.30pm daily except Tuesday; admission €7.
Troyes Tourism, 16 Boulevard Carnot (00 33 3 25 82 62 70; www.tourisme-troyes.com).
Aube en Champagne Tourism: www.aube-champagne.com
Join our new commenting forum
Join thought-provoking conversations, follow other Independent readers and see their replies