Future perfect in ancient Italy

Show all 2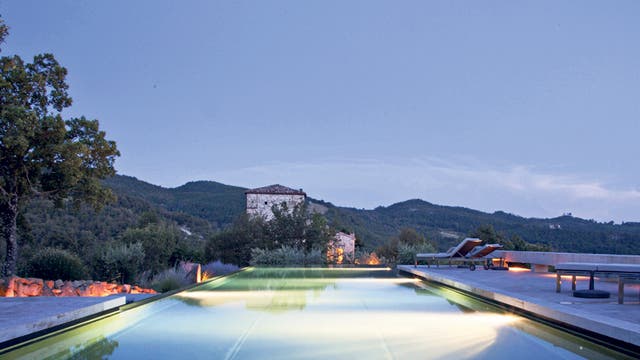 Future perfect in ancient Italy
Room Service: Torre di Moravola, Moravola Alta, Montone, Umbria, Italy
It takes quite a lot of gumption to see a ruined 10th-century watchtower on a hillside in Umbria, far from such things as water, electricity, gas, and broadband, and imagine it as a very, very smart boutique hotel. But this is what architect Christopher Chong, and designer Seonaid Mackenzie, have done. The result is – literally – breathtaking.
Yes, because it's beautiful: a very classy mix of weathered stone, steel and glass, at the top of a hill, surrounded by a landscape that makes you gasp. But it's breathtaking because the road that takes you there is so steep, and windy, and close to some very long drops. I can promise that, once you get there, you won't want to leave, and not just because of the road.
You might, it's true, feel a little bit shabby in a setting that really is very chic. You might feel that you'd love to have one of the massages on offer, but that they are, at €120 an hour, a little bit beyond your price range. Yet if you sit on the terrace, gazing out at the hills and the sky, or by the pool, which is set on the highest point of the ridge, and appears to be suspended among the olive trees, you really won't want to do much else.
Location
Torre di Moravola is on a mountain ridge that runs down the centre of Italy, overlooking the Carpini valley. It's a 10-minute drive from the picturesque walled village of Montone, and a 15-minute drive from Umbertide. There are so many pretty towns around, full of lovely medieval architecture, that you can get quite blasé. Citta di Castello is worth a visit, and Arezzo (just over the border in Tuscany) is worth a day. Gubbio (a 20-minute drive away) ought to be world famous as a stunningly well-preserved medieval town. And Perugia, about half-an-hour south, already is.
There's almost no limit to the art and beauty on your doorstep, or to the (nearly always delicious) Italian food. But if you stay at Torre di Moravola, you should allow time just to gaze at the mountains, and drink in the peace.
Comfort
The interior is an artful mix of ancient stone, old beams and contemporary designer chic. It was designed, apparently, to feel like an old street in Perugia, with light in the public spaces, internal windows with shutters on, and rooms which "interact with each other". The result isn't always cosy, but it's always smart. The two enormous sitting rooms, where you can chat, when it's cold, by a massive fire, have giant sofas and a tasteful selection of artefacts and books. The dining room, which leads out to the terrace and the kitchen, feels a bit like a super smart dungeon with very nice furniture and a chandelier.
The bathrooms in the "suites" are like very smart dungeons, too. Ours didn't have a sunken bath (most do) but it did have a rusted iron staircase going up to the bedroom, which was like a work of art in itself. It was all very minimalist, and all very sleek. It took me a while to work out exactly how to open the concealed cupboards in the bathroom and bedroom, and to find the concealed fridge. But the colours – mint green, grey, brown – were soothing, and so was the view from the tiny balcony, which looked out over the herb garden and beyond to the hills.
Torre di Moravola isn't a conventional hotel. There's no reception and sometimes there don't seem to be any members of staff around at all. No one, for example, explained to us that there's an honesty bar (which would have been very handy), and some aspects of the service seemed quite casual, such as the absence of cups, glasses and bottled water in our room. The toiletries (shower gel and soap in dispensers, plus a few sachets of sun cream and shampoo) were a bit disappointing for a hotel in this price range.The meals, which are made from fresh, local ingredients, and often vegetables from the garden, are pricey, but, if the breakfast's anything to go by (freshly squeezed juice, cereals, home-made bread, fruit and a choice of delicious cooked options), very good. But the place itself is glorious, and Seonaid Mackenzie and Christopher Chong clearly run it as a labour of love.
They don't seem like hotel managers, perhaps because, by background, they're not. But they do put themselves out for their guests, offering advice and information about the area, booking restaurants, and even sometimes offering lifts. You probably won't feel as if you're staying in a very smart hotel. But you might well feel like guests in a beautiful home.
Travel essentials
Torre di Moravola, Moravola Alta, Montone, Umbria, Italy (00 39 075 946 0965; bookings via welcomebeyond.com)
Rooms ****
Value ***
Service ***
Double rooms start at €230 including breakfast.
Join our new commenting forum
Join thought-provoking conversations, follow other Independent readers and see their replies