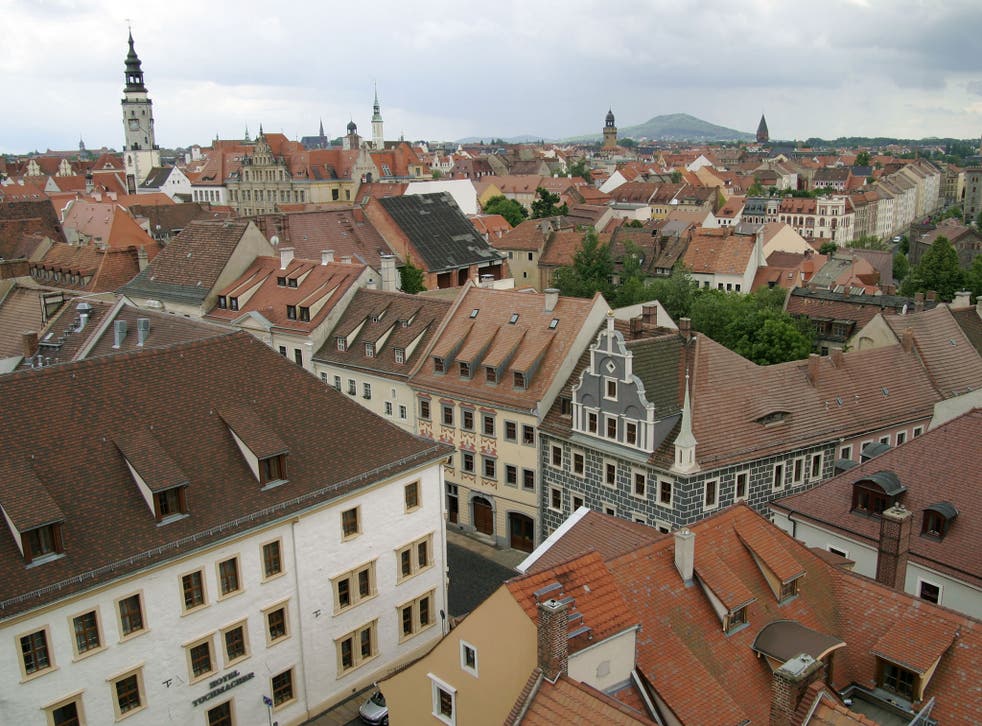 The Grand Budapest experience: Setting the scene in Görlitz
Wes Anderson's visually stunning new film is, like many others, filmed in the beautifully preserved German town of Görlitz. Hilary Macaskill goes on location
Görlitz, the easternmost town in Germany, is fast becoming a star of the screen. This month it features in two films released in Britain. Its unadorned streets and cobbled marketplace are the backdrop for the book-burning sequence in The Book Thief. (Residents were not happy about the profusion of Nazi insignia in their tourist season and it was dutifully removed each day.)
And the glorious Art Nouveau department store at its heart plays the title role in Wes Anderson's latest film, The Grand Budapest Hotel, starring Ralph Fiennes and released on Friday. The store had been abandoned after it went bankrupt, but Anderson fell in love with it instantly: it had the "height and scale, the grandness we needed," said producer Jeremy Dawson in Hollywood Reporter. "It had beautiful bones. We saw right away that it would work."
Although he did consider Budapest as a possible location, Anderson said, "we needed a spa town, not a grand city like Budapest." He wanted the setting to be a composite Eastern European town, and Görlitz, he told the The New York Times, "had everything we needed, including abandoned thermal baths and a gigantic ballroom. The town became the centre for our production. Our cutting room was a former tavern in the basement of the town's City Hall."
The cast stayed together with members of the production team in Hotel Börse in Untermarkt, minutes away from the film set – which, for Anderson, was part of the appeal of the location – and the owner and employees even have parts in the film.
Anderson is not the first director to see the potential of Görlitz. Quentin Tarantino chose Görlitz for the wartime Sicily setting of Inglourious Basterds. Görlitz has also played the part of 19th-century Paris in Around the World in 80 Days, starring Jackie Chan and Steve Coogan. The Reader was filmed here: Kate Winslet spent three weeks staying in Hotel Tuchmacher. Brad Pitt was here, too, as was Nicolas Cage, who celebrated his 42nd birthday in the Hotel Sorat. The attraction includes 13th-century walls and still-standing towers, such as the massive Kaisertrutz, the 15th-century circular bastion that marked the gateway to the city, which is now the home of a town museum.
These fortifications reflect Görlitz's role as an important staging post on the Via Regia, the oldest east-west trading route, from Santiago di Compostela to Kiev. The town's architecture matched its status. And its later history saved it.
This is a German town free of advertisements and, uniquely, spared war damage, demolition and redevelopment. The RAF didn't get as far as Görlitz during the Second World War; the Red Army skirted around it. After the war, the River Neisse, flowing through the centre, was chosen as the border with Poland: the eastern suburbs became Zgorzelec, and Görlitz became a neglected border town. Yet its position at the extreme edge of the German Democratic Republic spared it from the socialist-style redevelopment that characterised many towns in the GDR: there were plans to knock the historic centre down in the 1980s but, fortunately, money ran out.
Today, its huge clutch of nearly 4,000 untouched buildings from all architectural periods – Gothic, Renaissance, Baroque, Jugendstil (Art Nouveau) – forms the largest connected area of preserved structures anywhere in Germany. Since reunification, a programme of restoration has gloriously enhanced this town, much of it mysteriously funded by an anonymous donor (to the tune of half a million euros annually).
Consequently, it is a magnet for film-makers. There is strong support from the city as well as tax incentives with several hotels. And costs are low. Perhaps not for much longer – as Görlitz, with its impressive track record, wants to market itself as Görliwood.
Nicolas Cage's interest in Görlitz, however, was not to do with its location. It was because of his respect for a certain 17th-century philosopher and Christian mystic who inspired Goethe and Milton. In an interview in 2008 he said "I wanted to visit the German city of Görlitz as a birthday present to myself a year ago. I had always been interested in the work of the German philosopher Jakob Böhme and, don't ask me why, I felt compelled to see where he lived and worked." He later told a German journalist "I love Görlitz. It feels like the Middle Ages. I'd like to move there." In fact, he bought a Bavarian castle instead (and sold it a couple of years later). I'd never heard of Böhme until my first visit to Görlitz. Then I happened to see an open-air staging of a play about his life in Untermarkt – one of the two marketplaces – just under my hotel bedroom.
I was staying on the second floor of the Hotel Frenzelhof. It is a 16th-century hall built by merchant "Frenzel the Rich". It has its own frescoed chapel and has itself become one of the sights of Görlitz.
I hung out of my window, watching the orchestra tuning up, stage sets being moved into position, horses clattering over cobbles, smoke billowing from under the ancient town hall stairs, women washing their sheets in the Neptune fountain, children playing . The stage staff, unseen by the audience but not by me, were playing cards between scene changes. It was like a Breughel painting, a glimpse into the past.
The other grandstand view I had from the hotel window was of the Renaissance clock of the town hall. Above the curiously twisted hands is the face of a soldier in helmet and with a handlebar moustache. It commemorates the legend of a sentinel who slept on duty. At night, I discovered, his eyes continually opened and glowed, his mouth gaped and shut. I spent long periods watching in fascination. It made up for the disappointing silence of the Golden Lion, lounging on a sill above the clock, which I was told roared at noon: I never heard it, though we dutifully attended each day just in case. (I later discovered that the resonant boom that I occasionally heard, like the deepest note of an organ, was the roar of the Golden Lion – not at noon, but when set off remotely by a tour guide.)
I'd first come across Görlitz in 2007 after a week of toiling up and down the curious rocky outcrops of nearby Saxon Switzerland. After the exhausting energy I'd expended, the town was like a delightful convalescence. I was captivated as I wandered around its streets and alleys. I savoured the intricate decorations of a Baroque doorway, the sandstone carvings on the Bible House, and Flüsterbogen – the Whispering Arch next to a sundial-adorned Renaissance house in Untermarkt, where I watched pairs of schoolchildren standing on the projecting stonework and murmuring into the groove around the portal.
I made odd discoveries, such as the plaque announcing Napoleon's overnight stay in May 1813 on a skeleton of a building; not all structures have been restored. I found one abandoned and dilapidated 18th-century mansion in Obermarkt that had been taken over by the poet Steeven Fabian Bonig. Its front wall had been replaced by metal grating, behind which was an eclectic array of objects, from a carriage to a rack of axes and a vice with a New Testament clamped in its jaws. He invited me in, offering coffee, though he had no stove – suspending a copper kettle from a hook and heating it with a blowtorch. Things were more comfortable the second time I visited. He was concentrating on his poetry and the binding of his books.
In the shaggy graveyard of Nikolaikirche, now a memorial to the First World War and an art gallery, I found the graves of Jakob Böhme and Georg Emmerich. Emmerich, a rich man of the 15th century, led a rackety life. After seducing a woman and fathering a child, he determined to shrive himself of his sins, predictably by visiting the Holy Land. Less predictably, on his return he decided to reproduce in his home town, the Holy Sepulchre. It's one of the more curious sights of Görlitz – especially as Jerusalem's original burnt down in the 16th century and was replaced by one of a different design. Görlitz is replete with places of worship, from the dour 13th-century monastery church of St Trinity to St Peter's with its flamboyant "sun organ", so-called because of its 18 suns among the display pipes, installed in 1703.
On my return visit, I went to Poland too, strolling across the bridge to dine at a riverside restaurant specialising in pierogi (dumplings). Another day, back in Görlitz, I sampled Schlesisches Himmelreich (Silesian Heaven), a strange fruity speciality stew of the region. And I visited the Silesian Museum, celebrating a vanished culture from the pre-war German region.
However, the building that most enchanted me on my first visit, the Jugendstil department store, was empty. Previously, inside the severely sleek stone exterior the store was full of light and sparkle, with chandeliers, galleries and staircases under a soaring glass roof. It had become a gleaming deserted shell, a victim of the recession.
From Parfümerie Thiemann nestling in one small corner, I could still glimpse the elegant lines of the once-great department store. And now, thanks to Wes Anderson – who considered buying it to save it from demolition – and The Grand Budapest Hotel, a private investor has rescued the building and it will open again next year. I will have to go back.
Travel essentials: Görlitz
Getting there
Görlitz is accessible from a range of airports: Poznan and Wroclaw in Poland; Prague in the Czech Republic; and Leipzig, Dresden and Berlin in Germany.
Staying there
Hotel Frenzelhof (00 49 3581 420872; frenzelhof.de) has B&B doubles from €65.
More information
Görlitz Tourism, Fleischerstrasse 19 (00 49 3581 475722; goerlitz.de).
The Görlitz City Festival takes place from 26 to 28 August.
Join our new commenting forum
Join thought-provoking conversations, follow other Independent readers and see their replies