Grand designs with Gaudi

Show all 2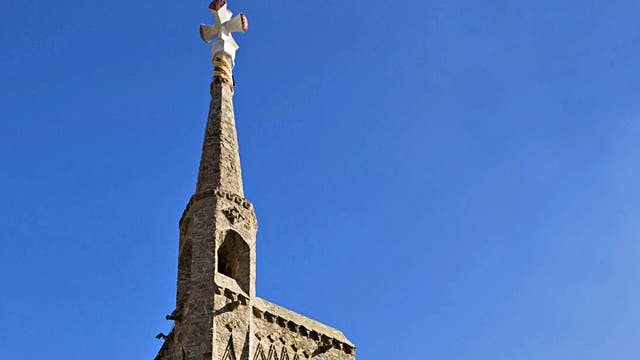 Grand designs with Gaudi
On a hilltop above Barcelona, hidden behind high walls, stands a family home built by the modernist architect. And now, for the first time in a century, it opens to the public, says Nick Rider
"When you grow up here it's your house, you see it as normal… It's only later you realise you live in a house by Gaudí," says Pol, a journalism student and one of the younger members of the Guilera family, about the Torre Bellesguard, their house on a hilltop overlooking Barcelona. It has watchtowers, ramparts, secluded bowers, winding staircases, plumbing made to look like ivy, and a baronial hall. It must, I say, have been a great place to be a kid.
Along with its football club, Gaudí architecture is Barcelona's international calling card. Attention, though, often focuses just on how plain odd these buildings are, especially the eternally crowded Sagrada Família basilica, which, thanks to the bizarre campaign to finish it, has really gone beyond Gaudí's work to become a strange hybrid of its own, and one of ever-increasing mediocrity. Among the latest additions are pinnacles of giant painted concrete fruit that look like they're advertising smoothies.
Far more fascinating are his less bombastic works, and the great Gaudí paradox: here was a man seriously at odds with the modern world, so austerely religious that even other devout Catholics found him hard to take, but also forever gripped by what Robert Hughes called "insatiable inventiveness", experimenting with new materials, techniques and forms at every step.
It's especially rare to see Gaudí's imagination in a more intimate context, and without crowds. Bellesguard is one of only two individual houses he built in Barcelona, but has been the "unknown Gaudí", scarcely mentioned in books and hidden behind high walls. Now, however, the house will be open to visitors, a fresh addition to the Gaudí itinerary.
I find Bellesguard by wandering uphill from the end of the Tibidabo rail line through the steep, tranquil streets of the Sant Gervasi district, past art nouveau villas and sleek modern homes. The street around the house is supported by a curious viaduct of trademark Gaudí tree-trunk columns, created after his extension of the garden cut across the earlier road.
The location is the stuff of legend. In 1408, King Martí "the Humane", last of the native Catalan-speaking kings of Catalonia and Aragon, sick and obese, was told to move to the mountains for his health. Bell Esguard, meaning "beautiful outlook", was said to be the spot with the purest air on the great ridge of Collserola above Barcelona, and so chosen for his new fortified manor house. Here, he received the news that his only son, Martí the Younger, had died fighting in Sardinia. Desperate for an heir, he took a beautiful young wife, Margarida de Prades, but to no avail, for he himself died within a year. With that, Catalonia's own royal house ended, and the crown passed to the Castilian Trastámara dynasty. For romantic Catalan nationalists like Gaudí and his wealthy friend Jaume Figueras, it could be said that history had gone downhill ever since.
These stories were in their minds when Figueras acquired the ruined manor in 1900 and commissioned Gaudí to build him a summer retreat. Given a free hand, Gaudí created his most complete medievalist fantasy, an intricate sentimental hymn to Catalonia's first golden age. Inside the gate, where Pol meets me, he rebuilt bastions and battlements on top of the ruins. In the house itself, set to evoke the Middle Ages, Gaudí naturally couldn't just produce a neo-Gothic mansion, but created an exaggeratedly vertical tower-topped dream-house faced with grey slate in different textures and colours that give the impression of something that just rose up out of the ground.
Like all Gaudí structures, Bellesguard is a mass of symbols and metaphors – evocations of King Martí and Catalan history in the bright, broken mosaic or trencadís benches, obscure references to nature. Religiosity and Gaudí could never be far apart: house and tower are 33 metres high, the reputed age of Christ at his death, and three balconies correspond to God the Father, Son and Holy Spirit. Other elements are stranger, such as the gorgeous eight-sided stained glass "Star of Venus" window, potentially a symbol of fertility, or even the Cathars, the medieval heretical sect that had been protected by the Catalan kings.
Jaume Figueras died only shortly after Gaudí began work, and it went on for his widow, not the only one of Gaudí's clients to find themselves near-bankrupted by their architect's obsessive perfectionism. The current clan acquired Bellesguard in 1945 when Lluís Guilera Molas, a distinguished cancer specialist marginalised under the Franco regime for republican sympathies, set up a clinic here with his son Lluís Guilera Soler. Since the 1960s, it has just been the family home.
Eighteen in all, over three generations, the Guileras are a close-knit family, meeting up regularly at the house and all deeply attached to it. "Without it," Pol says, "we wouldn't be ourselves." Years ago, Sra Amèlia, family matriarch and widow of Dr Guilera Soler, tells me, they used to leave the gate open so locals could enjoy the garden, but never thought of opening the house to paying visitors. Things began to change in 2009, when the building of a main water system nearby caused damage that required expensive restoration.
"We realised," Pol goes on, "that we had a gem, that it was threatened, and that we had to take care of it." The grandchildren took the initiative in opening the house up. They will now offer small-group guided tours for up to 15 people – the maximum feasible in the Gaudí spaces – and cheaper visits to the gardens with an audio guide. It will remain, though, strictly a family enterprise. Sra Amèlia and her dog may greet the occasional tour, and they won't open on Sundays, so they can still have their traditional long lunches.
With all this explained, Pol leads me inside the house. Where there's another surprise: a very un-Gaudí-esque stairwell in bright tiles and positively minimalist pure white, to magnify the natural light, around a superb iron and stained-glass lamp. The spiralling staircases are very narrow, as you'd only expect in a medieval castle.
They lead up to the most extraordinary room in the house, the Sala dels Maons or "Brick Hall" that fills the top floor. Lately used for Guilera family parties, it was conceived as a music room, but Gaudí spent so long tinkering with the acoustics that Sra Figueras' money ran out before it was ever finished. Hence it was left in bare brick, a brick forest of intertwining rows of vaults resting on thin corbel-topped columns, one of many structural systems that were Gaudí's own invention. For a complete contrast, just off this chamber is the gentlemen's smoking room, an all-white space with a balcony – fittingly, the one that represents God the Father – with stunning views over the garden.
Above, there is only a strange, plain, conical room called the paraigües or umbrella, the main purpose of which was to reinforce the pinnacle tower with a typical Gaudí four-sided cross that he insisted on putting on top of Bellesguard. Beside it we go up to the roof terraces and a fabulous 360- degree panorama down over Collserola and Barcelona. The original Bell Esguard of wooded hills may have largely been filled in, and the 1990s ring road has raised the noise level, but as a view it's still hypnotic.
Travel essentials
The writer travelled with easyJet (0843 104 5000; easyJet.com), which flies to Barcelona from Bristol, Gatwick, Liverpool, Luton, Newcastle and Southend.
Visiting there
Torre Bellesguard, Carrer Bellesguard 16, Barcelona (torrebellesguard.cat) is open Monday-Saturday. Guided tours of house and garden, in Catalan, Spanish or English, cost €16 per person. English tours will normally be at 11am but other times possible by reservation.
Join our new commenting forum
Join thought-provoking conversations, follow other Independent readers and see their replies