Head for the hills: A family adventure in Italy's South Tyrol

Show all 6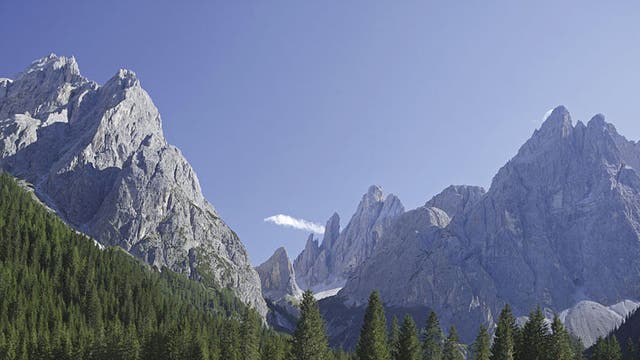 Head for the hills: A family adventure in Italy's South Tyrol
It all looks so simple on the map. Lots of green, with crinkly borders. A bit bigger than Devon, one-third of the size of Wales. Once you arrive in South Tyrol, though, the question you're most likely to ask yourself is, "Where am I?"
The road signs in three languages don't help. Three-quarters of South Tyrol's half-million residents claim German as their mother tongue and Italian speakers make up most of the rest – with a 30,000-strong minority conversing in Ladin, a relic of ancient Latin. Then there are the weird restaurant menus, brimful of goulash and risotto, schnitzel and pizza. And the way the distinctly Alpine mountains of the north give way to the strange, bare peaks of the Dolomites, scattered like clusters of giant pink molars.
There's a complex political history, too. Italy annexed South Tyrol from Austria in 1919, after a war of attrition in the mountains that cost thousands of lives, and it later became part of an autonomous north Italian pairing known as Trentino-Alto Adige (Südtirol to German speakers).
Adding to the confusion is the fact that the valleys in this deeply clefted buffer zone between Austria and the rest of Italy seem to function as discrete cultural entities. As one local in the German-speaking Antholzertal region said when I revealed my intention to drive south to Val Badia, an Italian/Ladin enclave, "It's like a different world down there." And so it was.
However, once you've grasped all that, there is in fact a very simple answer to the question "Where am I?". And it's this: you're in a gigantic adventure playground.
Examine that map again. You will soon realise that it should have come with 3D glasses, and that neither contour lines nor "panoramic" representations do justice to the sheer exuberant topography of South Tyrol. In 3D, you'd understand why that road wiggles just so; how supremely prickled with peaks is the Sella Dolomite group; quite how the grand sweep of the Val Pusteria spreads its own valley subdivisions north and south.
For those keen to explore the great outdoors in all its three dimensions, South Tyrol is the perfect place for a family holiday. The region's winter credentials are already well established. The vast Dolomiti Superski area draws snow addicts from around the globe. But vestiges of the infrastructure that makes winter sports possible – namely ski lifts and mountain restaurants – also remain during the summer season for anyone keen to try out South Tyrol's dramatic mountain paths and cycle routes.
Meanwhile, hotels primarily designed to cater for the needs of weary skiers do the same for foot-sore hikers, offering swimming pools and luxury spas. The result is a sophisticated set-up that allows you to make the most of the sort of epic scenery that many people, children among them, might struggle to get to grips with otherwise.
Our first walk in the Antholzertal (known in Italian as the Valle di Anterselva) set out the parameters perfectly. Clutching the summer equivalent of a piste map – a panoramic outline that included a colour-coded system of Nordic walking routes, mountain bike tracks and hiking trails – we started out from the pretty village of Antholz Mittertal (Anterselva di Mezzo), following trail number 12 on its gentle upward curve. We thought we'd picked out a three-hour hike – the maximum our nine-year-old and his six-year-old brother had accomplished in the past – intending to join path 10 a short way up the mountain, then valley trail number 11 to complete the loop.
Again, the map did scant justice to the magic of the landscape, which delivered all the life-affirming things you could hope for: meadows, mountain streams, wooded hillsides, dappled glades, the clonk of cowbells in the distance, a waterfall crashing off the hillside. Then, at exactly the point at which the youngest member of our party was getting tired and cross, we were presented with the perfect pair of remedies.
First, the Bergeralm hut, which offered up family-sized platters of cheese and speck (juniper-flavoured ham), accompanied by glasses of the sweet local apple juice and some very refreshing Pilsner. Then, 20 minutes later (ie, around pudding time), we arrived at the Schwörzalm hut, where a round of ice cream and espresso rendered the views down the Antholzertal all the more vivid.
At this point, we were perhaps a little giddy. But as this was the best walk we'd ever experienced as a family unit, we – or, at least, we parents – were determined to finish it. So we continued down the lower flanks of the Rotköpfl mountain until we came across a relaxed-looking cow in a farmyard, on the banks of the burbling Antholzer river. It was then – an unprecedented four hours into our hike – that the youngest member of our party revealed that he had a vast blister on his heel and could walk no further in his new hiking boots.
In anywhere other than South Tyrol, this might have been a problem. Happily, at exactly that moment, an old lady – quite possibly the owner of the cow – appeared. Her English was as fluent as my German, but she knew a blister when she saw one and quickly conjured up a cooling bucket of water. Then she waved us on our way, gesturing us towards flat, green meadowland that meant our journey could easily be completed barefoot. So our younger son did just that, scampering over the clover-filled fields like Heidi, only without the dirndl.
Our base was the Dolomit Family Resort Garberhof, a few kilometres to the south of Antholz Mittertal, in the village of Niederrasen (Rasun di Sotto). The Garberhof is part of South Tyrol's Kinder Hotels group, the members of which offer accommodation designed around the needs of young families. On that basis, it could scarcely have tried harder, with free childcare for those who needed it, an indoor/outdoor pool, even a petting farm on site.
The half-board tariff was also a boon after a hard day's hiking, offering up multi-course dining exotica such as "deep-fried courgette blossoms with carpaccio of Nebraska beef" alongside a Kindermenu with more easily digestible options including "gnocchi with meat sauce". Indeed, it was at dinner that benefits of South Tyrol's hybrid culture came to the fore. Germanic efficiency of service was coupled with a gracious tolerance for the babble and shriek of up-past-their-bedtime children that was authentically Italian.
The Garberhof's vast chalet-like buildings have also been remixed: modern, glass-walled corridors rub up against more rustic, Tyrolean-style rooms. Meanwhile, the clientele – well-heeled Italians who mingled on the lawn wearing sunglasses and snow-white jeans while admiring their immaculate progeny – provided a glittering contrast of their own when compared with our rather crumpled Britishness and lightly wounded infant.
Annalisa Preindl, part of the family that owns the Garberhof, revealed the cause of all this relaxed insouciance: "Italians normally have two holidays. The first is by the seaside and the second is in the mountains, when the seaside gets too hot." Did she, I wondered, consider herself to be Italian? It seemed so: "We're one nation. We speak German, but we are Italian."
Around the corner, the Niederrassen tourist office was replete with brochures offering the sort of exciting diversions that keep braver children than ours occupied, from zip-wires to high-ropes courses and white-water rafting. Special passes were also available for anyone intending to use the ski lifts regularly, or hoping to combine off-road cycling with an efficient public transport system that stretched the length of the valleys.
But we never needed to look that hard, or travel too far, to enjoy ourselves. We borrowed bikes from the Garberhof and cycled north, along a flat, car-free path that ran the length of the valley, past villages with red-spired churches, past apple trees and hay bales. We swam in the Antholzer See, a pretty lake ringed with trees. We drove north to the very edge of South Tyrol and the border with Austria, where a single-lane road is governed by the longest set of traffic lights I have ever encountered. (They turn green for just 15 minutes of every hour, but the supremely fit 80-year-old men who pedal relentlessly to the summit ignore them completely.)
The views from the top, between signs proclaiming Italia on the one hand and Republik sterreich on the other, were astounding: a vista of corrugated peaks marching ever onwards in the distance.
Admittedly, some outings were odder than others. Eastwards, along the Val Pusteria, we took the chairlift at the small market town of San Candido to a plateau on the Haunold (Baranci) mountain. Here, with a frowning mass of stone – the Sextener Dolomites – looming in the background, we discovered that a charming mini-festival of stilt-walkers, face-painting and fairground games was under way. If that wasn't peculiar enough, the journey back down the mountain was via something called a "Fun Bob" (€6.60 per ride). The longest summer toboggan in Italy, it consists of a series of tiny bright yellow carts that hurtle down the mountainside on a monorail, governed by nothing more than a slender handbrake. Exhilarating? Insane? "The best part of the whole holiday," according to our elder son.
Far more to his parents' taste was the Pragser Wildsee, or Lago di Braies, reached via a twisting road that runs through the Fanes-Senes-Braies Nature Park. Here we hired a rowing boat (€10 for 30 minutes) and pottered round the lake while the mountains glowered around us like outcasts from Middle Earth. J R R Tolkien reputedly took inspiration from the Dolomites when writing The Lord of the Rings – and it was easy to feel Hobbit-sized, given the scale of this brooding, majestic mountainscape.
Our own little fellowship then travelled south. En route we took a detour for some culture, with a visit to Brunico (Bruneck). Here, a new Mountain Museum created by a local hero, the climber Reinhold Messner, lies in a beautifully converted 13th-century castle. The exhibition is impressive, a collection of objects – from as far away as Tibet and as close as the Alps – that between them illustrate man's relationship with the mountains.
As far as I'm concerned, man and mountain have rarely existed in quite such harmony as in the tiny village of San Cassiano, deep in the Val Badia. It is seriously chic. The car-free centre of the village dazzles with window boxes hung with geraniums; the visiting hikers, meanwhile, are hung with Hermès and Gucci.
The chalet-style Rosa Alpina, where we stayed, is among the most luxurious hotels I have ever encountered, with a stunning spa, grotto-like pool and a breakfast room with a delicate frescoed ceiling. Yet it also has a warm, homely feel, entirely welcoming to children.
Owned by the Pizzinini family for more than 70 years, the hotel rises grandly at the village centre, its St Hubertus restaurant – with two Michelin stars to its name – mopping up gastronomic plaudits quicker than a hunk of artisan-crafted bread absorbs extra virgin olive oil. The 51 rooms within the hotel run the gamut from rustic Alpine to more contemporary styling and are tucked away in the eaves, or have their own balconies, or have dazzling views out over the mountainside. No two are the same.
We bumped into Hugo Pizzinini, general manager and grandson of the first Pizzinini to own the Rosa Alpina, during our first walk from the village. We'd ridden the Piz Sorega chairlift for the 500m climb upwards to a plateau that was as green as a golf course and strung with swings and trampolines, like a fantastical land designed entirely for the under-10s. It turned out that Hugo had cycled his way up instead. People from South Tyrol have a habit of being unnervingly fit.
"If it's not up, it's down!" he told us cheerfully, before soaring past us along the meadow-lined path. We remained rather more static as we gawped at the dramatic views of the Sella Dolomites.
Later, we discovered to our cost that Val Badia seemed to be a great deal more up than down when we borrowed cycles from Rosa Alpina and went for a cycling trip of our own along the valley. Far more successful was a fossil-hunting expedition in the early evening with a local mountain guide, Diego Zanesco. As we clambered over the rubble of a dry river bed, he revealed that the Dolomites are the remains of 250-million-year-old coral islands, left stranded by the retreat of an ancient sea. Stranger still was our trip round San Cassiano's latest attraction: a sleek, modern museum devoted to the discovery of the remains of an extinct breed of cave bear once found in the mountains nearby.
And that's just the sort of disorientating curveball that South Tyrol will throw at you. It's a place where fossilised coral reefs masquerade as mountain ranges. Where cave bears once roamed. Where people use Fun Bobs to get from A to B and serve you exquisite lunches halfway up a hill.
"Where am I?" you ask yourself once again. Really, the map's no help at all.
Travel essentials: South Tyrol
Getting there
* The region can be accessed from Verona, served by Ryanair (0871 246 0000; ryanair.com), British Airways (0844 493 0787; ba.com) and easyJet (0843 104 5000; easyJet.com) and Bmibaby (0871 224 0224; bmibaby.com). Alternative gateways are Venice, Innsbruck and Munich.
Staying there
* Dolomit Family Resort Garberhof, Niederrasen, Antholzertal, offers doubles from €198 per night, including breakfast. The hotel reopens for the summer season on 16 May. (00 39 0474 497 004; dolomit-familyresort.it)
* Rosa Alpina Hotel & Spa, 20 Strada Micurá de Rü, San Cassiano, Badia, offers doubles from €350 per night, including breakfast. The hotel reopens for the summer season on 15 June. (00 39 0471 849 500; rosalpina.it)
More information
* 00 39 0471 999 999; suedtirol.info
Join our new commenting forum
Join thought-provoking conversations, follow other Independent readers and see their replies