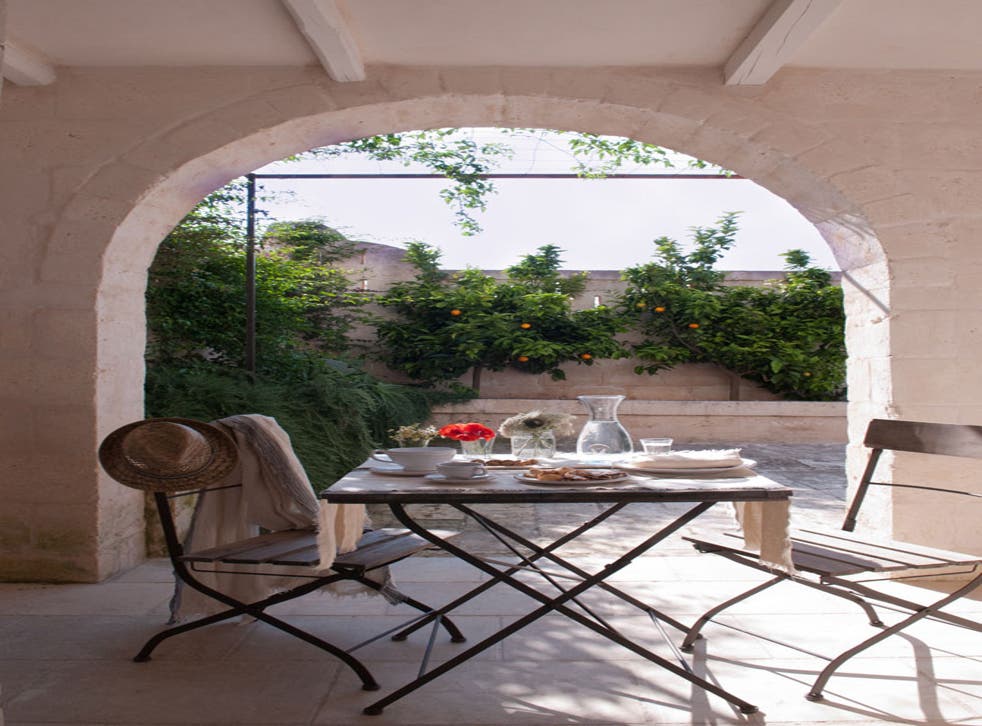 The heel's had a reboot: Borgo Egnazia is the place to sample some of the best food in Italy
Caroline Phillips visits Puglia's newest village resort.
A Jesus lookalike is sitting in his shop sanding poplar wood. Hand-made wooden marionettes and tambourines hang from the ceiling. He has covered his walls with leftist newspaper cuttings. "This street's full of fascists," he confides. "I'm the only true Communist here." His shop doesn't have a name, although it's been here 36 years. "Just call it 'the shop by the cathedral'."
I'm in the city of Ostuni, Puglia, in Italy's stiletto heel. Across the road is a junk shop packed with Madonna statuettes and 19th-century olive jars. I'd love the owner to email me some photos of his stock. He looks bemused. No, he doesn't have internet access. "Io antico," he declares. "(I'm an antique.) He and his shop encapsulate something special.
Puglia is a huge region with a 500-mile coastline. On arrival, my first impressions weren't great. From Bari it's a 45-minute drab, flat drive south-east along the coast to my destination of Borgo Egnazia, near the fishing village of Savelletri. En route, I drive past endless light industrial buildings and a flat-roofed breezeblock suburban sprawl.
Puglia looks poor, and it is. It's also a place where traditions run deep, where socialist bureaucracy and Communism are still entrenched. Helen Mirren and Mickey Rourke may have holiday homes here, but it's still unpolished and reasonably undiscovered. It's also where people from Rome and Milan spend their holidays, setting up chairs on rocky beaches to bake themselves a carcinogenic mahogany.
Puglia's charms become more evident as I get closer to Borgo Egnazia. Suddenly the air is scented with figs and oregano. Fields are encircled by dry-stone walls and burst with tomatoes, aubergines and centuries-old olive trees.
If you decide to hug an olive tree here, you'll need to hold hands with three men, so thick are the beautiful gnarled trunks. For a while there was a brisk black market in them – around £8,000 each – as trees were smuggled out for fashionable gardens in northern Italy. "We're Italy's largest manufacturer of olive oil," a local waiter proudly tells me later. "There are three million olive trees, nearly one for each inhabitant of Puglia." A goodly number of these trees stand like ranks of sentries looking after Borgo Egnazia, which lies in 40 organic acres within a 250-acre private estate beside the Adriatic.
Borgo Egnazia is not quite one of the seven wonders of the world, but it's close to it in resort terms. Borgo means "village" in Italian and it's modelled on traditional Puglian ones. It looks as if it's been there for centuries, but it opened fully only last spring. There's also a creamy, dreamy Moorish palace, actually based on a fortified masseria but with a striking contemporary interior. I wander down paved alleyways with quaint names such as Via Madonna, under arches and past the piazza to the townhouses made of vanilla-coloured tufo (local sandstone). There are also private villas, like ambassadorial residences on the town's edge. The whole thing cost a cool €150m, took 10 years to develop and six to construct.
It's the brainchild of Aldo Melpignano, a former investment banker. He owns Borgo Egnazia with his family, who come from nearby Fasano. I take my sun hat off to anyone who builds a village. But especially one that showcases architecture influenced by Puglia's multiple invaders, uses only local materials and artisans, and provides the backdrop for French Vogue fashion shoots. Aldo has reinvented the heel: it's Puglia rebooted.
If a place could speak, Puglia would say: "Write about my incredibly warm people and the best food in Italy." Certainly the friendliness of the locals epitomises everything I love about this country. It's also a hot destination for gourmet travellers, with fertile land that produces some of the best vegetables in the world, plus fresh seafood drawn from the Adriatic. Its cuisine comes from a recipe book written over the centuries by the region's conquerors – Greeks, Romans, Goths, Normans and Spaniards – but it's all based on peasant food.
They're big on fish and olive oil here, even baking and frying with the extra-virgin variety. I go to beach-shack restaurants such as La Cambusa in Savelletri, a short bike ride from Borgo Egnazia. It has Billingsgate-sized displays of the morning's catch, and lobsters on beds of ice planning their escape. At Pescheria 2 Mari restaurant – also in Savelletri – I'm plied with platters of raw octopus, squid, clams and slivers of swordfish; sashimi requiring nothing more than lemon and a greedy mouth.
Masseria Cimino is an agriturismo (in other words a farmhouse where you can stay and eat) and is a quick walk across the golf course from Borgo Egnazia. Here, antique farm implements decorate the walls and acres of home-cooked food are on the tables: taralli (like delicious olive oil shortbread), freshly made orecchiette pasta (the region's speciality) and fresh, baked sea bream.
Mario Musoni, the Michelin-starred executive chef of Borgo Egnazia, is also big here. A leading light in the Slow Food movement, he believes in zero food miles; most of his produce comes from the estate. To try Mario's delicate summer truffle risotto is to understand why the Italian press dubs him the "King of Risotto".
"This is my invention," he says, giving me pistachio ice cream drizzled with olive oil. It is delicious.
I don't just dedicate myself to widening my girth. I also cycle to the ruins of the ancient Roman city of Egnazia, along lanes fringed with cacti, the salty sea breeze in my face, the sun on my back. The crypts and acropolis are set picturesquely beside the Adriatic, with pots and skeletons in the museum.
I also visit Alberobello, "the capital of trulli": those rustic houses with conical roofs. In Alberobello's market they sell three types of green bean (one as long as spaghetti), curious melon-shaped cucumbers and artisan-made burrata (moonballs of double cream and mozzarella). And I stock up on tomatoes (€5 per kilo). "I grow them myself and dry them in the sun with salt," says the stallholder, as he offers me six different types of olive.
And then there is Ostuni – the White Town – where my unkempt shopkeeper crafts his wooden puppets. I visit the Byzantine-style cathedral and marvel at the citadel. But, frankly, I spend just as much time in its specialist food shops. Aside from the wonders of Borgo Egnazia, it's the culinary offerings that impress me most. Puglia, the heel of Italy? Mouth, more like it.
Travel essentials: Puglia
Getting there
* Bari is served by British Airways (0844 493 0787; ba.com) from Gatwick and Ryanair (0871 246 0000; ryanair.com) from Stansted.
Staying there
* The writer travelled with luxury travel specialist Scott Dunn (020-8682 5040; scottdunn. com), which offers seven nights at Borgo Egnazia, Puglia, from £1,750 per person based on a family of four sharing a Grand Garden Villa with a private pool on a bed and breakfast basis. The price includes return flights with British Airways and transfers, based on a June departure.
More information
* Italian Tourist Board: 020-7408 1254; italiantouristboard.co.uk.
Join our new commenting forum
Join thought-provoking conversations, follow other Independent readers and see their replies