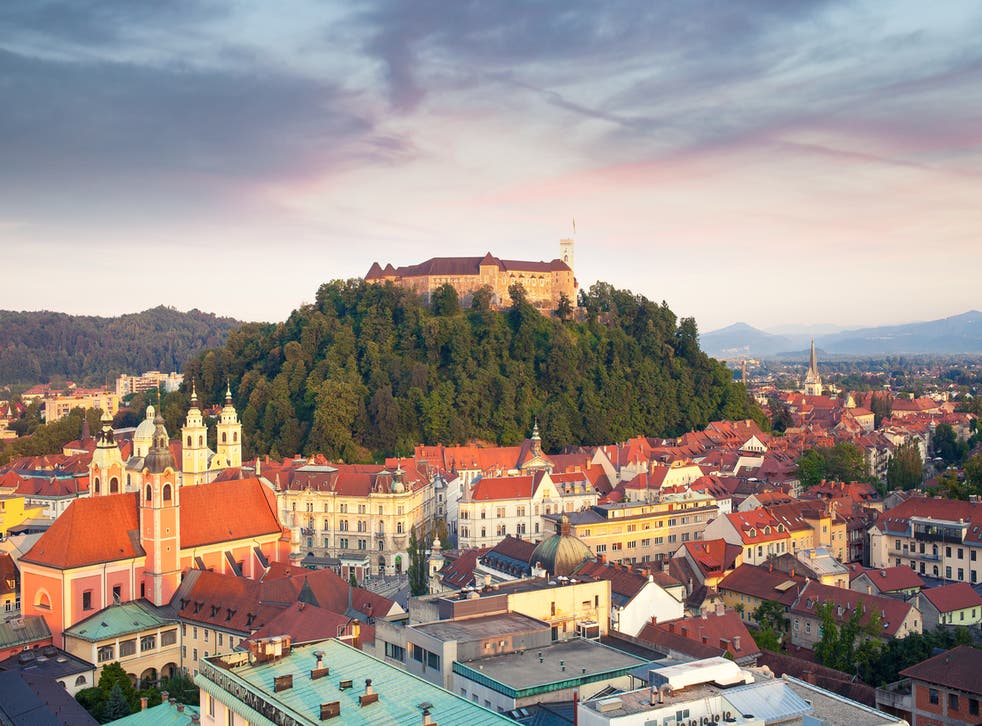 10 things to do in Ljubljana
Jail cell hotels and culinary workshops provide plenty of entertainment in the Slovenian capital
In recent years, Ljubljana has transformed itself from a congested, fume-filled city to a vibrant, cyclist-friendly oasis, teeming with cultural activities, culinary delights, and architectural sights to discover. Exuding both the sophistication one might expect of a larger metropolis and the charm one would find in a small town, the Slovenian capital offers the best of both. Here are 10 ways to fall in love with Ljubljana.
Taste your way around
Start off your stay on the right foot with a culinary walking tour. Top Ljubljana Foods offers four-hour guided circuits that serve up more than Slovenian food and wine; Baroque and Art Nouveau architecture are also highlighted by the tour leaders, or "gastronauts", who provide insight into how the history of the city shaped its culinary scene.
The route leads through the old city centre and into local restaurants, where punters taste nine traditional dishes and sip four types of wine. Guided culinary walking tours are available year-round for €43 per adult; be sure to book ahead.
Stay caffeinated like a local
Slovenians covet their Turkish coffee, and with all the outdoor activities on offer in Ljubljana, it's easy to see why. Grab your early morning high octane hit at Slovenska Hiša on Cankarjevo embankment. And when your afternoon craving kicks in, head to Café Čokl for some organic chocolate and a cup of in-house, freshly roasted, fair trade coffee.
Learn a craft
To truly appreciate the local culture, try your hand at some crafting. Dive deeper into traditions such as pottery, Idrija lace making, Radovljica honey bread making or beer brewing. Classes can be booked by special arrangement through Roundabout Travel.
Cycle the city
Ljubljana's flat terrain, designated bike trails and car-free centre make it a pleasant place to discover by bicycle. Cruise along the emerald-coloured Ljubljanica river or in and around the many public green spaces, and you'll understand why this city was named one of the world's top green capitals and ranked 8th by the Copenhagenize bicycle-friendly cities Index.
Register for a €1 weekly subscription through BicikeLJ before dropping by any one of the 32 bike stations around the city where you can use your login info to unlock your eco-friendly ride. Alternatively, you can hire from a local bicycle shop (€15 per day) or the tourist information centre on Krekov trg (€2 for up to two hours, €8 for the whole day).
Support social enterprise
What Ljubljana lacks in size, it makes up for in heart, art, and innovation. Take a seat at Druga Violina in the Old City Centre, which provides an opportunity for people with learning disabilities to learn vocational skills and make their own money in an inclusive environment. Snack on a selection of pršut z olivami, indulge in štruklji dumplings, and tuck into traditional Slovenian soups and stews served by staff with special needs.
Swing by the Stara Roba, Nova Raba thrift shop and support another good initiative. This secondhand store is giving second chances to local people and products. It hires and trains unemployed locals, and offers unique household items, toys, books, and jewellery at bargain prices, with proceeds going to a homeless charity.
Spend the night in a jail cell
The Metelkova autonomous cultural zone is one of the few places on the planet where you can sip a tea, admire art installations, attend a concert, deliberately sleep in a jail cell and crash an underground party – on former military barracks.
In the 1990s, artists took over this former military zone in an attempt to transform it from a dark relic of the past into a multicultural creative community with a positive future. They were met with opposition and threats of demolition by the government but artists persisted, squatting on the property to protect it.
In 2003, more than 120 years after it was built to lock people up, Hostel Celica – previously a political prison – opened its doors to invite the exchange of cultures and ideas. The cells have been converted to guest rooms and the property hosts cultural events.
Escape to an agrotourism estate
Visit a family farm and get a taste of life just outside Ljubljana. You only need to travel 20 minutes out of the city to get to Pri Lazarju, but you'll feel a world away. Spend an afternoon exploring the estate, sampling Slovenian cuisine, touring Podgrad's castles and observing culinary traditions – such as fruit drying and spirit distilling – on nearby farms.
Stroll through Tivoli Park
Enjoy a slower pace – and some cake – at Ljubljana's largest park. With five square kilometres of green space, tree-lined walkways and trails to trek, Tivoli Park is a favourite for locals and visitors alike. Check out the open-air gallery at the Jakopič Promenade, order a cake at the Čolnarna café, or just laze in the shade with a good book.
Sip Slovenian wine
The majority of Slovenia's wine is consumed domestically rather than exported, so this is your chance to savour flavours you won't find elsewhere. Cruise down by the river and peruse Ljubljana's longest wine list at Dvorni Bar. Head to Vinoteka Movia and let the knowledgeable staff lead you through an intimate tasting of their award-winning wines, before grabbing a glass and kicking back in the casual chic courtyard.
Take a day trip
Ljubljana is perfectly positioned as a base for exploring Slovenia beyond the city. Smarna Gora, a popular hiking trail with panoramic views from the top, is just 20 minutes north of the city centre. Venture further afield, about an hour north of Ljubljana, and you'll reach the Julian Alps region where you can explore glacial lakes – like Bled and Bohinj – and scenery so spectacular you'll feel certain you've stepped straight into a fairytale. Under an hour south of the city you'll find Postonja, one of Slovenia's 11,500 caves, and another 15 minutes brings you to Predjama, the world's largest cave castle.
Join our new commenting forum
Join thought-provoking conversations, follow other Independent readers and see their replies