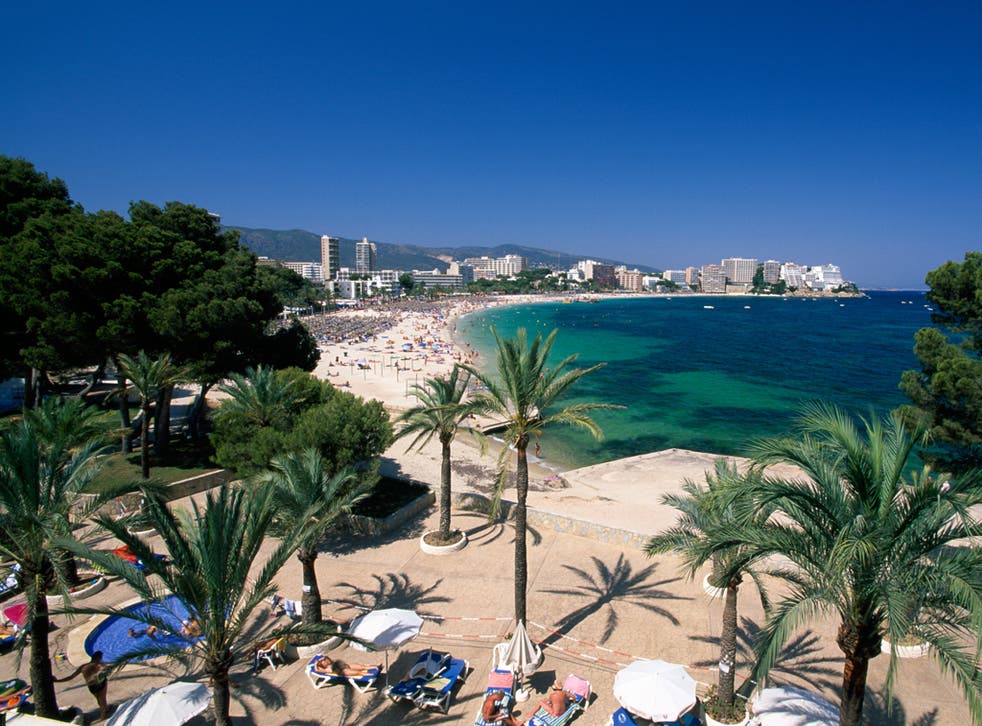 Magaluf scrubs up for a new type of tourist
The Mallorcan resort's notorious foam parties are still in evidence, but developers are now hoping to attract the smart set, says Kate Simon
A young man lurches towards me, his eyes swimming. It's just turned 8pm, yet he's already dead drunk. So are his mates – the one in the mankini and the green and orange wig must be pretty far gone to bear his buttocks quite so boldly.
I'm in BCM Square in Magaluf, epicentre of boorishness on the Spanish island of Mallorca. It's less a square and more of a strip, flanked by bars with names that evoke the Eighties – Top Gun, Baywatch – but which bang out tunes off the top of the dance-music charts. David Guetta's "Titanium" is looping the loop tape tonight.
On podiums at the back of the square a couple of exponents of the perfect booty are shaking them to lure punters into BCM Planet Dance. Its name is a justified boast – this is not only the biggest nightclub on Mallorca, it's also the self-professed home of "the biggest foam parties in Europe". Up to 4,000 revellers can jump about in the soapsuds here.
Around the corner, the Magaluf Strip (Carrer de la Punta Ballena) pulsates day and night. Lined with more than 50 bars, the competition to get bums on bar stools is intense. You can buy a pint of Red Bull and vodka for just €4.50; a jug of sangria offers more volume for €7.50, but the clincher is surely the invitation to "Drink all day for €12". Down the road, outside Secrets Lap Dancing Club, a bunch of lads are playing football. There's a stench about this place that I just can't get out of my nostrils: backed-up drains, stale vomit, stubbed-out fags. That Las Vegas saying should apply here: what happens in Magaluf stays in Magaluf.
But all this is set to change. Or so says Susana Terrén, public relations and communication manager of the Calviá Beach Resort, an enclave of four hotels at the southern end of Magaluf's sands owned by Spanish company Meliá Hotels International. Meliá is just concluding the first of a three-phase, three-year multimillion-euro project to transform the seaside town.
Two of its hotels, Sol Antillas and Sol Barbados, dating from the Seventies with 757 rooms between them, have recently been given a facelift, while two new properties, Sol Beach House and Sol Wave House, opened earlier this month to a more sophisticated 21st-century crowd. Meanwhile, bars, restaurants and shops in the surrounding streets are being encouraged by Meliá to raise their game or be bought out by the company and offered to businesses providing a higher-quality experience. The proposition is to take Magaluf upmarket.
The idea is born of necessity. Spain's financial crisis, political change, falling prices in the area and the restrictions imposed by Mallorca's reputation as a seasonal holiday destination have forced a rethink by Meliá, which has 19 hotels on the island. And the company has concluded that the only way to stem the decline of this "mature resort" is to try to replicate the experience offered on the surrounding coast, that of ritzy marinas such as Puerto Portals and coveted golf clubs including Mallorca's top course at Poniente, a five-minute drive inland.
Meliá has decided to lead the way by trying to attract high-quality tourism through major investment in its own hotels – just how many million euros will be spent, the company declines to reveal. The move has been encouraged by the cash-strapped local and national authorities, from city hall to Spain's tourism ministry, which have lent a hand by speeding up the paperwork.
But can tourists really be persuaded that Magaluf can change? "We are trying to bring new people to Magaluf, but things have to be done slowly because the change will be drastic," says Susana. "It's going to be complicated this year because we're going to have new people together with those that normally come."
Part of the challenge will be getting local bars and restaurants to offer better service and look more attractive, and it seems Meliá is determined to get its way. "We want businesses to try to change with us. If not, we will try to find another solution," says Susana. "We have to slowly change the bars [on the beach] to different franchises. They're already ours; they're rented from us. This is all the resort, so we have to build the place to look like a resort."
Phase one, Susana tells me, involves the recent upgrade of Antillas's interiors, which includes new en-suites, and the refurbishment of its neighbour, Barbados, where rooms have been refreshed; a new outdoor pool has opened and there are plans for an underground space with a spa, conference rooms and shopping mall. But the big story is the new lifestyle hotels aiming to break the Magaluf mould, which Susana is keen to show me.
We start our tour just over the fence from Antillas at the Beach House. It turns out I've been invited to visit less than a week before the hotel is due to open its doors to the public and the Beach House is still a construction site. But it's not hard to conjure up in my mind's eye the urbane style Meliá is striving to achieve for "the first lifestyle destination on the island".
The hotel's director, Francisco Ramos, joins the dots for me in the unfinished spaces. "You have to imagine what we're trying to create," says Francisco, as he takes me into an empty room bounded by glass for ocean views and he gestures to where a sculpted sofa draped with languorous folk will be and the console where the VJs will be stationed.
We move on through a tile-floored shell, where a few of the Balinese day beds give a sense of what's to come, to what will be the restaurant and its terrace. Here, too, is the highlight of the new hotel, an area of empty concrete channels that will soon be filled with water and set with more day beds to become the beach club, run by the world's leading proponent of chic al fresco relaxation, Nikki Beach. "We will have music playing through the day and then, at 7pm, the atmosphere will change. It will be more mellow and the beach club will be beautifully dressed for the evening," says Francisco.
I worry about the noise for guests in the hotel's 98 rooms and five two-bedroom suites above (none of which are ready for me to see, though I'm told they will be furnished in sleek minimalist style, with flat-screen TVs and kitchenettes). But my concern just reveals that this place isn't for the likes of me. "There will be music. This will be a beach-party atmosphere, but that's why people will come here," says Francisco. And how will they keep the clientele smart? Francisco is candid: "Price. Some people will come once and find it too expensive and they won't come back."
A few minutes' walk from the Beach House, there's more of the same slick style in the 180 ocean-view rooms at the Wave House, a former apartment block set in a prime position at the centre of the beach promenade that has been bought up by Meliá (though a few tenants remain). Sarah Hill, the Wave House's groups and sales manager, takes me on a hard-hat tour of the beachfront adult playground, capacity 1,000, and shows me its centrepiece, two surf simulators – a double FlowRider and, for the more advanced, Europe's first FlowBarrel.
There are also pools, a surf store run by Quiksilver and Billabong, a sports bar with giant screens and a DJ station, the roof of which doubles as a VIP area. We take in the view from this vaunted position. Magaluf has a truly lovely beach, with iridescent waters. "We want to talk about extending this pier and putting a helipad on it," says Sarah, "but we'll see."
Meliá is not alone in trying to change the fortunes of Mallorca's declining resorts. Marcial Rodriguez, managing director of the Balearic Islands Tourism Council, tells me there are private initiatives happening in other areas of the island – at Canyamel, in the north east, and Playa de Palma in the south. He welcomes the activity: "It's important that these private initiatives go ahead and our government wants to help them." And he's confident that Magaluf can transform. "We know there is no one thing that will change the place in just one or two years, but it's a start. There are other companies trying to align with the new overview of Magaluf." Indeed, leading Balearics live music promoter Ibiza Rocks Group has just announced it will be rebranding Fresh Aparthotel Jungla to become a Mallorca Rocks Hotel next year.
Rodriguez also confirms that Russia is becoming an important market for the island. Some 170,000 Russians visited Mallorca in 2011 and 200,000 are expected this year. That may be dwarfed by the numbers visiting from the UK, with 2.1 million of us going to the island last year, but there's potential for huge growth of Russian tourism – and they're big spenders.
What the future holds for Magaluf remains to be seen. At the gate for my flight, as I head back to the UK, I'm sharply reminded of the present. Two young men are sprawled on a row of seats, comatose. There's no doubting where they've been on holiday. One opens his bleary eyes, spots the queue forming for the plane and rises to his feet, which then do a drunken dance, propelling him towards me. Eight in the morning, or eight at night, it's happy hour around the clock in one corner of Mallorca.
Travel essentials
Getting there
Kate Simon travelled to Mallorca courtesy of easyJet (0905 821 9000; easyjet.com), which offers return flights to Palma from £116 in July from Gatwick, Southend, Luton, Stansted, Manchester, Newcastle, Liverpool, Bristol, Edinburgh and Glasgow. Flights to Palma are also available through British Airways (0844 493 0758; ba.com), Bmibaby (0905 8282828; bmibaby.com), Jet2 (0871 964 0016; jet2.com), Monarch (08719 405040; monarch.co.uk), Ryanair (0871 246 0000; ryanair.com), Thomas Cook Airlines (0871 230 2406; flythomascook.com) and Thomson Airways (0871 231 4787; thomson.co.uk).
Staying there
Kate was a guest of Sol Antillas (0808 234 1953; melia.com), where a week's holiday in July costs from £808 per room, based on two sharing, including breakfast. A week at Sol Wave House costs from £868 and Sol Beach House costs from £928 on the same basis.
More information
Spanish National Tourist Board: spain.info
Join our new commenting forum
Join thought-provoking conversations, follow other Independent readers and see their replies