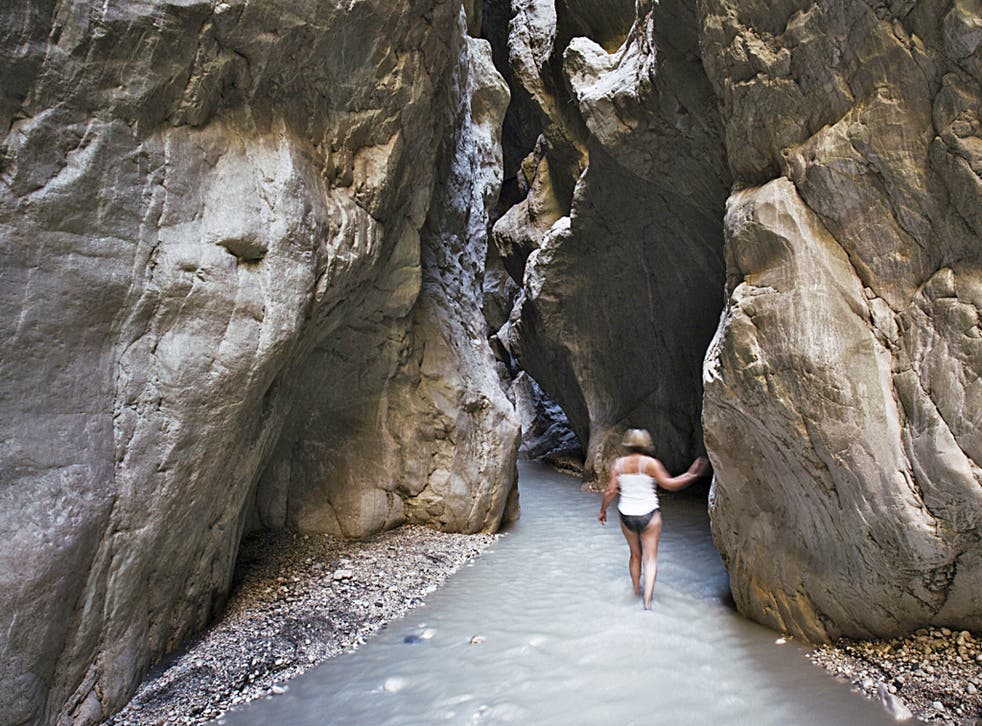 Mud and magic on the Turkish shore
Ancient ruins, gorge walks, clay baths ... a stay on the Lycian Coast packs a little bit of everything into a family holiday, says Amber Evans
High in the mountains above Fethiye, in south-west Turkey, torrents of ice-cold water cut through a narrow, 300m-deep gorge. I am up to my knees in freezing water. The sky is barely visible. Ahead of me, my eight-year-old son is scrambling up, down and over rocks. He wants to be the first to reach the waterfall. This is the Saklikent Gorge. It is captivating, colossal and somewhat intimidating – a powerful statement of nature. It is also a wonderful place for children.
We had come to Turkey's jagged Lycian coastline in search of a family holiday that combined scenic beauty and ancient history with some restful days at a beach resort. Saklikent Gorge ticked that first box. It is stunning. The rock walls of the canyon have been carved out over centuries as the snow from the Taurus Mountains melts and passes through on its way to the Mediterranean. Just 4km of the 18km canyon is walkable and only from 1 April to 30 September. At noon on a hot summer's day, it was brimming with people. So saklikent ("hidden city" in Turkish), it certainly is not.
To enter the gorge, we first had to cross a section of rapids created by a natural spring where water bubbles up from the base of the cliffs. There were 11 in our group, including four children – my two, Fin, eight, and Bella, five and nine-year-old twins, Annabelle and Andrew. Our guide, Vali, who knew every rock and boulder like the back of his hand, made us hold hands to cross the rapids. I took a firm grasp of Fin and fought my way through the thigh-high water. I'm not sure if I kept him up, or he me. But we made it across. It was exhilarating. And cold.
Bella hitched a ride on her dad's shoulders, but could easily walk through the mostly knee- or ankle-deep water that led deeper into the canyon, where the cliff walls are so steep the sun never reaches the floor.
In the summer it is deliciously cool and the 2km walk to the waterfall would even have been relaxing, had I not been trying to keep up with my children. They had their sights set on that waterfall.
For those of the adventurous disposition, there are rafting and tubing excursions on the river that flows out of the gorge. Otherwise the waterside cafés provide a relaxing break and a chance to enjoy the spectacular setting. We chose tubing – a 40-minute down-stream ride on rubber tubes, with oars to navigate around rocks.
The river flows quite fast to begin with, but it soon slows to a gentle pace. We each had our own tube, but Bella's was attached to mine with a rope, and Fin's was attached to his dad's to make sure we didn't get separated.
The tour, organised through our Thomas Cook rep, included a late lunch at Yakapark, an outdoor trout restaurant set in mountainside forest, before we ventured on to Tlos, the ancient city where the mythological hero and slayer of monsters, Bellerophon, and his winged horse Pegasus, once lived.
Tlos is dominated by its acropolis and the Lycian tombs carved into the rock face. It is set on a rocky hillside and the climb to the top rewards you with 360-degree views of the surrounding area. It's worth noting, however, that at the top there are 200ft drops on the north and west sides of the outcrop. I had a heart-in-the-mouth moment when I saw my son perched happily on the peak, while I was still making my way up. My husband, not far behind him, calmly took his hand and led him down. After that, a more relaxing day was certainly in order. And the next morning, with aching limbs, I happily took up my position on a sun-lounger by the pool.
We stayed at the Majesty Resort Tuana Park, about an hour's drive from Dalaman airport, and 15 minutes from the busy quayside market town of Fethiye. The resort is set amid lush manicured gardens on a private beach with a long wooden jetty leading down to the Mediterranean Sea.
It has tennis and basketball courts, plus the option of water sports such as diving and parasailing. There is also a hotel-run kids' club for children aged between four and 12.
The resort has been named Best Turkish Hotel 2012 in the Relaxation and Spa category by Trip Advisor, the holiday review website. The spa offers a range of health and beauty packages including Balinese, Thai and Indian massages, and algae or mud wraps, among others.
I opted instead for the local mud bath on a tour that combined a cruise on the picturesque Dalyan River, a frolic in the Dalyan mud baths and visit to Itzuzu Beach, the breeding ground of the endangered "caretta-caretta" turtles. The loggerhead sea turtles, which grow to 150cm in length, gained worldwide prominence in the mid-Eighties when the British environmentalist June Haimoff – and others, including David Bellamy – launched a campaign to protect them. Happily the turtles' numbers are growing. The World Wildlife Fund estimates there are now more than 60,000 nesting female loggerheads in the world. We saw three as we made our way up the river to the mud baths.
The mud, a mixture of clay and the green-tinged thermal waters that smell of sulphur, is believed to have health-giving properties that make you look younger. But since no one seems to have noticed my renewed youth, I'm now a little dubious. Our guide, Hilmi Soydan, claimed to be 92 years old. Again, I have my doubts.
Nevertheless, it's not often that children get to coat their mothers in mud. They set to their task with gusto, covering themselves mighty well, too. Health-giving properties or not, there was something gratifying about the entire muddy process.
After another day mooching around the resort and jumping from the high diving board at the end of the jetty, we hired a car, heading off early to the setting for Louis de Bernier's 2004 novel, Birds Without Wings.
Kayakoy is an abandoned village about 8km south of Fethiye, home to Greek Christians until the early 1920s when they were exiled to Greece. The village, which comprises about 400 houses, plus schools and churches, is now an eerie ghost town.
We followed the coast, visiting Gemiler Beach, on our way to the country's most photographed beach at Olu Deniz, the blue lagoon, famed for its turquoise water (and its paragliding opportunities). It is the archetypal picture-postcard beach, backed by dramatic, pine-clad mountains.
As I lay on the sand, looking up at a clear blue sky specked with the bright colours of gliders, I wondered at the view from up there. But, really, I'm not sure I'm quite that brave.
Travel essentials
Getting there
Amber Evans travelled as a guest of Thomas Cook (0844 412 5970; thomascook.com) which offers a week's all-inclusive stay at the Majesty Club Tuana & Park near Fethiye from £404 per person, or £1,834 for a family of four, including transfers. Family room upgrades are available in both the Club and Park sides. Departures are available from regional airports across the UK. Prices are based on two adults, or two adults and two children sharing, travelling in April and May 2014. Family price includes one "Kid for a Quid" offer.
A Hidden Treasures tour visiting Tlos, the Saklikent Gorge and Patara Beach costs £35 per adult, and a Dalyan Delight tour including the mud baths costs £33 per adult, half price for children. Car hire with Europcar is available from £26 per day, all bookable through Thomas Cook in resort.
Join our new commenting forum
Join thought-provoking conversations, follow other Independent readers and see their replies