The Independent's journalism is supported by our readers. When you purchase through links on our site, we may earn commission.
Why you should swap Lake Como for North Macedonia
Al fresco wine on sun-drenched, waterside terraces; boat rides and an Unesco-listed Old Town: Lake Ohrid has everything you'd want from a chic European break at a fraction of the cost, finds Sarah Holt
Wednesday 12 July 2023 12:29 BST
Comments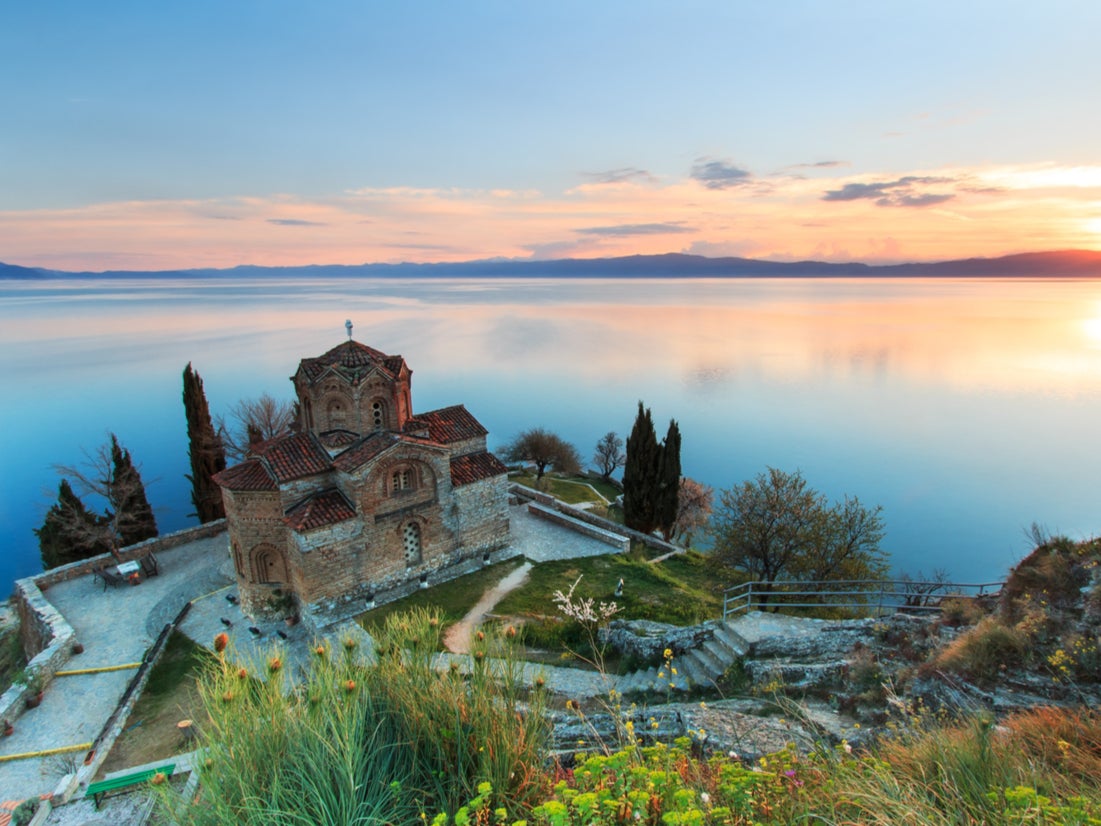 Glasses clink and cutlery scrapes the plates at a pavement café by the side of the lake. People drink Aperol and espresso and take bites of pizza, their heads turned towards the peacock-green water and the villa-dappled hills that frame it. The scene wouldn't be out of place in Lake Como – but I'm 1,300 miles away from northern Italy, in a pocket of southwest North Macedonia called Ohrid (pronounced och-rid).
Slowly inching onto the radar of UK travellers thanks to a selection of recently introduced direct TUI flights from Manchester and Gatwick, the town of Ohrid and its namesake lake have vital statistics that actually outshine their famed Italian counterparts.
At more than 138 square miles, Lake Ohrid is more than twice as large as Como, a fact that's best appreciated on a boat trip around the former's shoreline. Karst cliffs, coloured in pewter and newborn pink, run on for miles, giving way to the uninterrupted greenery of the Galicia National Park, which is so densely packed in places it resembles broccoli florets.
My boat makes a stop at the foot of the hilltop Monastery of Saint Naum, an Eastern Orthodox monastery originally built in the 10th century. From here I take in grandstand views of the voluminous lake on a plateau dotted with free-roaming peacocks (seen as symbols of resurrection at the time of Saint Naum). I duck into the monastery church, too, and discover the fresco-lined room where Saint Naum is buried. Legend says that if you put your ear to the surface of the tomb, you can still hear his heartbeat, but I spinelessly decide not to put that theory to the test.
At more than a million years old, Lake Ohrid is also older than the Italian Lakes, with Ohrid town acknowledged to be one of the oldest human settlements in Europe. Walking around the Old Town and uphill to the 11th-century Tsar Samoil Fortress, with its gap-toothed ramparts, I get a sense that I'm wading through history.
Read more on Europe travel:
Ohrid's historical sites represent every phase of North Macedonia's past and the tug of war so many empires and nations have had over its territory. There are city gates that were originally built in the 4th century BC; a 5,000-seat Hellenistic amphitheatre; a roll call of 14th-century churches; 18th-century townhouses; and the blush-coloured Church of Saint Sophia, which has its roots in the 6th century (to name just a fraction of what's there).
It's this stratum of history that earned Ohrid Old Town its place on Unesco's World Heritage Site list in 1997. Areas of the lake are also included in the listing, as they provide a home to more than 200 types of plants and 17 endemic species of fish.
Amble down any of the streets in the town centre and you'll discover another of Ohrid's USPs: its jewellery shops. Window displays drip with handmade silver filigree in designs as delicate as doilies. Then there are the pearls. Ohrid pearls, as worn by the likes of Queen Elizabeth II and Princess Diana, are distinct from those you'll find anywhere else in the world because they're hand-made. Two families, the Talevs and Filevs, make them using secret, century-old recipes that involve ground shells, emulsions made from the scales of Ohrid trout and a painstaking multi-stage creation process.
I personally experience an event horizon at the door to PS Filigree, one of the town's two Macedonian ruby specialists and am sucked in. As with the country's pearls, Macedonian rubies are different from those found elsewhere. They are classified as genuine rubies, but they contain less chromium, which makes them opaque and more plummy in colour. I leave with a pendant necklace that includes a pea-sized ruby on the end that I have yet to take off.
Lake Ohrid is also a key player in Macedonia's current wine renaissance. The discovery of ancient grape grain remains suggests that wine has been produced in the North Macedonia area since Neolithic times. However, during the mid-20th century, when the country was under the rule of communist Yugoslavia, wine was produced for quantity rather than quality.
Now, the country's existing larger wineries are working with experts from around Europe to elevate their offering and an increasing number of independent boutique wineries are opening with the intention of making North Macedonia a newly respected player on the world's wine stage.
I experience the standard of North Macedonian wine first-hand in the tasting rooms at the Vila and Winery Mal Sveti Kliment, in Ohrid Old Town. Opened in 2016, the winery produces wines using grapes sourced from its own vineyard plus a selection of local winegrowers. But its tasting rooms, run by WSET sommeliers Almir Rahimoski and Elena Mitrevska, are dedicated to showcasing wines from boutique wineries all over the country.
My eyes widen as I sample a glass of sparkling wine from the Peshkov winery. Made using traditional champagne methods, it's a new release for 2023. The bubbles do a welcome tap dance on my tongue before leaving a taste of green apple and citrus on my palette. Elena brings out a plate of her own recipe bruschetta, topped with lemon cream, apple and hazelnut to complement the wine, and there's an instant alchemy that elevates the flavour even further.
My interest piqued in North Macedonian wine, I venture out to visit The Monastery Winery the following day. Located at the end of a single-file gravel track, a 15-minute drive from Ohrid, the monastery was built in 2005 on the site of a former church. In 2018, the priest and a local engineer started making wine in the monastery cellar and The Monastery Winery – which now produces 10,000 bottles a year – was formed. I try seven varieties of Monastery wine and tuck into a platter of cow and sheep cheeses, cured meats, and a bowl of unctuous avjar (a smoky dip made from red peppers).
Sipping the wine and nibbling antipasti in the sun of the winery's al fresco tasting area, I again get the sense that I could be in Italy. But the thought soon passes – because Ohrid is so much more than a Como lookalike. It's a history-rich, nuance-filled destination in its own right.
Travel essentials
Tui Lakes and Mountains offers seven-night holidays to Lake Ohrid, North Macedonia staying at the Unique Resort & Spa with prices starting from £661pp, B&B, including return flights from London Gatwick, 15kg of hold luggage and transfers, for 6 September departures.
Read more of our best Europe hotel reviews
Join our commenting forum
Join thought-provoking conversations, follow other Independent readers and see their replies