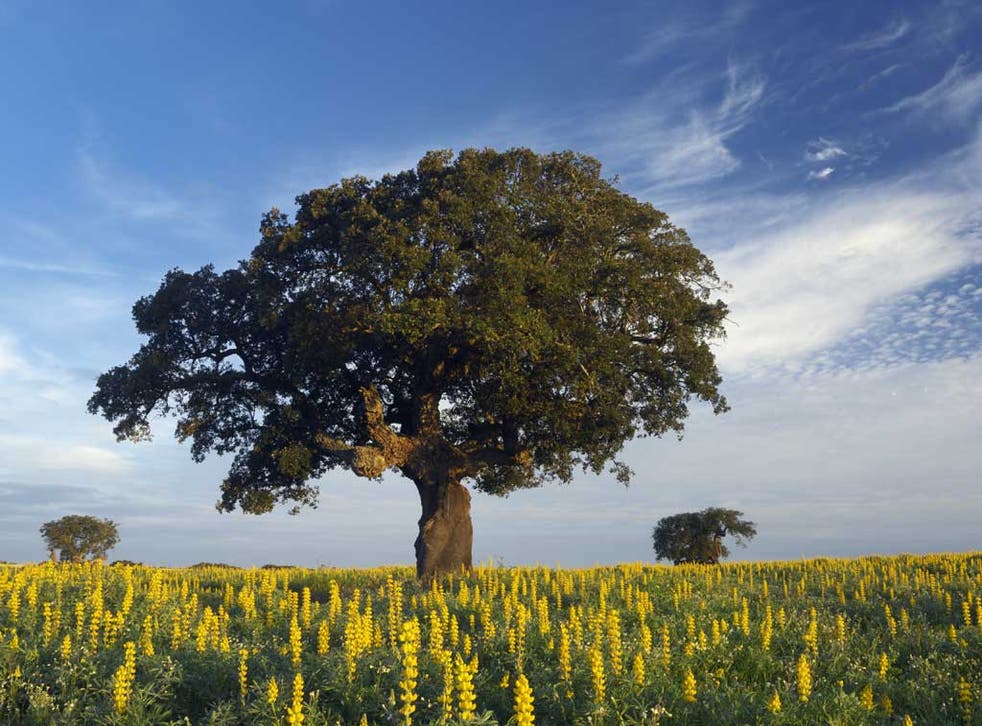 Portugal: One man on a bicycle in a land of beauty
David Baxter pedals through the idyllic landscape of the Alentejo region to find castles, standing stones – and sweet custard tarts
David Baxter
Saturday 12 May 2012 19:58 Comments
When the rain stopped and hazy sunshine emerged, I climbed off the bike and gazed around. The landscape was not dramatic, but it was utterly entrancing: an undulating expanse of green meadows dotted with cork oaks, holm oaks and olive trees, seemingly devoid of fences or walls. From this country road only the faint, tingling bells of unseen grazing animals and the call of birds could be heard. It was April and wild flowers were out in force, the meadows carpeted in yellow, white and purple, the waysides thronged with vivid poppies, rock roses, bugloss and alkanet.
I was in the depths of the montado landscape of the Alentejo region, which stretches across southern Portugal south of the Tagus and north of the Algarve. This corner of it lay close to Evora, the regional capital. The area has few big hills, but it is by no means flat – a fact that the cyclist quickly appreciates.
The montado may appear wild, but it is actually a tended ecosystem designed to produce a valuable crop – cork. Portugal produces three quarters of the world's cork, most of it used as wine-bottle stoppers. Cork oaks are harvested for their bark every nine years, and each tree is numbered to show when it was last stripped. Underneath their branches, sheep and goats crop the grass; pigs fatten up on the acorns.
My week-long, self-guided tour involved covering modest daily distances between towns. I'd been given detailed route maps and notes and my baggage was transported for me from one place to the next. All I had to do was pedal. The rainy day was an exception: most of these spring days were sunny and dry.
This area has long been a frontier, first between Christian and Moor, then Portuguese and Spanish. My itinerary connected several towns – including Monsaraz, Vila Viçosa and Estremoz – that clustered around castles which are now notable for their magnificence, when seen from afar, and for the views from their ramparts. Some, like Monsaraz, have become beautiful museum-pieces.
Imposing churches, convents and paços – fortified baronial palaces – abound, often displaying an array of Islamic, Gothic and Baroque elements. They remind visitors of grander times and flaunt the flamboyant native Manueline style, with motifs from Portugal's golden age of discovery and trade. These days, door and window surrounds are picked out in pastel blue, yellow or grey, a charming effect against stretches of white walls.
Approaching Evora, I cycled along country tracks to several megalithic sites such as the Almendres cromlech, rediscovered in 1964 and one of the largest and oldest in Europe. More than 90 monoliths, typically around 10ft tall, stand on the hillside, as if enjoying the view. Some experts believe the two eliptical arrays of stones are, like Stonehenge, set at a latitude that captures the Moon at its zenith.
Evora itself is a Unesco-recognised gem, its cathedral, well-preserved Roman temple and museum, grouped conveniently at the end of narrow lanes winding up from the main Giraldo Square and arcaded shopping streets. Its historic mansions include one that belonged to the great explorer, Vasco da Gama. Rather more macabre is the ossuary lined with the bones of 5,000 people.
For lunch, I indulged in the first of many visits to a pastelaria, where a coffee and a small chicken pie, or a pastel de nata (custard tart), can be had for less than €2.
I moved on 30 miles towards Reguengos de Monsaraz. At the pottery at São Pedro do Corval I seized the chance to buy two small olive dishes, which promptly smashed when my parked bike fell over, a few hours later. Reguengos, now a wine centre, is where the inhabitants of Monsaraz moved when they got tired of their water-less hilltop fortress.
Next day, before tackling the climb up to Monsaraz, I paused on the banks of the Alqueva – a vast reservoir created by damming the river Guadiana. Its full extent was visible from Monsaraz's castle ramparts, along with swathes of the Alentejo and Spain. Below, along the Rua Direita, black openwork balconies stood out against the bright white walls of old houses.
Vila Viçosa, my next destination, was for centuries the base of the Bragança family, who supplied Portuguese kings and an English queen: Catherine, Charles II's wife. The imposing Paço Ducal is full of the finest artefacts, from azulejo tiles to Aubusson tapestries. Fascinating museums of archaeology, carriages and hunting are divided between the palace and the nearby castle, from where the Tapada Real, the royal hunting park, was visible. I wandered along streets of handsome town houses to the main square, flanked with orange trees heavy with fruit.
My hotel for the night was a delightful conversion of a 16th-century mansion, the Solar dos Mascarenhas. For dinner, I ate an açorda, a mixture of fish, bread and pennyroyal baked and served in a hollowed loaf, which I washed down with a glass of red. Alentejan cuisine is admired in Portugal: poverty, it is said, compels imaginative use of simple ingredients. Pork, bacalhau (salted cod) and dogfish are also much in evidence.
Around Vila Viçosa, a wasteland of marble quarries interrupts the rural idyll. The "white gold" is exported and is also used locally. I peered into deep, marble-lined pits and watched machines slowly cutting the blocks. Then, for lunch – as suggested by my tour notes, I stopped at a simple country restaurant and ordered the speciality: rabbit. It came in a huge earthenware dish with chips, salad and bread – all for less than €10.
I spent my final night at Estremoz's medieval castle, now a luxurious pousada with grand public rooms. It was here that I encountered my first tour group – I'd often been the only tourist in the small hotels I'd stayed in. The next morning, I wandered around the lively Saturday market with its array of cheeses, cured meats, live chickens, handicrafts, bric-a-brac and plants.
Estremoz should be one of Portugal's busiest places. After all, it's where the E90, the European superhighway between Madrid and Lisbon, meets the IP2 (the main north-south road). But the Alentejo seems miraculously untainted by the 21st century.
Travel Essentials
Getting there
Fly to Lisbon from Bristol, Edinburgh, Gatwick, Liverpool and Luton on easyJet (0843 104 5000; easyJet.com); on TAP Portugal (0845 601 0932; flytap.com) from Heathrow and Manchester; or on BA (0844 493 0787; ba.com) from Heathrow. The rail journey from Lisbon to Alvito takes less than two hours and is €15 for a single (cp.pt).
Cycling there
Portugal Best Cycling (00 351 266 743 134; portugalbestcycling.com), has self-guided and guided itineraries, with a choice of B&Bs. Prices start at around €800 per person for a week's self-guided cycle tour, excluding flights, transfers and meals. Bike hire can also be arranged.
More information
Register for free to continue reading
Registration is a free and easy way to support our truly independent journalism
By registering, you will also enjoy limited access to Premium articles, exclusive newsletters, commenting, and virtual events with our leading journalists
Already have an account? sign in
Join our new commenting forum
Join thought-provoking conversations, follow other Independent readers and see their replies