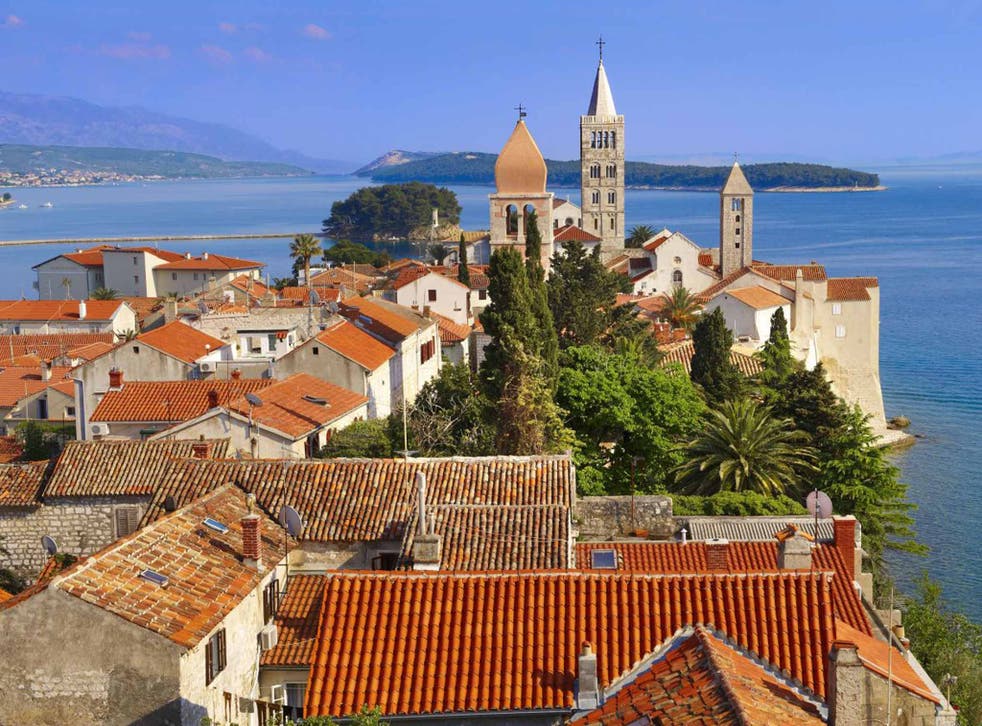 Rab Island, Croatia: Dip into the Adriatic's royal hideaway
Edward VIII and Wallis Simpson visited Rab for its seclusion. Linda Cookson can see the appeal
In the summer of 1936, little-known Rab Island, close to the mainland in northern Croatia's dazzling Kvarner Gulf, had an unexpected 15 minutes of fame. The UK's new king, Edward VIII, had whisked off his married lover, Wallis Simpson, for a rackety booze-cruise around the Med and the Adriatic. (He'd had all the books cleared out of the library of their hired yacht, Nahlin, to make room for the alcohol supplies.) As the pair cavorted blithely on deck, smooching over cocktails, the world's press took to the water in hot pursuit of the scandal.
On 11 August, to a battery of cameras, the couple came ashore in Rab Town. There's a plaque in the main square commemorating the big day, and a "Royal Corner" in the town's Grand Imperial Hotel – complete with black-and-white photographs of Wallis in bobby-socks and a rather grumpy-looking Edward. Local lore has it that the island authorities granted them special permission to skinny-dip in nearby Kandarola Bay during their visit, thus establishing the bay's future naturist-friendly attitude.
Our own newshounds were conspicuously absent from the press flotilla. A national information blackout ensured that the UK public remained in the dark about the whereabouts of the royal loveboat – which meant, of course, that Rab's charms went unreported. But, some 90 years later, that doesn't explain why such a magical place – popular now with German and Italian visitors – is still largely undiscovered by British tourists.
Sitting by the waterfront of Rab Town at dusk on my first evening, watching boats rocking gently as wisps of concert music drifted across the pocket-handkerchief harbour, I couldn't believe how exquisite it was. I'd only called in for a quick stopover, and already I was kicking myself for not having planned a longer stay.
Rab is one of Croatia's smaller islands. Snapping out into the Adriatic like a jaunty little lobster with opened pincers, it's just 22 km long by 11 km wide and has only a handful of settlements. But the capital-in-miniature, Rab Town, is a total knockout – a jumble of red-roofed medieval buildings with honey-grey walls crammed on to a tiny peninsula that juts out between the harbour and the nearby cove of Saint Euphemia. Four beautiful bell towers spear skywards like masts, and – on the western side – a thick stone shell of 15th-century city walls plunges into the blue of the sea to form a sturdy hull.
Exploring the town earlier that day, ducking through crumbling archways and clambering up stepped alleyways, I'd felt as though I was mounting the decks of a magnificent stone galleon, packed with hidden treasures. It was utterly enchanting. Romanesque churches jostled with balconied palaces, tiny crooked side-streets opened out unexpectedly on to colourful gardens thick with palm trees and lovely arcaded squares, and a fish-skeleton of picturesque alleyways criss-crossed Srednja, the town's narrow main street.
On my first night, after gazing dreamily seawards over an ice-cold beer in the main square's buzzy San Antonio bar, I wandered at random up an alleyway and found myself in rustic Konoba Rab. Obviously a locals' haunt, it had an open oven for cooking Rab's speciality dish of pod peku: lamb or chicken, stewed slowly in a metal pot covered with embers. To my delight, my visit coincided with a performance by one of Rab's traditional a cappella singing groups.
The next day, I learned more about the island's pride in its heritage. Chatting at the tourist office with personable Luka Perini, I discovered that Rab becomes party central every July, when it hosts its annual Medieval Festival (or Rabska Fjera). For three days, the entire town dons 15th-century costume and transports itself back in time, with pop-up craft shops, a "fishing village" on the beach, torch-lit processions of strolling minstrels, and a full-on knightly tournament under the battlements. "Let me show you my crossbow!" said Luka, who turned out to be a keen member of the select Rab Crossbowmen Association. He walked me round the corner to a storeroom packed with costumes, flags and bugles, and retrieved a massive wooden contraption from a cupboard. It weighed more than 20kg.
Rab Town and its friendly inhabitants were definitely casting their spell. In his delicatessen, Josip Brna insisted I sample the local delicacy, Rab cake – a shortbread-like combination of almonds, crystalised sugar, lemon peel and Maraschino cherry liqueur, baked to an 800-year-old recipe. It was delicious. "Take some extra for the beach," he said.
Ah – the beach! There's a long pebbly stretch around Rab Town itself, but the island has sandy beaches galore around its sheltered western and northern shores, and there are also plenty of secluded coves tucked into the coast's many forested inlets. I strolled, undecided, along the harbour-side wondering which beach to choose for my final afternoon on the island. A water taxi carrying the placard "Kandarola Bay: FKK" was bobbing alongside me. FKK meaning nudist. The penny dropped. A 15-minute skim by motorboat to cast aside my kit and frolic naked in the (bare) footsteps of a former king would cost just 15 kuna (£1.45) each way. What was stopping me from hopping aboard?
The skipper was smiling encouragingly. My nerve failed. "I've no towel with me," I lied, blushing furiously – and scuttled off down to the town beach to eat my Rab cake. Fully clothed.
Getting there
The nearest airport to Rab is Rijeka. Croatia Airlines (0844 371 0310; croatiaairlines.hr) flies from Heathrow; Ryanair (0871 24600; ryanair.com) flies from Stansted. Jadrolinija (00 385 51 666 111; jadrolinija.hr) operates a daily catamaran service from Rijeka to Rab Town for 80 kuna (£7.65) one way (one hour, 50 mins). Autotrans (00 385 51 660 660; autotrans.hr) has a bus and ferry service from Rijeka, crossing to the island from Stinica, 100km south of the city, for 119 kuna/£11.40 one way (around three hours).
Staying there
The Arbiana Hotel (00 385 51 725 563, arbianahotel.com), a 90-year old villa with lovely gardens, just steps from the waterfront, has doubles from 730 kuna (£70) B&B; 1,205 kuna (£116) in peak season.
Prestige Holidays (01425 480400; prestigeholidays.co.uk) offers a week on Rab from £499pp, including B&B at the Arbiana Hotel, flights and transfers.
More information
Join our new commenting forum
Join thought-provoking conversations, follow other Independent readers and see their replies