Serve up a Serbian spread

Show all 2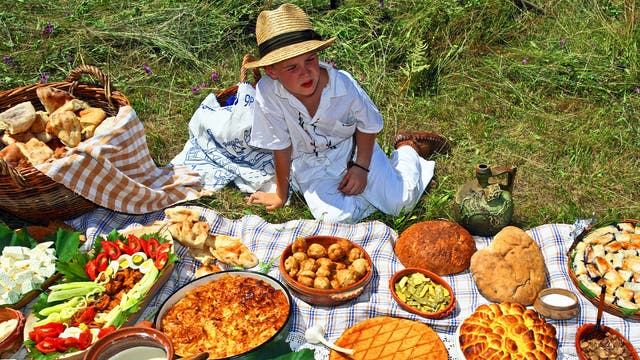 Serve up a Serbian spread
Step off the usual gourmet trails and head to Serbia, which has an array of flavours for hungry travellers. Just make sure you go easy on the rakija, says Alwynne Gwilt
At her home in the small Serbian village of Zlakusa, Mira Savi tips chunks of pork, beef and smoked ribs into a curvy clay pot. The red-haired, dark-eyebrowed village cook then adds bright-green cabbage quarters and a tangy mix of onions, carrots, peppercorns and paprika.
Layer by layer, she fills the pot until it is stuffed to the brim. "Remember the fire and forget the cabbage," she says, referring to the importance of being aware how much heat is applied to the dish. After eight hours of slow cooking over hot coals and gentle fire, this will melt into a gooey meal called "wedding cabbage" – a Serbian dish vital to any celebration, especially of the matrimonial kind.
Astute foodie travellers would do well to add Serbia to their itineraries, as I discovered during a five-day trip around the former Yugoslavian state to sample the country's cuisine. Serbia is set at the heart of the Balkans and a rich array of regional flavours, spices and traditions now meet in the country's menus.
In the morning, you might sip thick coffee as if you were in Istanbul; at lunch you can chow down on flaky, cheesy Greek-style pita (pies); and over tea in the afternoon you could eat nutty cakes akin to those lining Viennese patisserie shelves.
You'll find one of Serbia's main exports – raspberries – in your local supermarket, but you have to journey to its lands to fully understand the country's culinary heritage.
Back in the village, Mira pulls her signature dish out of the flickering flames of her garden firepit, the clay pot now singed black, the meat glossy and the cabbage slick. After ladling portions of the rich stew into bowls, Mira eases into her lawn chair.
Her job is done, but mine is just beginning: to eat another large, meaty meal, something my stomach is finding tricky in this country, where food is king. Despite my reservations, the dish is irresistible: the meat disintegrates on the tongue; the cabbage is infused with oozing spicy oils. It's so good, in fact, that I buy my own clay pot made by her son so I can recreate it at home.
In communist-grey Belgrade – a winding drive 160km north of Mira's village – food isn't found roasting on an open fire but that same passion is applied to cooking, especially when accompanied by the nation's favourite drink: rakija. Believed to stem from Turkish invaders of the 14th century, rakija is made of distilled fruits, the most famous of which are plums used in the main type of rakija called slivovitz. "If single malt is king, then Serbian slivovitz is his queen," says Branko Nesic, who started the city's first rakija bar in 2006.
I visit his new restaurant and rakija bar, Distilerija. Following Serbian tradition, small mezzes such as carpaccio of pike with olive salsa or fried tripe with goat's cheese are served with the drink. According to Branko, most Serbian homes have a copper still for making rakija. If someone offers you any, it is a custom for them to provide food. Dishes vary, with salad served in the south and smoked prosciutto in the west. It's understandable why nibbles are needed: rakija is a strong drink, even for single-malt lovers like myself. But slivovitz is delectable with notes of vanilla, oak and dried plums that numb the gums and encourage substantial sipping.
The next morning, the sunshine drills through my aching head. The cure – I'm told – is a "Serbian happy meal". Legend goes that you have a sweet to attract the bad germs in the body, a strong coffee to blind them and a shot of rakija to kill them. Ignoring this potentially sage advice, I instead opt for an aspirin and the fresh air of Kalenic market. Here, elderly women with handkerchiefed heads and beefy farmers' hands place bursting bright strawberries and cherries into shoppers' wicker baskets. My guide – the venerable Tamara Ognjevic, an author, art historian and former war correspondent – translates as stallholders offer their wares.
Everything is attractively arranged, from the piles of red paprika chilies to the silky green onions and rosy radishes. A traditional peasant's breakfast, she tells me, includes these ingredients plus bacon and cheese, the latter a staple in almost every course.
Under the market's covered section, rows of dairy stalls heave with buckets of sir (cottage cheese) and kajmak (a buttery, salted clotted cream that's added to innumerable dishes from cornmeal porridge to bread). My hangover is forgotten as I become absorbed by the market's friendly energy.
"Like all Serbs, I was brought up to respect food," says Tamara. "It's not only a substance that feeds your body, but also a spiritual substance that has the power to feed your soul."
This idea proves poignant when, two days later, I meet Nebojsa Stamenovic. With silver-fox hair, sparkling blue eyes and a mischievous smile, Nebojsa is not your typical druid. But he conjures up a spirituality about ingredients to match his job title. We spend the morning foraging in the countryside near his home of Nis, the country's third largest city, around 240km south-east of Belgrade. During our hunt, we taste nature's ingredients raw – such as acacia flowers, which explode with flavours of bergamot and sweet peas.
We then journey down potholed roads to Nebojsa's hidden "supper club" in the centre of the city. Inside, surrounded by dark red walls supporting shelves rammed with random herbal remedies and a small plant-filled kitchen immersed in strange scents of chopped nuts and boiling roots, Nebojsa gives tips on creating a harmonious diet, although his suggestion to never eat meat with potatoes goes against all English logic.
He believes food must be stirred counter- clockwise in accordance to the Earth's movements and vegetables should be chopped with ceramic knives, because metal ones cause changes to the food's molecular structure. It's bizarre, but it's hard not to be enthralled by Nebojsa, who trained at Athos monastery in Halkidiki and changed his lifestyle after feeling continuously sluggish eating meat and easy meals. By going back to the roots of Mother Earth, Nebojsa embodies both a traditional Serbian lifestyle and a modern need to find answers to our bodily woes.
On my last night, I travel into the hazy region of Topola-Oplenac, south-west of Belgrade. Here, under the warmth of a waning sun, vineyards blanket the hilly landscape. At the Aleksandrovic winery – the country's best-known – I sip sharp pinot noir. It perfectly cuts through the fatty flavours of succulent, spit-roasted pork and creamy cabbage laid out for yet another large meal. As I toast it all with a cry of "ziveli!" (Serbian for "cheers"), the amber sunset filters over the vines and laughter rises from my table of travellers and locals.
Travel Essentials
Getting there
The writer travelled with the Serbian National Tourist Organisation (serbia-travel). Regent Holidays (020-76661244; regent-holidays.co.uk) offers a five-day "Serbian Gastro Tour" from £799pp with flights. Travel the Unknown (020-7183 6371; traveltheunknown.com) also runs a six-day "Taste of Serbia" version from £1,295pp, including flights.
Eating and drinking there
Distilerija, Belgrade (00 381 11 243 6098; destilerija.rs).
Aleksandrovic winery, Topola-Oplenac (00 381 34 826 555; podrumaleksandrovic.rs).
Belgrade Beer Festival, 14-18 August (belgradebeerfest.com).
Rakija Festival in Belgrade, 15-16 December (rakijafest.com).
Join our new commenting forum
Join thought-provoking conversations, follow other Independent readers and see their replies