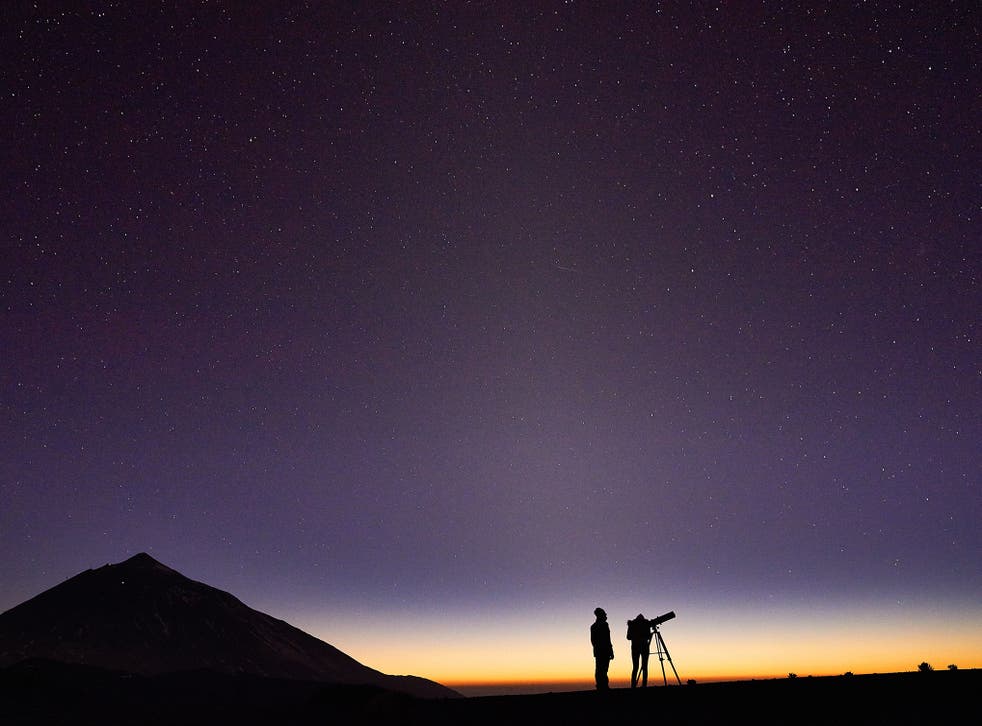 Stargazing in Tenerife: Observe the heavens in one of the world's best spots
With the Sahara on one side and the wide Atlantic on the other, Tenerife is the perfect place for seeing stars
I'm sitting on a secluded beach, posh picnic spread out, gazing up at the night sky. Romantic as it sounds, this isn't a date, but a learning experience.
I'm here with Spanish stargazing specialist José Antonio Paris, whose infectious enthusiasm and comprehensive knowledge mean that, in one evening, I reckon I've learnt more about astronomy than in all my years at school.
This evening, under the brightest stars I've ever seen, is one of the exclusive – and expensive – perks at Tenerife's Ritz-Carlton Abama hotel. Our packed lunch – or dinner, rather – is supplied by the Abama's swanky MB Restaurant (MB stands for Martín Berasategui, the celebrated Basque chef) and it's scrumptious, as you'd expect – MB has two Michelin stars – but I keep forgetting to eat it. I'm far too interested in the sky above. Did you know there are 200 billion stars in our galaxy, and 200 billion galaxies in the universe? Nor did I, until José told me. This new knowledge makes my head spin – or maybe that's the cava rosado.
With the Sahara on one side and the wide Atlantic on the other, Tenerife is the perfect place for seeing stars. "Greenwich was a fantastic observatory in the 18th and 19th centuries," says José. "Nowadays it's rubbish, because of light pollution."
Here, the night sky is jet black, as it ought to be. Since 1975, Tenerife has been home to the Canarian Institute of Astrophysics, one of the world's leading observatories, and since 2011 it's been the stage for Starmus – a festival of astronomy and music, held here at the Abama.
Professor Stephen Hawking has called Starmus "a unique debating chamber for the future of the human race". Alongside Brian May (Queen guitarist and renowned astrophysicist), Hawking has been involved in the event from the start. The brainchild of astrophysicist Garik Israelian, the event has welcomed speakers including five Nobel Prize-winning scientists, plus pioneering astronauts Neil Armstrong and Buzz Aldrin. And then there's the music: Starmus I featured German rock veterans Tangerine Dream; Starmus II (in 2014), prog-rock maestro Rick Wakeman. Richard Dawkins and Brian Cox will join May and Hawking at Starmus III this year (from 27 June to 2 July).
Along with Chile and Hawaii, Tenerife is one of the best places in the world for stargazing, with its clear skies, clean air and high altitudes. We gaze into the inky blackness, speckled with a billion tiny lights. José points his laser pen at a particularly brilliant star. "That's Antares. It's 604 light years away." So if it exploded in 1415, we still wouldn't know about it? José concurs. "Six hundred years in the life of a star is absolutely nothing," he says. "We're nothing, but we're a special nothing." I lie back on my sun lounger, take another sip of cava and wonder how many special nothings there are up there.
Next morning I meet up with Joan Rodriguez from Volcano Life, which arranges public visits to the solar observatory near the summit of Mount Teide. Joan has offered to take me up there for a guided tour. Teide is Spain's tallest mountain, its summit 3,700m above sea level, and one of the world's biggest volcanoes; the entire island is made up of debris from its eruptions. So we're sitting on a volcano, and it's still active; the last eruption was in 1909 – yesterday in geological terms. The vistas from the top are spectacular, and the journey up there is just as thrilling, a drive through thick pine forest, and out into another world.
The area around the summit is Spain's largest national park, a barren lava field that's like the surface of a strange planet; heat has twisted these rocks into strange shapes. There are several walking trails round the crater and a cable car up to the top, but we're here to see the observatory, a cluster of white domes silhouetted against the pale horizon. It's like an alien colony in a sci-fi movie. The only sound is the wind. "It's one of those places where you can hear the silence," says Joan. The entire island lies below us, the blue sea blending with the blue sky above. There are academics here from Cambridge, listening to the echoes of the big bang.
We meet Miguel Angel, a guide at the observatory, who invites me to look through a special telescope at the nearest star of all, our sun (don't try this at home). I'm amazed how small and fragile it looks, this little ball of fire that gives us life. We drive downhill to Santa Cruz, Tenerife's bustling modern capital, to visit the Museum of Science and the Cosmos. I'm shown around by its affable director, Antonio Mampaso, from whom I learn that Tenerife's astronomical tradition dates back to 1856, when Scottish astronomer Charles Piazzi Smyth came here on honeymoon and hiked up Mount Teide to see the stars.
"That was the first time astronomical observations were made at the summit of a mountain," says Antonio. "From this moment on, all observatories were built on mountains." But, thanks to its unique location and climate, Mount Teide is still leading the pack.
"The transparency and sharpness of the images of the stars is the best we've found on our planet," says Antonio. And from these images, scientists may find other stars we can call home. As I leave the museum, I pass a neon sign. It's a quotation from Stephen Hawking: "Our only possibility of surviving in the long term is to expand into space."
With its ink-black sky and high altitudes, Tenerife is one of the best places to observe the heavens, writes William Cook
Getting there
William Cook flew with Monarch (0333 0030 0100; monarch.co.uk), which serves Tenerife South from Birmingham, East Midlands, Leeds/Bradford, Gatwick, Luton and Manchester. Prices start at £92 return.
Staying and visiting there
The writer stayed at the Ritz-Carlton Abama (00 34 902 105 600; ritzcarlton.com). Doubles from €250. The hotel's star-gazing picnic costs €380pp.
Volcano Life (00 34 637 365 429; volcanolife.com) offers guided visits to Teide Observatory from €10.50pp. On Wednesdays, this includes transfers from Costa Adeje. The Sunset and Stars package costs €87.50pp, including guided stargazing, drinks, dinner and transfers.
More information
Join our new commenting forum
Join thought-provoking conversations, follow other Independent readers and see their replies