Stay the night: Chateau les Carrasses, Languedoc, France

Show all 3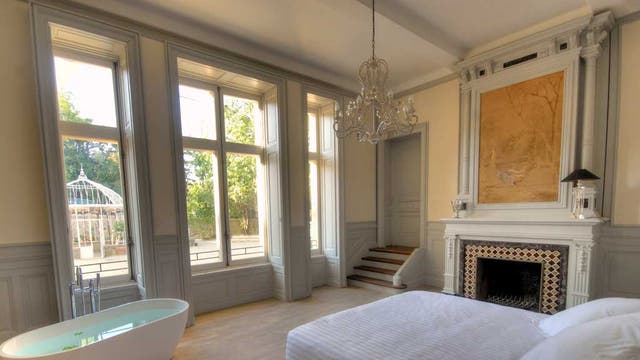 Stay the night: Chateau les Carrasses, Languedoc, France
A couple's newly restored French château on the Way of St James offers guests a decadent rest stop, says Simone Kane
If only I could bottle this. So I thought, as I stood amid rows of vines in the searing sun, popping sharp carignan grapes with my tongue and surveying what I wished was my domain. And if only I could stay longer. My time at this château and wine estate had been short – but maybe that was appropriate, since Château les Carrasses was built in 1866 on the foundations of a rest stop on the pilgrim route of Saint-Jacques de Compostelle – the Way of St James.
Today, this is the domain of Irishman Karl O'Hanlon and his wife Anita, who wanted to create a luxury estate of self-catering holiday properties on a working winery, and that offered some of the services of a hotel with the convenience and space of a holiday village. "We wanted to bridge that gap, for families especially," Karl explained, "between the difficult experience of staying in a luxury hotel room and the freedom of self-catering, where standards are often poor."
The project also gave Karl the chance to indulge his interest in restoration. The château was habitable, yet the rest of the estate had been abandoned for 25 years. Since last August, Château Les Carrasses has been delivering "Irish service" – friendly, relaxed, but attentive – in atmospherically restored surroundings. And from this summer there will be regular tutored wine tastings and dinners.
The hamlet of buildings is set around two main courtyards. The cluster includes the original wine cellar, grape-pickers' lodgings, barns, a blacksmith's house and gardener's cottage. An adjoining orangerie is rumoured to be the work of Gustave Eiffel.
Beds of aromatic Mediterranean herbs and plants border outdoor communal areas, which include a heated infinity pool, barbecue area, table tennis and tennis courts, "boulodrome" (boules pitch), and hammocks.
For children, there's a play cabin called "Kids HQ". A summer camp of organised activities that focus on freedom, nature and creativity has been designed a child psychologist, and is run by a bilingual animatrice.
The Rooms
The range and quality of accommodation on offer are superb. Twenty-eight different self-catering holiday homes have been created, ranging in size from studio and one-bedroom suites in the château to houses sleeping eight with private pools. Some suites have terraces, while most of the apartments have gardens.
Each property is designed differently, but décor throughout is a calming blend of contemporary chic and traditional French country style. All have fully equipped kitchens, allowing guests to enjoy the best of local food and wine, at their own pace. But this is classy self-catering – comfy modern sofas, huge beds, quality fabrics, hi-tech fittings, and a supply of toiletries are enjoyed by every guest.
Our family of four put two properties to the test. We loved La Maison du Jardinier – a semi-open-plan, one-bed cottage, tucked away in the far corner of the estate. The children liked their mezzanine-level twin beds and the sizeable garden area with pool, while we enjoyed drinking a glass of local wine on the secluded dining terrace. Our loft-style apartment in the original grape-pickers' lodgings – at the heart of the estate – offered spacious two-bed, two-bath accommodation, with the kitchen-dining-living room overlooking a small garden and terrace.
Out and about
Guests can take advantage of the free bikes on offer (or electric bikes, €20 for half a day) to stop off at the nearby wine-making villages of Capestang and Quarante, where cafés and restaurants line the leafy banks of the Canal du Midi. A short drive from Les Carrasses brings you to the golden stretch of sand on the Mediterranean coast near Sérignan. The historic cities of Narbonne and Béziers are also close. The nearest airport is Béziers, 30 minutes by car.
The Food & drink
At the heart of the château is the salon. It houses the reception, a boutique, a lounge stocked with books and games, and a brasserie. Here, guests who want a break from self-catering can opt into a delicious buffet breakfast, as well as lunch and dinner . From next month you'll be able to enjoy a glass of Karl and Anita's first vintage, produced in the vineyards below.
The Essentials
Château Les Carrasses, Lieu-dit Les Carrasses, Route de Capestang, Quarante, Hérault, Languedoc-Roussillon, France (0845 686 8067; lescarrasses. com). Château suites start at€€135 (£112) per night, self-catering; minimum stay of three nights in July and August.
Join our new commenting forum
Join thought-provoking conversations, follow other Independent readers and see their replies