Strike it rich on an Italian treasure hunt

Show all 3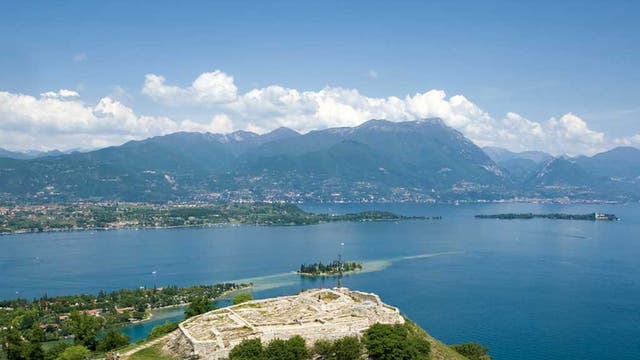 Strike it rich on an Italian treasure hunt
As they set off from their base on Lake Garda with a GPS, Natalie Holmes and her children discover the joys of geocaching
Tupperware, Tupperware, wherefore art thou Tupperware? I was in Verona, city of passion and ancient feuding, my mission to find a small plastic box hidden somewhere among the medieval turrets of the Scaligero bridge. In fact it was not my mission so much as my son James's, a recent convert to the craze for geocaching.
Caching, as it is known to its five million fans, is a worldwide treasure hunt, where, with the help of the internet and a GPS device, you find caches hidden by other players, sign the paper inside, then log your find on the website geocaching.com.
The larger caches contain "treasure", usually of the children's party-bag type, and you can take something and add something. Travelling anywhere is exciting for a cacher; they call up a map of their destination on the website, and up pop little treasure-chest icons marking the spots.
My broader mission was to lure my two children away from the lazy delights of our base. Camping Eden is on the west side of Lake Garda, and has two pools and its own lakeside beach. Keen to do the right thing environmentally, we travelled by train – a straightforward journey involving Eurostar from London to Paris, then an overnight train to Italy complete with couchettes.
Initially we experienced a few disappointments with our geocaching. There were not many caches hidden near the elegant town of Salo, the nearest to our campsite. The closest, named the Virgin Mary, was in the lake, and required scuba equipment and certification. We were keen, but not that keen.
Salo itself is a town that seems to epitomise the popular image of the Italian lakes, where well-dressed Italians mingle with tourists in shorts against the stunning setting of deep, inviting water, fringed by woods, with blue-grey mountains rising behind. Historically, it was known for being the last power base of Italian fascism: Benito Mussolini set up the headquarters of his puppet government here when the area was annexed by Germany after the Allies invaded wartime Italy. But where there were once blackshirts, there is now the boating fraternity.
The great thing about geocaching is that it takes you to places you might not otherwise go to. So it was that we set off for a nearby town that was barely mentioned in our guidebook: Manerba, on the south-west shore. The town seemed ordinary enough, and we parked near the lake, with the cache a tantalising 500m away.
James's GPS led us along a wooded path that climbed steeply, twisting and doubling back, so it took 45 minutes to cover the distance. We eventually emerged from the trees high on a headland, with the sun setting on the southern lake and the peninsula cradling the town of Sirmione in the distance.
Even more surprising than the view was the realisation that we were on the ruins of a medieval castle. We could have spent ages clambering its stone walls, drinking in the views, if it wasn't for the fading light and the fear of getting lost in those woods, which buzzed with bats. Not to mention having to find the cache before it got too dark. Happily, it was an easy find, lying under a stone at the castle perimeter. Inside was a toy car with a note attached. "I am racing my owner to San Marino. Can you help?" Not being sure when we'd next be in San Marino, we left it where it was.
That trip to "La Rocca" also gave us an idea how to keep cool. The magical view from Manerba included a small island, San Biagio (again, not in the guidebooks), to which you can wade late in the season when the water levels of the lake are lower. Shame no one had planted a cache there.
Finally, to fair Verona. The city of Romeo and Juliet was hot. Too hot. Its ancient bricks and stone soak up the rays during the day, and during the night release them. So even after the sun has set, the effect is merely like an oven being turned down from "high" to "medium". Verona's collusion of grandeur and gastronomy is mightily appealing to adults, but not necessarily to youngsters. So caching is a good way to prolong their attention span.
The Scaligero bridge was empty, save for a medieval soldier slumped over a sword extending from his blood-spattered guts – a plague on all performance artists across Europe. By this stage we were supremely unconcerned about being spotted by "muggles" (people who are not cachers). We poked and prodded away. Before you fret about the potential damage to a historic bridge, note that – like all the city's bridges – it was rebuilt after being destroyed by the Germans during their retreat in the closing stages of the Second World War.
Persistence paid off. One of the bricks in the bridge came away to reveal a sealed plastic container containing a much-visited log and we added our TFTC ("Thanks for the Cache") to the list. Then we headed off for ice cream.
Travel essentials
Getting there
The writer travelled with Rail Europe (0844 848 4070; raileurope. co.uk) which offers adult return fares from London St Pancras to Desenzano del Garda from £173 in a six-berth couchette. By air, you can fly from Gatwick to Verona with easyJet (0843 104 5000; easyJet.com) and British Airways (0844 493 0787; ba.com), Ryanair (0871 246 0000; ryanair.com) from Stansted and Monarch (08719 40 50 40; flymonarch.com) from Manchester.
Staying there
Canvas Holidays (0845 268 0827; canvasholidays.co.uk) offers a week at Camping Eden (00 39 0365 62 093; camping-eden.it) in a classic two-bed mobile home from £562, for two adults and two children.
Join our new commenting forum
Join thought-provoking conversations, follow other Independent readers and see their replies